Using LinkedIn to Connect with Prospects – A Guide
LinkedIn is to B2B businesses what chocolate factory is to kids – a gold mine. With over 740 million members and 55 million registered companies, if you are not using LinkedIn to connect with your prospective customers, you are helping your competitors become more successful – which is a kind gesture but a poor business decision. LinkedIn boasts members from fortune 500 companies and senior management professionals who have decision-making powers, and the platform offers multiple ways to build connections with them. 
Are you interested in getting more business for your business? Wondering how to prospect on LinkedIn? Then this blog is for you. Find out all about how you can use LinkedIn to connect with prospects.
First Things First – Let Us Understand What Sales Prospecting is:
According to the Digital Sales Institute, the sales prospecting definition goes something like this: "The sales activity involved in researching, engaging and nurturing new prospects, so they eventually become paying customers for the business."
To frame it in layman's terms, sales prospecting requires you to identify people and companies that match your ideal customer profile (people who are likely to be interested in what you have to offer). It calls for laser-focusing your efforts on prospect clients who are most likely to turn into paying clients.
So, What is LinkedIn Prospecting?
LinkedIn prospecting is sales prospecting. The only difference is that you are focusing your energies on finding a prospect on LinkedIn. It basically means scouting LinkedIn to look for your ideal customers and then approaching them to build a connection and eventually make a sale. 
Why Use LinkedIn for Sales Prospecting?
LinkedIn is the number one social media platform for professionals by far. Just like Facebook helps you to connect with friends and family, LinkedIn helps you to connect with clients and businesses.
Apart from offering a platform to connect with 740 million professionals and 55 million businesses, LinkedIn is also important because:
40% of LinkedIn users interact with the app daily. 

According to a HubSpot study, LinkedIn is 277% more effective for generating leads than Twitter and Facebook.

According to B2B marketers, 80% of their leads come from LinkedIn. 

43% of marketers say that they have sourced at least one lead from LinkedIn. 

75% of B2B buyers use social media to make buying decisions. 
Also Read: What is the Buyer Journey Today and How to Incorporate Content into it?
Given the many compelling reasons to use LinkedIn for searching and connecting with prospects, let's take a look at how you can use LinkedIn to prospect for sales. 
How to Prospect for Sales on LinkedIn?
Here are three quick ways you can use LinkedIn for prospect scouting and building a connection.
1. Leverage Your First-Degree Connections 
LinkedIn is all about networking, and building a solid network is a great way to get leads. And for that, consider your first degree connections – basically people you know firsthand – they can be your friends, your current clients, people you are associated with, your ex-colleagues, your present colleagues, your school and college alumni, and batchmates. You can leverage them to build a second-degree connection with your prospective clients.
Also Read: How to Create Your First LinkedIn Ads Campaign in 5 Simple Steps
For instance, say you own a social media management agency. Your college friend is connected with the marketing manager of an XYZ company who is likely to be your potential client. You can find that out by scouting their connection list. Then, you can ask your friend to introduce you to the connection. Getting recommended is a great way to gain a client. According to statistics – 76% of B2B marketers prefer to work with recommendations from their professional network.
The stronger your first-degree connections, the higher are the chances of you receiving recommendations and referrals. 
Here are Some Ways in Which You can Warm Up to Your Connections: 
Message Them on a Regular Basis
Keep a note of their birthdays or special days. Comment on their posts. Make sure you are actively connected to them and build a meaningful relationship. 
Understand What Interests Them
Understand what kind of content they like to consume. Research their likes and strike up a conversation with some interesting information on that topic. Share posts based on their interest. 
Ask for Their Opinion and Advice 
People love to give advice and share opinions; it makes them feel valued and important. Ask for the same from them.
Check out how a simple opinion poll was able to fetch 167 comments. 
Use other social media channels to develop a more personal connection, like Twitter, Facebook, and Instagram.
(2) Build Your Personal Brand on LinkedIn
Building a personal brand is critical for successfully finding prospective clients on LinkedIn. Personal branding helps you generate more inbound leads. It also increases engagement on your posts and helps you receive more likes and shares, which in turn exposes you to their networks. Lempod was able to generate 1M views on their posts in 5 months without any ad spend. 
How to Build a Personal Brand on LinkedIn?
Make sure you have filled in all the information asked by LinkedIn in your profile. Add a strong bio, include your educational details and your work experience, and ask your clients, employers, colleagues to endorse you. Make sure you add a clear picture of your face in your profile picture. Your profile is 14% more likely to be viewed if you have a picture. 
Here's an example of an optimized LinkedIn profile. 
Profile Photo✅
Short, crisp bio with all the keywords✅
A detailed About section that gives a clear picture✅
Post Content Related to Your Niche Regularly
Establish yourself as an industry expert by posting niche-specific content, creating a well-rounded posting strategy. Use a mix of educational, personal, topical, and informative content to keep your followers engaged. Posting on LinkedIn has helped many freelancers gain clients. Many B2B marketers claim that a client came to them after reading their post on LinkedIn. You can check out profiles like Neil Patel, Vaibhav Sisinty, and more to learn from their posting strategy.
Engage with Industry Leaders of Your Niche
Commenting on posts of influencers and leaders of your industry is a great way to build a personal brand. It not only grabs the attention of your prospective clients and industry experts, but it also helps with hacking their followers, which adds more credibility to your work.
Here's an example of people commenting to engage. 
Example of a Powerful Personal Brand on LinkedIn 
Amy Cuddy – a social psychologist and associate professor at Harvard Business School, has built a robust personal brand for herself on LinkedIn. Amy shares shareable content on LinkedIn that has helped her gain recognition in the industry. She is an excellent example of how using tools to reach more people can help your career.
Also Read: Linkedin vs Facebook :How to Use This Platform for Business Purpose
(3) Find Your Prospects the Right Way
Prospecting on LinkedIn is much more than pitching your services to every person you come across and posting sales messages; it involves micro-targeting people who are most likely to convert. For that, first, you need to understand who your target customers are. Create a buyer persona of your ideal customer. Answer questions like:
Who are the buyers in the company you are targeting?

What's their job profile? Their title in the company?

What is the size of the company that will need your services?

Is there a specific industry you are catering to?
Let's say you offer innovative packaging solutions to the homegrown e-commerce business in food and beverages. Then your ideal clients would be production managers and founders of the said company. However, marketing managers of the same company can also be helpful for getting the word ahead. 
So, now that you have zeroed in on your prospect's profile, find out how to search prospects on LinkedIn.
Use Advanced LinkedIn Search to Look for Your Prospects 
LinkedIn's advanced search feature helps you to look for prospects based on multiple criteria, even if you don't know them. This is a direct way to hunt for your prospects. This is basically a cold-calling version of LinkedIn prospecting.
The image above shows the number of filters available for you to scout for your prospects on LinkedIn. The more details you can get right, the higher the quality of your leads will be.
See Where They are Active 
Stalk your buyer persona and note down things like where they are active, what influencers do they follow, and what kind of content do they create and engage with. Once you have the answers to these questions, try to build a connection with things that you have in common. For example, say they follow XYZ influencers and comment on their posts. You can reach out to them and mention that comment in the request. It is a great conversation starter and increases your likelihood of fetching a reply. EXPANDI.IO was able to get a 70% acceptance rate based on 670+ people they targeted from the influencers' comments.
Get Active on LinkedIn Groups Related to Your Niche 
LinkedIn groups are a gold mine for finding potential prospects. First, understand what kind of groups your prospects engage with. Then, get active in those groups to build a connection. Continuing with our food and beverages example, your clientele is most likely to be active in groups related to e-commerce businesses, homegrown businesses, startup-related groups, marketing groups, etc. You can also start your own group on LinkedIn related to your niche to attract your potential clientele. Make sure you first build a genuine connection before selling your services to them. 
Here there are approximately 158 search results for small e-commerce groups on LinkedIn. 
Investigate your Competitors' Network 
Another hack to find the right prospects for your business is to search your competitors' networks. Selling to a business that is already using services that you have to offer is easier than convincing a new prospect who has no experience with the type of product you sell. 
Your competitors are likely to be connected with their prospects and customers, and so, pursue their network to build your own network on LinkedIn. You can easily search for the LinkedIn members they are connected with, within their profile. 
Now that you know how to find your prospects, are you wondering how do I approach a prospect on LinkedIn? If yes, then keep reading. 
How to Connect with Prospects on LinkedIn?
Before you start approaching your prospects on LinkedIn, make sure you have engaged with them to increase your chances of getting a reply and building a connection. After that, here are three ways you can approach a client on LinkedIn
One of the best ways to connect with the prospect is to ask for an introduction from your first-degree connections. Search the prospect's network connection and see if you have mutual connections. Then, ask the mutual connection to introduce you to them. This is one of the most promising ways to approach a prospect on LinkedIn. 
DM them and Strike Up a Conversation
If you are already connected with them on LinkedIn, you can easily DM them to strike up a conversation. Look out if they have posted something recently or commented on a post sharing an opinion. Use that as a reason to strike up a conversation. 
Make Use of LinkedIn InMail
LinkedIn InMail is equivalent to cold calling; only here, prospects can know who you are before deciding to respond to you. But here's the catch – how can you reach out to your prospects the right way? LinkedIn gives 5 InMail credits per month for its premium account. Its sales navigator professional account gives you 20 InMail credits per month, and the team account gives you 30 InMail credits per month. Given the limited number of InMail credits allowed per month, you have to make sure you are targeting the right prospects. 
Follow These Five Tips for Writing a Compelling LinkedIn InMail:
Personalize Your Subject Line
Include your prospect's name on the subject line to give it a personalized feel. People are more likely to open your message if they feel you are talking to them. Ask a question, or create a mystery, something that will motivate them to open your message.
Research says that emails with questions are 50 percent more likely to get a reply than emails without any question. Daren Marble, co-founder, and CEO, Issuance, also encourages to start the InMail with a direct question to get more response. 
Put in the work to show your prospects that you know about them. Tailor your services in a way that suits their needs. Don't talk about your offers that might be irrelevant to them. Instead, talk about a mutual interest that you both might have. 
Think of LinkedIn InMail more as an instant messaging technique and less of email outreach. So, keep your message short and crisp.
According to Daren, the real success of LinkedIn InMail has less to do with what you write (still plays a significant role) and more to do with the process. For example, he found that resending the same email after 2-3 weeks increased his chance of getting a reply by 500%. 
Some LinkedIn InMail Examples
As you can see, all the InMail examples are short and crisp. They clearly mention their statement of purpose, ask questions and try to build a connection.
What are Some Sales Prospecting Tools to Use on LinkedIn?
LinkedIn Sales Navigator offers a ton of unique benefits. Firstly, it can easily integrate with your CRM. it extends the size of your network you can access – as you can connect with people even if you don't know them or don't have a mutual connection. It also provides lead recommendations. The price ranges from $64.99 to $129.99 per month.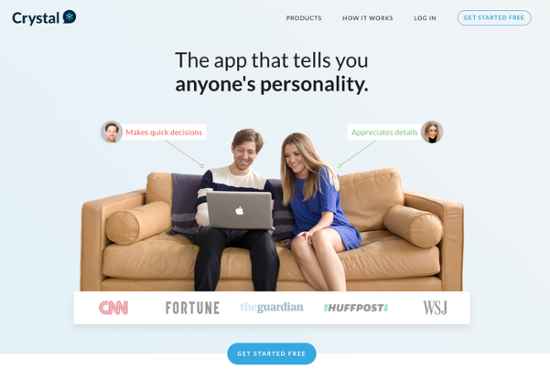 Crystal is the ultimate app to use to understand the personality of your prospects. It sheds light on anyone's personality based on their social media presence. The AI can tell you your prospect's likes and dislikes and what they would like to avoid. It basically coaches you to understand how to connect with and engage your potential client. 
Discoverly is simply one of the best Chrome extensions to use for getting to know your prospects. It combines all the information from a contact's Gmail, Facebook, and Twitter profile. 
So, what are you waiting for? Start connecting with your prospects now. Remember, it's a number game, so don't feel demotivated if you don't get a 100% response or sales rate. Even a few good leads can generate excellent results for your business. 
Want to know more about using LinkedIn to connect with and convert prospects? Contact one of our digital marketing experts.