How to write the perfect product descriptions for your eCommerce website
You have a product you want to sell. So, you have lured the customer in and he is flipping through your website. And, you know that he is interested!
But what is that quick-kill chord that needs to resonate with him and make him hit the 'Buy' button?
Aah. It is then that you rack your brain for those magic words. That unique piece of content writing that will talk about your product and more importantly, sell it! For, in the veritable ocean of products that hit Googlers like nothing less than a tsunami, your product needs to stand out.
So, how do you get about product description writing that sets your product apart from a gazillion others of the same kind?
Well, there's an army of trade tricks to write that brilliant, selling copy. But remember, not all will work well for all products. There are, however, some general guidelines, that you must keep in mind when you go about scripting the sales-effective copy for your product. Here are a few questions that you can ask yourself while writing a product description.
Who is my audience/customer?
First and foremost- Always! Pay keen attention to the audience/clientele you are catering to. Think about who they are – age, interests, demography, where they are from, etc. Think about how your product (through your weapon of the description) can appeal to that clientele. Strike a chord with that group, use words/phrases that pique their interests (for example, use sports terms for customers buying fitness goods, perhaps), and give them an idea that you understand them and are on their side.
For example, take a look at this one
The Kellogg's Oats Masst Masala product description clearly caters to health-conscious individuals, who are not ready to invest time in the preparation of food. So, the description talks about nutrition, heart-health, and that it cooks in 3 minutes! That is enough to grab the attention of the audience?
What are they looking for? Why are they here?
Now that you have given them the assurance that you are batting for them, aim your description at the pain points for which the customer is on your site, looking at your product. Talk about their problems such that your audience finds a kindred soul in you, bound by the same trials and tribulations (no matter how tiny or insignificant). Let them know that you have been through it, just like them. And you have looked for a solution, just like them.
For example, take a look at this one
The potential customer that has surfed through pages and landed on the page selling Vanish Oxi Action Stain Remover Washing Liquid, can be assumed to be tired of removing stains from clothes. The first thing the description does is calm down the frayed nerves of the audience by saying 'Wash away your worries', clearly indicating that the Vanish people understand their customer's problem. It then goes on to describe the product's plus points, from a problem-solving perspective.

So, how can my product help them?
The next logical step is to step in like a magician (well, almost) and tell your audience that you have just the product for them, that will work for them and solve the problem they are looking at your product about. Focus on the benefits of your product, try to go in as much detail as possible within limit constraints. Tell them that your product can improve the quality of their lives and give them a good idea about how and why it will happen.
For example, take a look at this one
The author of the product description of L'Oréal's Magic Root Coverup doesn't waste any time before delving straight into the benefits of the hair spray. The copy introduction starts with how conveniently the customer can die her roots and cover the grey bits and then moves swiftly on to a more elaborate focus on the benefits of the product.
Why you, and not the others?
While you had been doing all of the above, one crucial aspect should have guided your choice of words, tone, flavour, and graphics used. And that is – why should your customer choose you over others in your category? What is so special about your product that your client (who has been enticed by similar products galore), will think to himself 'Huh! This product speaks to me!' Keeping that in mind, think of the unique trait that you are offering and how exactly that trait can be useful to your customer.
For example, take a look at this one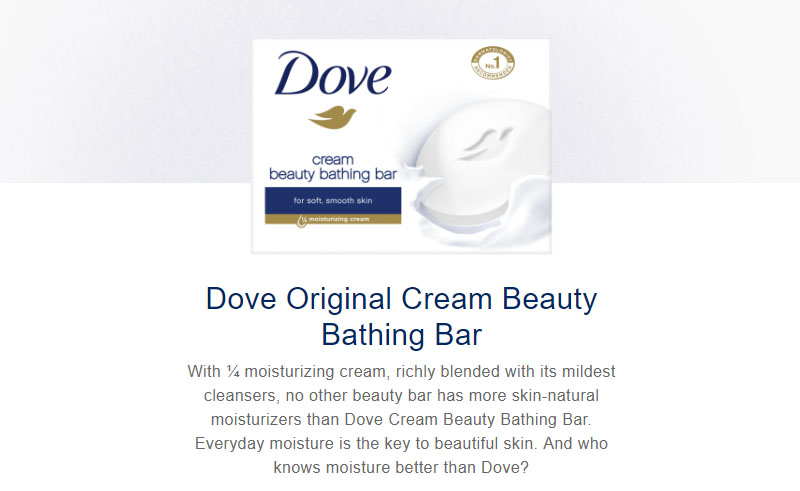 This product description for Dove beauty bar soap might talk about moisturizing, but the focus is clearly on how only Dove understands 'moisturizing' and 'skin-natural' features more than any other competing beauty bar.
In general, it will do you good to remember the following things as well:
Set the tone of your description: From fun and playful, to romantic or steamy, from loving and cuddly to staid and formal, the tone of your copy should align itself with the product you are selling and the audience you are targeting.
Be conversational: Everybody likes a good story. So, if time and space permit, tell one! Talk to your audience as if you are having a one-on-one conversation. Pack a punch in the introduction to hook your customer. And then carefully unfurl your ideas.
Use bullet points: For listing characteristics of your products, nothing can be more useful than bullet points. Lists give a great snapshot of what you are offering, in an uncluttered way. This can prove useful in prodding the audience in the direction of finally making that purchase.
Use words that convey emotion: A lot of people buy on impulse, driven primarily by emotion. So, use words that might appeal to your audience's emotions. Don't scrimp on your adjectives, but then again, at the same time, be careful that you do not go overboard with them.
Be mindful of branding: Think of the overall image of the brand that your product represents. Script your description such that it adheres to brand guidelines and underlines the aspect of customer loyalty, while at the same time keeps your product ahead of the competition.
Keep it simple: Brevity is key. Use short sentences, easy words, flowing ideas. The audience should not leave the page because he does not understand what you are talking about. Try to keep the overall length of the description short, because crisp copy always makes for good copy.
To round it all up, start and end with the 'client is God' mantra. Write to showcase your product from his perspective, appeal to his senses, align the solution or benefit offered by your product to his problem areas, and keep him engaged in your copy. These should do the trick!