Answers to 9 Frequently Asked Questions About Google My Business Posts
If you are a local business, you probably know how helpful it can be to have a Google My Business profile. It not only lets you create a listing for your business (you can include business description, working hours, address, reviews etc.) and reinforce your online presence on Search and Maps, but also helps you attract local customers and earn their trust.
However, if you are looking to gain more exposure, rank higher on search results, gain a competitive edge, and expand your base of loyalists, you need to use your Google My Business profile better. You need Google My Business posts.
Google My Business posts are a powerful way of grabbing the searcher's attention, nurturing your relationship with current customers and attracting new ones. In fact, a 2019 case study conducted by Moz across different American states showed that close to 60% businesses had created GMB posts.
Also Read: [Free Case Study] Alliance Fintech – How content marketing help to spike traffic by 149%
Impressed? Don't want to lose out on this chance to advertise for free, but have questions? Well, here we have answered some of the common questions businesses have about GMB posts. Read on.
Q1. What is a Google My Business (GMB) post?
Answer: A Google My Business post essentially allows businesses to advertise for free on their GMB profiles or publish updates associated with their brand, products, events or offers. They were first introduced in 2016 and were like digital business cards for local businesses. Now, these posts are completely integrated into the Google My Business platform and businesses can create various types of posts for greater online visibility or exposure. Also remember that when you create a post, your audience can see the first 100 characters initially. Once they click on it, the whole "box" appears, with a call to action or CTA. To direct the audience to your website, you can add an URL too.

Also Read: Digital Marketing Trends and Innovations For 2020
Q2. Where do Google My Business posts appear?  
Answer: This is one of the top Google My Business questions we get as a content agency when clients are planning to post on their profile. Well, these posts can appear on all devices, be it desktops, laptops or mobile phones. However, depending on the type of post you create, its placement can vary.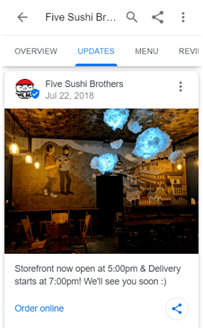 For instance, if you are promoting new products or an event under a "What's New" kind of post, and a potential customer is using a desktop, he will see the post in the knowledge panel above the section called "People also search for". And the format will be a carousel. The same post will appear like a feed under the "Update" tab on the knowledge panel when the searcher is using a mobile.
On the other hand, if you create an event post, with start and end dates and timings, it will show up on the right search knowledge panel, under your usual GMB listing, if the searcher is using a desktop. For mobile users, the post will again appear as a feed under "Updates".
*Image – Event post on desktop
Your Google My Business posts can also appear on Google Maps app:
Under the Overview tab – After opening the Google Maps app, you can search for your business profile, go to the Overview tab, scroll to the bottom and check the "Latest Updates" section to view posts "From the owner".
Under the Updates tab – Or, it will be easier for the customer to access your posts by hitting the "Updates" button. However, this button will only appear when you start creating posts.
Note that your target audience can follow you via both mobile search and Google Maps app. They can also share your posts on social channels or email them to others. But they cannot comment on your posts on the GMB platform or create and share individual profiles.
Q3. Why should I post on Google My Business? What are the benefits?
Answer: Wondering why you should add your business to Google Maps and post? As mentioned earlier, Google My Business posts allow you to advertise your brand, products, events and offers for free, reach out to a wider audience and boost online visibility. So, here are the top benefits you should be aware of:
It powers up your local SEO strategy and helps you rank higher on Google search results. This is because, your potential customers get detailed information about your business and what you offer, and can trust you more.
With GMB posts, you can improve brand awareness, and keep your customers updated about business hours, discounts, and any important news. You can make it easy for them to follow you, book an appointment, or shop for your products.
Since GMB posts are accompanied by photos and videos, they are great for boosting customer experience and engagement. Customers will recall your brand better and can share your posts with others, thereby increasing your reach at no cost.
Q4. What are the types of posts I can create?
Answer: You can choose from 4 different types of posts – What's New, Events, Offers, and Products. Find out about each in details:
 What's New – Create this post when you wish to share general updates about your business, blog posts, any addition to the team, or customer testimonials. Even Google will offer you suggestions. This post can accommodate a maximum of 1500 characters, so that you can delve into details and engage the reader. Up to 10 images or videos can be added to it. Note that the maximum upload size for a video is 100MB. Image sizes should be ideally 1200 x 900 pixels, though the minimum requirement is 400 x 300 pixels. You can add a CTA button like "order online", "book", "buy", "sign up" or "call now".
Events – These posts come in handy when you are hosting, supporting or attending an event that you want to promote. Your event title should be a maximum of 58 characters with spaces and you can use up to 1500 characters for the description. Remember to add date and time. The guidelines for videos, images and CTAs are same as What's New posts.
Offers – You can create these posts to promote discounts, sales, coupons or other special offers. Note that exclusive promotions can add much boost to your GMB listing as they feature a yellow tag to grab eyeballs quickly. The offer title should be no longer than 58 characters (with spaces) and the description can be a maximum of 1500 characters. Rules for images and videos are same as above. You should mention the time frame and can also include the coupon code, link for redeeming offer, and terms and conditions, if you want. Note that the CTA button doesn't work currently for this post.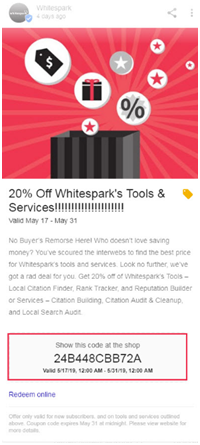 Products – Product posts are relevant when you want to showcase special items that you sell, and they appear in your business profile's Products section. While the rules for images and videos are same as above, try to use the exact images. You can also create different categories for different products, but their names shouldn't exceed 58 characters, including spaces. Follow the same character limit for product names and make them bold. You can use up to 1000 characters to describe the product and mention the price if you wish to. CTAs like "buy", "order online", "get offer" or "learn more" will work well.

Q5. What are the things to remember while creating posts?
Answer: Here are some important things to keep in mind when you are creating GMB posts:
Searchers on Google can see your posts on mobile, desktop and Google Map app, usually in the knowledge panel, Local Finder and Maps. All posts have a time frame of 7 days by default, except event posts which are removed after the specified time or date, and product posts, as they are active always. You can, however, extend the duration to 14 days now. Also note that posts that are time-bound and engaging will get more clicks.
The knowledge panel of your business on search will have limited space for posts. And newest posts will be displayed on top, followed by older posts. Plus, a maximum of 8 posts can get featured at a time. So, for instance, even if an event post is yet to expire, new posts can push it down and out of view. But the good news is that, your audience can still view expired or older posts by navigating to the "Posts" tab on their phones or tapping on "View previous updates on Google" on the knowledge panel.
You don't need to add hashtags to your posts and they won't work like they do on social media platforms.
It is a good idea to add emojis or use GIFs instead of images to visually boost your posts.
Remember that if you are adding multiple photos to a post, the order in which they appear will change across various search results. So, if the order is crucial for you, avoid multiple images.
If you are adding more than one video or image to a post, then desktop or mobile search results will appear like this:
You can use apps, tools or plugins like Canva, Publer etc. to design and pre-schedule posts. This will help you structure your Google My Business strategy.
When a potential customer decides to follow you on Google Maps app, your new posts will appear in their "For you" section of the feed.
Q6. How can I create a Google My Business post? What is the process?
Answer: Whether you intend to create a post on your computer, Android phone or iPhone, the steps are simple.
Computer
Sign in to Google My Business first and if you have multiple locations, open the one you wish to update.
Click on Posts, from the menu.
Select the post type on the top of the page – like Event, Update, Product or Offer. Then click on the elements you intend to add to the post, such as text, photos, videos, offers, events and buttons. For each element, enter the information required.
Click on Preview to see if everything is in place. In case you want any changes, click on Back at the top left corner.
Then click on Publish at the top right corner, to publish your post.
Remember that the size of all media files must be between 10KB and 25MB. The resolution must be between 400 x 300 pixels and 10,000 x 10,000 pixels.
Though the maximum character limit for post content is 1500, try to keep it between 150 and 300 to make the most impact.
The content should be of high-quality, relevant, respectful and full of helpful information. Check the grammar too.
Android / iPhone
First open the Google My Business app.
Tap on Home and then Post + (on an iPhone, you will find Post + at the bottom right corner).
Choose the post type you wish to create.
The rest of the steps are same as on a computer.
Q7. How can I make Google My Business posts better?
Answer: Here are some great tips to make the most of your GMB posts:
If you are launching a new product or just uploaded a new blog post or video, create a GMB post for it to gain maximum attention.
Creating an Offer GMB post? Those that expire in 24 hours will get the most clicks as they will create a sense of urgency.
Add images, videos (maximum 30 seconds long) and emojis whenever possible to enhance visual appeal. Vibrant colors will stand out more.
Always add a powerful CTA to the post, so that your audience knows what action to take. It can be "learn more", "buy", "book an appointment", "order online", "call now", "sign up" or something similar.
You should publish your post or schedule it at a time when your target audience is most likely to see it. For this, you will need to research about their time zones, habits (both online and offline), device usage etc. For example, if you are a coffee shop planning to have a special menu on the weekend, try to post about it on Wednesday or Thursday, because that's when people start planning.
Wondering how often should you post on Google My Business? At least once every 7 days is the ideal frequency. However, some businesses choose to post once every day too, as this improves the chance of ranking higher.
Q8. How can I measure the success of my posts? 
Answer: Monitoring as well as analyzing data can help you understand if your posts are working or if you need to tweak them. So, first, you can check your Google MY Business dashboard, navigate to the section for Posts and see how many views and clicks you are getting.
However, for more accuracy and detailed insights, you can add UTM tracking URLs on your Google My Business listing. These URLs will connect to your website. So, in your Google Analytics account, you will get to see how many people are coming to your website and doing what. Google's Campaign URL Builder tool will help you get started. Then, you can simply enter details like website URL, campaign source, medium, name and term, and also campaign content. The image below will give you a clear idea. Also note how the traffic from GMB post is getting categorized under organic traffic.
Also Read: How to start your first content marketing campaign?
Q9. Does a Google My Business post actually work?  
Answer: From an SEO point of view, Google My Business listings as well as posts act as powerful ranking "signals" or the factors that make your business more attractive to Google's search algorithm. So, it absolutely makes sense to boost your local SEO strategy with these posts. In other words, your target audience can find you more easily now.
Google can also extract content (make it SEO-friendly) from your GMB posts to create rich snippets, like the one shown below. This helps you to rank higher on the search results page.
And, as mentioned before, these posts improve CTR or click through rate, getting more traffic to your website and generating better leads or ones that are more likely to convert.
To wrap up
By now, you probably have a fair idea about what Google My Business posts can do for your business and how you can create them and grab a good spot on local search results. It is one of the best and free digital marketing strategies you can use to boost brand awareness and sales.
And if you need a bit of guidance, get in touch with one of our Google My Business experts now.