Google My Business – Frequently Asked Questions Answered
Google has always been gung-ho about improving local search. A new edge adding to the optimizer's arsenal is Google My Business posts. If you are a local business, you must consider trying it. After all, it is being touted as one of the most powerful ways to improve local search engine optimization and visibility. Besides, it is free additional exposure on SERPs that everyone needs.
Sources like this one from Moz have shared a list of the local search ranking factors. The importance of signals from local business grew from 19% to 25% between 2017 and 2018.
Image Source: www.moz.com
Google says posts are 'an easy way to attract new customers and build relationships with the ones you already have'. How you connect the increased visibility to metrics is what we can walk you through in this blog.
Where do Posts Appear?
GMB posts appear within your Google listing knowledge panel when a potential customer searches for your business by name. The position of the post has changed in the past and Google often experiments with tweaks.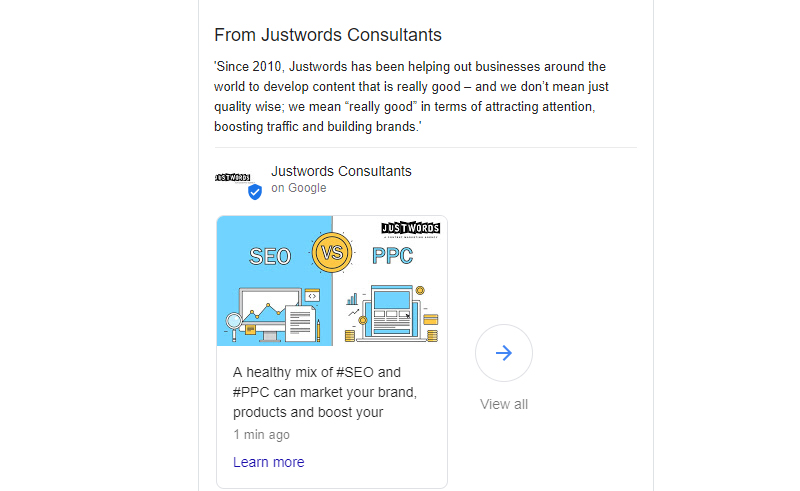 Initially, only the first 100 chars of the post are visible. When you click on the post, it expands into an attention-grabbing image/copy combination box with a call to action button. This can fit up to 300 words. You can also add a URL which can be a link to your website or landing page.
How to Create Google My Business Posts
Within your GMB settings, look for a 'New' Posts tab on the left side of the screen
Once you do this, have an 80 -100-word post ready. While the post supports 300 words, the first 100 words are likely to get more visibility depending on the device. The first 100 words are also best to have important keywords.
The best image size for a GMB post is 750 x 750. In any case, it shouldn't be lesser than 250 x 250. A centrally aligned image works best even if it gets cropped on the sides. As an alternative, you can also try 400 x 300.
Have very little or preferably no text on the image as it may get cropped
The difference between a GMB post and a social one is that it is appearing when someone is already looking for your business. In this case, the intent is already there and you only need a small but right push for conversion. Keep the posts conversational and accurate and be sure to try out offers that can be the nudge between an 'I may buy' and 'I want to buy'.
Design a custom landing page specific to the event or offer. Alternatively, lead your customers to a relevant page on your site.
What do you need to know before creating the posts
Local business statistics so far support that most people who look for a local business are likely to interact with it within a day. Keeping your offers time-relevant and exciting increases the chances of clicks.
GMB posts are removed from view after seven days. This is the default. The posts are however available under the Posts tab on mobile. The only exception here is event-based posts which move out of view after the event end date.
GMB posts went live in 2017. Businesses have been experimenting with it for quite a while. No one is reporting a downside. Where possible there are positive stories of enhanced visibility.
What type of posts can you create?
GMB posts incline towards being timely and topical. Keeping this in mind, you can create posts on
What's new
Events
Offers
And Products
What is the call to actions available?
The various CTAs available are Book, Order online, Learn more, Sign up, Call now and more. It generally includes everything that you are most likely to do as an action point if you find the local business meeting your criteria of the search.
Some GMB ads are auto-generated
According to this March update, Google also seems to be pulling up your positive reviews and putting them into an ad format and pushing it out as a suggested post. It does look like a good way to get additional visibility for positive customer feedback.
Do GMB posts work?
Or rather, the idea of sticking on and reading so far is to discover whether GMB posts will work for you. From an SEO standpoint, local business listings work as an important ranking signal. Therefore, it is imperative for optimizers to try it out to check the overall effect.
Post ideas
Tactical and timely posts are the best content for local businesses. Here are the types of posts you can try out
Offers: A limited period offer, especially one that expires in 24 hours. People are more likely to go for it given the urgency
Events: Event posts stay on until the end of the event. Restaurants can do this for food festivals. Real estate companies can create this for walk-in events. You can also do this for seminars and workshops
Launch update: A recently launched product or variant can make for a good GMB post, especially when you want to create the buzz
Sale update: An end of season sale makes for a good event + offer update that can catch the attention
A new blog or video: Have something new to tell your customers, GMB posts can get it the attention it needs.
Overall, GMB posts are worth a try if you are a local business, especially for ranking signals. The best way to go about it is to merge the updates with your topical social calendar.
Let us know via comments how GMB posts are working for a chance to be featured on this blog.