13 Digital Marketing Trends and Innovations For 2020
If someone would have told me in 2015 or 2016 that Voice Search, AI and data-driven marketing were going to be the future of the digital marketing industry, I would have probably thought "fine, ya, let's forget it for now and think of it when that happens; we have more important things to do now man". 
And suddenly that time has come now. It's 2020 and all these are now part of innovative digital marketing trends that businesses are adopting to remain competitive in the online landscape. 
If there is one thing we know by now is that consumer behaviour has become hard to predict and marketing technology is moving ahead at a fast pace. If you are a digital marketer who is still applying the old methods and taking educated guesses, it's time to move on. 
So, here is a list of the top 13 top digital marketing trends that your business/brand needs to consider in order to stand out in the cut-throat world of online marketing:
1. Artificial Intelligence and Machine Learning
With such a large chunk of data harvested from ecommerce and online consumer behavior, it's necessary to adopt a system that can compile and analyze all necessary information as quickly as possible. Artificial Intelligence (AI) and Machine Learning (ML) are perfect for doing just that. Not only can the combination of these technologies analyze data without step-by-step instructions, but they can also work to develop more accurate ways to execute digital marketing goals. 
For example, AI and ML have driven product recommendations for companies as big as Amazon and been able to accurately generate content without human direction. To implement some of these strategies in your own digital marketing campaign, you can create AI-powered digital ads, or smart posters. Essentially, with this technology, you can customize content based on physical or virtual consumer interaction data. The system can understand what features are interacted with the least and automatically drive out that feature to only showcase those that are creating the maximum consumer interaction.
2. Blockchain
While converting the bulk of your business's marketing strategies to the digital world can create a vast amount of opportunities and efficiencies, it also opens the door to a number of security threats. Luckily, in recent years, many businesses have begun to implement blockchain technology. The technology can protect your general business functions and transactions from fraud and theft. For marketing, specifically, blockchain technology has helped businesses to earn more profit from their marketing data. 
Previously, when a business invested in Google's search engine marketing ads for their site, Google ultimately handled the ad transactions to ensure that each site was charged fairly for the number of clicks generated from the ad. However, with blockchain digital marketing, this middleman, which is Google, is removed from the equation. Businesses now have complete ownership of the data and information they receive. They no longer have to go through Google to ensure that the data is valid and authorized by the user, because the users are able to authorize their data themselves. This allows businesses to retain 100% of the profits. 
3. Personalization
In order to ensure success for your business's digital marketing campaigns, you must adopt personalization as one of your strategies. Not only will it help to build a relationship with each of your customers, but it has also proven to be successful at converting potential buyers into dedicated customers. In fact, 79% of consumers say they are likely to interact with a campaign only if it has been personalized. Similarly, about 63% say they become "highly annoyed" by a brand's continued use of generic mass marketing campaigns. These two statistics alone give plenty of reason as to why personalization is required in today's digital marketing.
Also Read:  Best Crucial Things To Keep In Mind While Building Your Digital Marketing Agency
To integrate personalization with email marketing, many companies send out abandoned cart notifications. Every time a consumer shops on your site and leaves without purchasing any of the items that they added to their cart, you can send out an abandoned cart email. In doing so, you are remarketing the products that a specific consumer added to their cart. This email will be very different from the email another customer receives about their abandoned cart, which is what makes it personalized. However, this is not the only way to personalize a digital marketing campaign. So, be creative, and eventually you will appeal to those 79% of consumers.
4. Chatbots
Chatbots and instant messenger are expected to grow and power about 80% of customer service this year. Given that we now know the powerful benefits of personalization in digital marketing, you may understand why the conversational component of chatbots is equally as powerful. Businesses that use instant messaging or chatbots have the opportunity to connect with customers in real time and cater to their specific needs. With the advanced intelligence that AI has introduced in chatbots, the technology is able to simulate an in-person conversation, which is typically preferred by a customer. A chatbot's AI capabilities also give it the "brainpower" to market relevant products throughout the conversation.
5. Progressive Web Apps (PWAs)
Given that about 60% of Google search engine queries come from mobile devices, one might assume that both the mobile device and mobile view are much more user-friendly and accessible than a desktop. While you can't convert a desktop to a mobile device, you can most certainly add elements that make the desktop view similar to its counterpart. This is essentially the idea behind progressive web apps. They act as a middle ground between desktop and mobile views, allowing businesses to implement successful elements of mobile or app views at a fraction of the development cost. Small changes to a desktop page, like faster loading speeds, offline working, and push notifications can help improve the user experience and the digital marketing and sales process for businesses.
6. Internet of Things (IoT)
When it comes to digital marketing, data analysis is the number one thing that every business needs in order to make successful marketing decisions. Without it, brands will end up with a very limited understanding of their customer base. And their marketing goals will become difficult to attain. Luckily, because of the IoT, the vast connectivity of customers and their devices provides companies with abundant data. Brands can now detect their customers' most used apps and social media platforms as well as their location, behavior, and sometimes even their past purchases. All this information is important for conducting an accurate, relevant, and personalized digital marketing campaign.
7. Interactive Content
In 2020, we have already seen so many interesting changes in the ways that businesses market and sell to consumers. One of them is the use of creative content over basic sales pitches. In previous decades, many businesses based their marketing efforts on advertising low prices and quality features. While that was effective before, it is much less effective now because of how different consumers are. These days, most individuals have become accustomed to consuming interactive or creative content from influencers and followers across a number of platforms. Because of this, many companies have found success in mimicking this content in their digital marketing campaigns, to improve relationships with potential customers. This includes things such as quizzes, surveys, augmented reality games and ads, or video and photo content on social media platforms. All of these content types allow a great opportunity for customer interaction, which will at the very least improve your brand awareness and reputation. In many cases, it can create long-time customers and enhance your base of loyalists.
Also Read:  Are You Updated on These Latest Updates in the Digital World?
8. BERT-Optimised Content Marketing
Google's search algorithm underwent a major change last year, thanks to BERT. It basically helps Google to understand the nuances of the natural language we use while searching for anything. In other words, Google's advanced search algorithm can now understand the difference between words like "to", "from", "for" etc. This will lead to better and more relevant search results. This is the reason why businesses must now focus on well-written, informative and engaging content, which appeals to human readers, rather than just forcing in keywords and following SEO trends. And since content marketing leads to 6 times more conversions and costs about 60% less than marketing that is outbound, it makes sense to invest in it the right way. 
9. Influencer Marketing and Collaborations
Content creators across several social media platforms like YouTube, Instagram, and Pinterest have grown their followers in the last few decades. And this is the reason why brands and advertisers are flocking to them for marketing opportunities. Studies have shown that nearly half of all consumers depend on influencers for purchasing recommendations and about 40% follow through with purchases through these social media apps. This shows the incredible impact that influencer marketing has, and will continue to have in 2020. 
Many companies use influencer marketing platforms to connect with content creators who have a large following in the business's niche. A platform such as this makes it easy for creators and businesses to collaborate on marketing ideas and ultimately execute the perfect digital marketing advertisement.
10. User-Generated Content
Today, consumers trust other consumers more than they trust brands. In other words, if a mother sees another mother advocating a certain type of cereal, she will be more likely to buy it. It will work more than a traditional brand ad. So, businesses are understanding this trend and are promoting user generated content or UGC to reel in more customers. The potential Gen Z and millennial customers are especially good targets for UGC. Businesses can encourage them to share attractive content on social media platforms and offer incentives like a discount, gift card or coupon in return. 
Companies often offer incentives of some sort to consumers who follow a number of guidelines. Commonly, these include following the social media accounts of the company, commenting and tagging friends in the post, and creating your own content under a particular hashtag that's related to the brand. In the past, we've seen this with the world-renowned coffee shop, Starbucks. They have conducted a number of giveaways offering free gifts and deals to users who post a targeted product.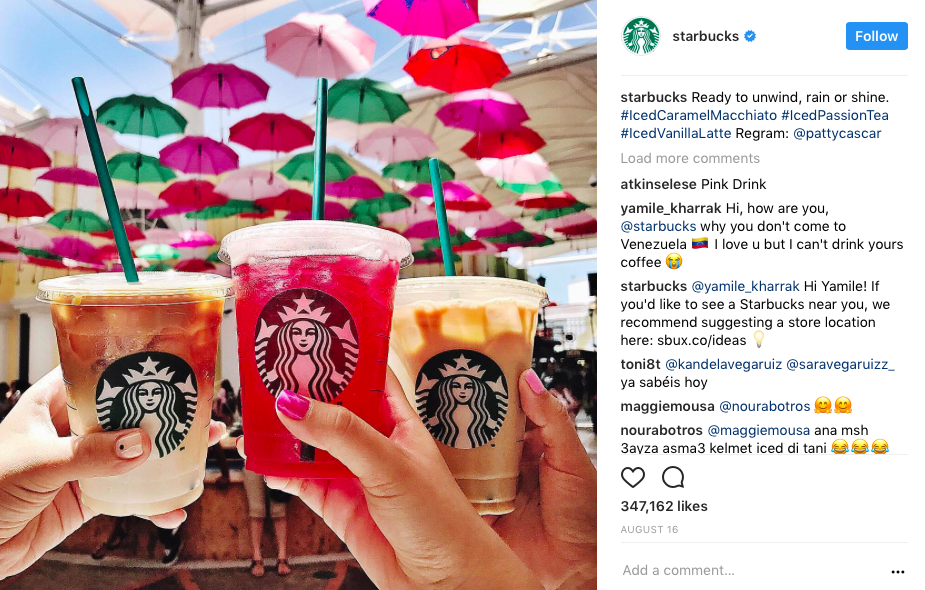 Photo from Gossip Genie
UGC can boost customer engagement and lead to more conversions. A report by TurnTo Networks showed that 90% shoppers are influenced by UGC when they decide to buy something. This influence is more prominent among those who are 18-29 years of age. 
11. Omnichannel Marketing
By now, you must have realised how social media has a large role to play in the world of digital marketing. While the above marketing strategies may seem simple to implement, they can become difficult to keep up with as your company grows. For a company that posts effective content on 4-5 platforms daily, communication gaps may appear and synchronization among accounts can be difficult to achieve. This is why so many businesses opt for omnichannel marketing, which allows them to post one consistent message on multiple social media channels. 
Businesses that have utilized this digital marketing tactic have found that customer retention becomes 90% higher and purchase frequency becomes 250% higher than in single channel marketing. Not only does the connectivity of your platforms improve customer experience, but it also drives profits. Now, this doesn't eliminate the opportunity to post platform-specific content. However, for events, contests, giveaways, and other consistent brand voice content, omnichannel marketing is the perfect solution.
12. Branding Through E.A.T
Did you know that around 64% consumers become more loyal to a brand when they feel a deep connection with it? This means that the right branding is essential so that your business seems credible to potential customers. So, you need to focus on the E.A.T ranking factor Google follows to decide if your website is worth a high rank or not. To break it down, E.A.T refers to – 
Expertise – Your website needs high-quality content created by someone who has sufficient domain knowledge 
Authority – Your website should have the necessary authority on the subject it covers
Trustworthiness – Other trusted sites should link to your website, which will build your credibility 
In industries like finance or healthcare, providing accurate information will be of utmost importance too. Trust and respect of customers can also be earned by speaking at major events or conferences or creating guests blog posts on reputed blogs. All in all, the content should be updated and well-researched. 
13. Security of Website
Last year, about 3800 data breaches were observed by Tech Republic in both big and small organizations, including Facebook, Yahoo and Marriott. Hence, website security is of top importance. Otherwise, you might witness a high bounce rate. And once Google realises that visitors don't trust your website, your ranking will take a hit. 
So, apart from enabling the HTTPS protocol on your website (a green padlock sign will appear in your URL), displaying a trust badge or security seal of trust can help. Using a secure payment gateway is also mandatory if you want your customers to follow through with their purchases and not abandon carts when they find the checkout process suspicious.   
To Conclude
When it comes to digital marketing, being aware of the latest innovations and trends can help your business earn that competitive edge over others. So, keep the above trends in mind when you decide to tweak your marketing strategies. 
And if you need a bit of expert guidance, just click here.