Rise of new social media channels – Vero, Tik Tok and others you should be aware about
All digital marketers know that there are dime a dozen new social channels emerging every day, all wanting to be the next Facebook and take over the world. What the savvy digital marketer really wants to know is which of these should he or she bet their money on.
Existing social giants have changed the algorithm several times to nullify our investment. Most brands went after increasing fan follower count aggressively on Facebook until one fine day it just didn't matter how many you had as the organic reach was going to be paltry at best. But for other social channels, follower count still matters, and so do metrics like engagement.
So, essentially, what we are saying is that an average Digital marketer is living the 'Fast and Furious' life with a 'Ride or die' attitude. We have to try things out constantly, know how it works, blog about it, educate others, keep learning and experimenting and use the collective intelligence of the hive to see how to use the platform.
Let's check out some of the newbies in the digital arena and how you can find a way to begin experimenting with them.
Tiktok
Entertaining, addictive and fun are some of the adjectives used to describe this popular app whose meteoric rise to stardom in 3 short years is commendable. By their own definition, they sound like a competitor to YouTube – they are a music and video platform that allows users to create and share videos on any topic. But the two platforms are vastly different. Primarily because Tiktok is for really short vertical videos ranging between 15 – 60 secs in length. Known as Douyin in China, the app is simple to use, loved by the younger audience (especially teenagers), is strongly driven by localized content and has the Apple music library.
Claim to fame
Fastest downloaded app, challenges, high degree of engagement – much higher than existing platforms and celebrity endorsement. In fact Tiktok really aced on local celebrity endorsement and this was one of the biggest reasons it grew so fast so quickly. It has spawned a new breed of influencers called Tiktok influencers and you see their popularity flowing from online to offline.
How brands can leverage TikTok
Challenges are an interesting way to get attention on TikTok. Challenges are as crazy as they come. There was the #achoo challenge where people jumped from one character to another after a sneeze. Other challenges are organically, and in this case, literally rolled out by celebrities like the #Tumbleweed challenge by Jimmy Fallon.
In eyeballs and engagement is your criteria, TikTok can do the job for you with their target audience. The Har ghoot mein swag challenge by Pepsi had celebrities Tiger Shroff and Disha Patani showing off the #SwagStep and encouraged other users to share their steps. Until date, challenge has over 15 billion views! There is something about a doable challenge that makes people take it up, then circle back and tag friends to do the same – like the Ice bucket one.
The premise of such challenges is that engagement with the brand eventually works to a recall and likability perspective. The users of the future aren't passive but have a point of view and aren't shy of expressing it. So where is this whole engagement going? It is allowing brands to build a 'brand community' of sorts filled with advocates and super users who can maximize the reach. The wait and watch for TikTok is how the platform will shape up to eventually to help marketers reach their ROI at the end of the rainbow.
Vero
Vero was started in 2015 but it became the "hot new" only 2018. It's claim to fame is that it is "authentic" by not using an algorithm to determine content visibility. It is also an ad-free platform (for now). That's how Instagram started, remember? The good part is that people who are dissatisfied of being short-changed by Facebook and Instagram's algorithm and have worried about their content being lost are now in a more comfortable space with Vero. At least, the organic appeal is not lost.
Leveraging Vero
Since the platform is ad free, changing this status can mean losing user base. As a brand, this means you get to organically test out your traction with this user base. Since there isn't a shift of marketing money involved, the adoption by brands may be better justified than another new social platform. On the other hand, we've burned our efforts with other platforms like this that haven't been able to continue their scaling without advertiser money. The other 'What if' that you should consider before you jump on the Vero wagon is 'What if one of the bigger fishes eats this one?'
Lasso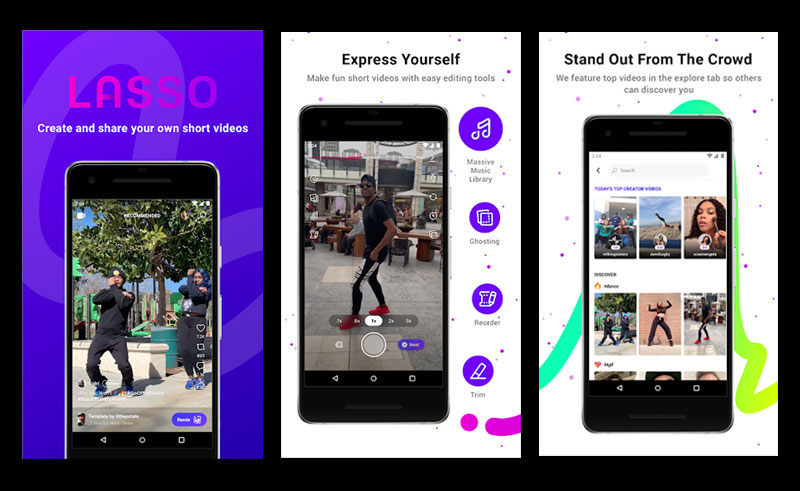 Facebook has a simple policy – either buy your competition or make a simpler and better version of what they have to beat them. Since TikTok comes as a threat in the social space, Facebook decided to quietly launch Lasso. It has mostly similar features. What makes it 'easier' is that you can user your Facebook / Instagram account to login and also share Lasso videos as stories on Facebook. This will be eventually available for Instagram too.
Leveraging Lasso
Facebook knows how to make a business out of a product. You can expect them to throw their might behind Lasso too to outrun TikTok. Given the existing platform synergies, it makes it easier for marketers to adopt. However, Lasso currently seems like a late entrant in the short video player game. This one we closely watch on how things can turn out. More information here
Caffeine
Caffeine is the new Twitch. It's the social media platform for live streamers. The platform is aimed at gamers and artists. Started by a couple of Apple designers in 2018, the startup came to limelight when it raised $100 million from 21st Century Fox for a content joint venture. The platform is started with a premise to facilitate users in broadcasting sports, entertainment and gaming content. You can now simply watch TV shows here too. Caffeine also made an interesting move by netting a deal with Live Nation which brings live music to its platform.
It introduced a monetization strategy which allows the user to purchase 'Caffeine Gold' which they can exchange for digital items during broadcast like trophies and treasure chests. The broadcasters get to 'encash' the gold they gain for real money or more gold.
Leveraging Caffeine
If you are in the realm of gaming, sports or entertainment broadcasting, you should test this medium out. Caffeine still has a long way to go to in terms of identifying the sweet spot in terms of income for the gamers and revenue for the platform and costs for the viewers. It is likely to evolve and morph into an easily usable system. Until then, no harm in being the early bird here.
Mastodon
Mastodon allows users of different open platforms to interact with each other that support the same protocol. What's tweets to Twitter is toots to Mastodon. The only change here is that the platform is not centrally hosted but is on individual servers. Each server gets to decide its code of conduct, terms and moderation policy and users get to choose which server they would like to align with. When someone creates their 'version', it is called an instance. As of today, the network has 2.2 million user – users whose interests come first and not some wealthy corporation that bends the rules for its own advantage. This puts Mastodon in a unique position that it can't be sold, it can't go bankrupt and it can't be blocked by governments. The platform sounds like a great solution but also has its nay sayers clearly voicing an opinion https://medium.com/@cassolotl/i-left-mastodon-yesterday-4c5796b0f548
Leveraging Mostodon
Since no one owns Mastodon, you can create your instance here and build your community around it as long as the rules are likeable by everyone joining in. This fediverse is not an easy one to navigate but its great set it up as an experiment for the team to see what comes out of it.
That's our list of social networks to check out. Have others to add to the list? Drop a comment here.
Watch: We are a Content-First Agency