20 Go-To Websites for Beautiful, High Res & Free Stock Images
Think about the time you clicked on a blog piece or a social media post just because the pictures were beautiful, or kept scrolling down the content because the visuals were good or scanned watched the video because of a good thumbnail or read the whole story through in infographic because it contained attractive imagery.
Well that's just it – the power of visuals. Visuals play a crucial part in determining the success of your content and to a large extent your content marketing efforts.
About 80% social media marketers use images and videos to tell a story or convey a message in an effective way. In recent years, daily video viewing minutes spent on mobile devices have shot up by 10 million too. Also, it has been observed that if any information is accompanied by a relevant image, your brain can recall 65% of it even after 3 days.
So where do you get all those great images, and that too preferably free?
This is where free stock photos come in
For quite some time now, businesses have been using stock photos to power up their textual content on websites, blogs, e-books, whitepapers etc. However, not all stock photos will give you the desired results, as they might seem too artificial, common or irrelevant.
For instance, this picture is too generic for the viewer to recall your brand correctly.
And this image is too artificial or unnatural or "plastic" for viewers to relate with your brand or associate you with what you offer.
So, as a content marketing agency, we realize how important it is to choose the right visuals to narrate your brand's story, mission and vision. The following tips will especially come in handy.
Go for natural-looking images
Choosing from royalty free stock photos doesn't mean that you have to go for those that look "staged" or unnatural. For example, models with perfect clothes and perfect smiles instantly tell the reader that the image is not authentic. Hence, they are unable to actually connect with or relate to your brand. They subconsciously hesitate and cannot trust you completely.
So, try and go for images that are more natural or believable. Their setting might not be perfect or the models might look like common people, but that is what your audience will connect with better.
Compare the two images below to understand what we mean.


Your images should match the content flow
You need to choose the feature image on a blog post or webpage carefully. That is because this is the one that gets automatically shared on social media platforms. Remember that a reader will have very short attention span and the image will catch his eye, rather than the text. Since the feature image is the first image a reader will see, it will set the tone for the rest of the content and make or break your impression. Hence, it should be as relevant to the content as possible.
If you choosing images for each bullet point of a checklist or a listicle, make sure each image is in the same position under each point. This will ensure visual cohesiveness for the reader.
Make sure your image tells a good story
Before choosing any copyright free image, consider how it is connecting with your brand. In case you are adding images in-between content, avoid 'filler' images or those that don't make much sense.
Ask yourself how the image is adding to the blog post's overall appeal or value?
Can it convey the things that the text can't?
For instance, if you have to choose a picture for an article on work from home professionals, a staged photo of a supermodel with a laptop on a sunny beach might seem impractical. Rather, you can select a realistic yet aesthetic home office, as shown above, complete with a workstation, some artworks, and a few knickknacks.
Lend a personal touch to the image
Remember that royalty free stock photos are used by many other brands. So, even if you decide to go with a really good one, try to make it personal or customized. Enhancing the colors, adding text overlays, adding filters or cropping an image to use a part of it only are some good ideas. This way, it won't look like the images used by everyone else.
Be on the lookout for newer pastures
Most content marketers tend to resort to some specific free stock photo sites.And over time, they get comfortable with it. However, you can soon run out of creative photos or those that set you apart. So, always look out for newer pastures or the latest resources for free stock images.
Be careful about the word "free" though. Each picture might come with its own set of terms and conditions. Or, each website will have its own criteria for usage. For instance, some websites will let you use a photo commercially only if you purchase it. Or, in some websites, attribution to the photographer might be required. So, go through the fine print of a website carefully before choosing a stock image.
Also Read: Best Content Marketing Examples To Learn From
So anyway, we guessed that it might be useful putting together a list of the top stock photo sites that can be really helpful in sourcing images.
Here you go.
20 best stock photo sites that you cannot miss
1. Unsplash
This website is widely popular for its fresh, beautiful and high-resolution stock photos that can be used for personal or commercial purposes, without paying anything. While no permission is required, the website appreciates attributions. Note that photos cannot be sold without major modifications. The site has various categories (like nature, travel, current events, people, film etc.) listed at the top to make photo-browsing simple. Under the search box, you will find the trending categories or subjects too.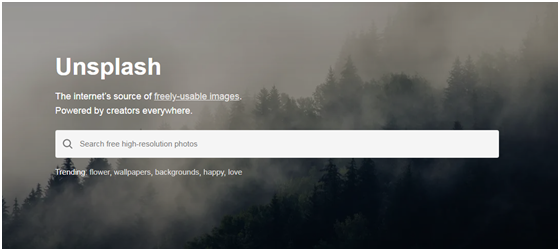 2. Pexels
If you are looking for absolutely free stock images with the COO (Creative Commons Zero) license, this is one of the top free image websites. You will find superior-quality images here, as Pexels inspires photographers to submit their best work by offering prizes and promotion incentives. The site is easy to explore and the Discover tab will help you find unique photos easily. The search box features the most popular search terms underneath.

3. Icons8 –
From high resolution and brilliant photos on Moose to icons and vector graphics and illustrations, Icons8 is a designer's or marketer's go-to platform for free media. You can search for relevant images by entering keywords related to emotions or activities too. Plus, the site has a wide variety in people's images, so that you can pick natural-looking ones easily. The best part about this site is that, you can create composite or customized images after selecting your favorite objects, people and backgrounds. This means, you can lend all the personal touch you want without going anywhere else.

4. Picography 
If stunning, free, high resolution photos are what you need, this site is perfect for you. Dave Meier and other well-known photographers contribute to this site, in categories ranging from food, fashion and scenery to wildlife, architecture, sport, technology and even abstract. You will find categories like music, transport and festive too. The website offers a month-long free trial of Shutterstock as well.

5. Shopify Burst 
This can easily become your go-to website for royalty-free and impressive photos that don't have any copyright restrictions. Some of them are licensed under CCO while others come with Shopify's photo license. This platform is especially ideal for entrepreneurs who need the right tools to set up online stores. The site is easy to navigate, with pages dedicated to various collections, new photos, business ideas and resources. Under the search tab, the popular categories are listed as well.

6. StockSnap 
This is one of the best places for stock photos that are CCO licensed, gorgeous and free.They are added to this site on a weekly basis. You can easily pick from trending categories and subjects like nature, food, business, city, office, love and more. Apart from crisp and high-resolution images, this site also offers great deals. For instance, you can try Shutterstock and get 10 free photos! Or, you can get a domain and put up a website with Squarespace, through this site.

7. Reshot 
Looking for unique and realistic images that don't look "stocky"? Check out Reshot's massive collection then. All the pictures are free for commercial use and don't require any attribution. If you are tired of cheesy, artificial and generic images that don't showcase your brand the way they should, consider this site. They have different types of packs (of photos) you can tweet to download as per your need. The landing page impresses with clear and crisp images that are trending and popular search terms are shown at the bottom.

8. Gratisography
This website brings you spectacular, high-resolution and free images to use, by Ryan McGuire (from Bells Design). Every week, beautiful pictures are added to this site, and you can use these for personal or commercial purposes. The site design is a tad quirky, exciting and easy for browsing. You can pick from categories like animals, nature, urban, whimsical, business and people. You can easily check which ones are trending too. Moreover, the site also lets you enjoy a free one month trial of Shutterstock.

9. Picjumbo 
From holidays, roads and wallpapers to animals, abstract, nature, winter and sunlight, this website offers you absolutely free images for both persona land commercial applications. If you opt for the individual jumbo pack, you can download 3000 images in one go and create your own visuals' library. Or, go for the premium membership if you need more. Website designers prefer Picjumbo also because it provides user interface kits, fonts and templates for personalization.

10. Death to Stock 
The list of stock of images websites is incomplete without this one. The name makes it abundantly clear that this site doesn't bore you with typical stock photos that lack personality or uniqueness. It features images from artists who think outside the box and infuse life in their work. Fresh images are added to the collection on a monthly basis. Once you subscribe (there are multiple affordable plans to choose from based on your purpose or size of business), you can do what you wish with the photos. You get to enjoy unlimited downloads, complete access to more than 4500 photos, freedom to search all libraries and creative feedback on projects. A 14-day free trial is available as well.

11. Pixabay 
With more than 1.8 million free and high-quality images, vector sand illustrations at its disposal, Pixabay is easily one of the popular sites for marketers and designers. Despite its vast collection, the advanced search feature makes it easy to find what you want. The site is easy to navigate as well, and under the search box on the landing page, you will find popular suggestions like family, flowers, food, nature, love, business, and beach.

12. Kaboompics 
This is another cool website for royalty free stock images for commercial use. However, they cannot be sold or distributed. All the photos and photo shoots you get to see on the website are the products of Karolina Grabowska's artistry. Every image is high-resolution, unique and brilliant. No wonder, big media brands like BBC, CNN and Forbes have used here photos. Color palettes are also available with the photos so that designers can get creative. Her blog posts help marketers and web designers with some great insights too. From landscapes and architecture to food, fashion and abstract, you will find all kinds of categories.

13. Stockvault 
To tell your brand's story in the correct way, you might need free stock photos or vectors in unique categories or categories that are not covered by most stock-photo websites. This is where Stockvault comes to your aid. Apart from the usual landscape, buildings and nature photos, you will find categories like medical, insect, clouds, light effect, electronics, hot air balloons, chemistry and disease. New images are added daily to the collection and you can pick from multiple free textures too, like rock, dirt, wood, plastic, metallic etc.

14. FOCA Stock 
This website boasts a wonderful collection of free high quality images(licensed under CCO) by Jeffrey Betts, which you can use on your website, social media posts, projects, print materials, and so on. The popular categories include city, workspace, nature, and food and drinks. The FOCA Editor allows designers to create personalized graphics as well.

15. ISO Republic 
Your search for high-resolution and beautiful CCO images and videos can end with ISO Republic. Apart from an easy to browse layout, the site brings you a wide range of categories, like animals, architecture, travel, nature, technology, food, people, textures, business, sport, seasonal and fashion. You can download all images and videos without paying any royalty, and choose from different quality levels as well. The bonus is that, this site offers free trial of Shutterstock for a month.

16. Alamy 
There is a reason why Alamy is considered to offer the most diverse collection of free stock photos for blogs, websites and more. It boasts 210 million images, videos, vectors and panoramic (360 degree) images. From landscapes and lifestyles to art, architecture, book covers, cultures, sports and wildlife, this site brings you everything you can think of. Each photo looks natural, crisp and full of life. If you have had your fill of royalty-free images, you can go for more by paying a very affordable price.

17. Life of Pix 
The credit for this impressive resource of high-resolution images goes to LEEROY Web Design Agency. You can head to Gallery to browse copyright-free photos of nature, cities, people, food, objects, beaches, vehicles, architectures and more. Each photo has its own personality and exclusivity. You can check out their free videos as well.

18. New Old Stock 
There are times when antique or vintage photos are needed to boost your blog's or article's appeal or value. New Old Stock is a great option in that scenario. It features vintage images from public archives and all of these are free from copyright restrictions. Though the photos can be used for personal projects, they are not available for commercial ones. You can also check the relevant institution's statement of right before using an image. Mentioning the name of the institution is also recommended while using the photo.

19. Picspree 
When you are looking for free photos to use, this site is a must-see. It is supported by Getty images and has a massive royalty-free collection. Each stock photo is of superb quality and the categories range from animals, nature and food to business, education, fashion, fitness, jobs, feelings, technology and healthcare. You can find copyright-free vectors and illustrations as well. It is hassle-free to browse the site and download whatever you want.

20. Styled Stock 
Women entrepreneurs can now rejoice, thanks to the graceful, feminine and premium quality photos that this site offers. All of them are free and can be used for both commercial and personal projects. You can navigate to Our Images, to explore categories like food, floral, fashion, business, beauty, frames, lifestyle and so on. You can search for specific products and filter by color too. The blog is a valuable resource that shares tips on online marketing, blogging and even self-care!

To wrap up
Apart from the top free image websites mentioned above, you can also check out Skitterphoto, Freestocks.org, Foodiesfeed and Artgrid. Just remember the tips for using visuals that we shared in the beginning, when you are hunting for relevant, interesting and unique photos.
And if you are still not sure what images might be the best for your business or brand, or how and where to use them, give us a call and talk to one of our marketing experts.