Brand Campaigns That Earned the Right Spotlight on Republic Day 2020
Brands are in the constant lookout to engage with their prospects and build a moment marketing connection on special occasions. Republic Day 2020 too was one such occasion. On such days, it is never about a hard sell, but the messaging, where there is some product or service synergy.
We questioned various marketers on how they can evaluate the value of such initiatives. Mostly ranging for a week to just on the day of the event, some believe in ensuring that they never miss a chance to be in the visibility range of their users. Others, with contests, offers and quizzes, and engagement campaigns, try to generate leads and sales too.
Here are some interesting brand campaigns and ideas from Republic Day 2020.
Twitter: India Gate
Twitter launched the tricolor India Gate emoji on the 26th of January. They also had President Ramnath Kovind tweet it during his address to the nation. While an emoji is a great way to cut across language barriers, Twitter still made sure that the emoji (which was available until 30th Jan) was available in ten Indian languages, including Hindi, Tamil, Telugu, Kannada, Malayalam, Marathi, Bengali, Gujarati, Urdu and Gurmukhi.
Also Read: Content marketing for heavy industries – how you can make it work
Google Doodle
The 71st Republic Day Google Doodle was created by Meroo Seth, a Singapore based guest artist. It is the celebration of iconic India from famous landmarks like India Gate and the Taj Mahal to our national bird – the Indian peafowl, music and dance, fabric and culture. Even the camel from Rajasthan and the ubiquitous auto-rickshaw found a place in this doodle.
Tiktok #Deshkibhasa
Tiktok invited users to share videos of Republic Day wishes in their mother tongue using the hashtag #DeshkiBhasa. The tricolor sunglasses added to the fervor with several users responding to Tiktok's call. It was an engagement strategy that urged users to create more videos by riding on the patriotic sentiment of the day.
Zee5: #RepublicOfEntertainment
We need entertainment and we need it now. OTT platforms have both created and fulfilled a need that we did not know we had. Today, they are an integral part of the way we consume content (or rather binge watch it).
This Republic Day, Zee5 put out the #RepublicOfEntertainment message with a pledge to entertain with no bias of language or genre.
FBB: #WearYourPatriotism
FBB asked everyone to #WearYourPatriotism. This is a great way to ride on a popular trend as most people choose to wear some representative colors from the tricolor to mark the celebrations on this day.
In addition to this, they also created a special line of scarves inspired by our flag. The proceeds from the sales of the scarves were to be donated to the Indian army.
Also Read: How to start your first content marketing campaign: the 5 must-do steps
Lava: #SendItBack
Mobile handset brand Lava conducted the #SendItBack to curb the fake news menace. It urged users to send the 'Back' emoji to verify the authenticity of a forwarded message. The message also fits well into their #ProudlyIndian umbrella of brand positioning.
Amazon Prime Video and Netflix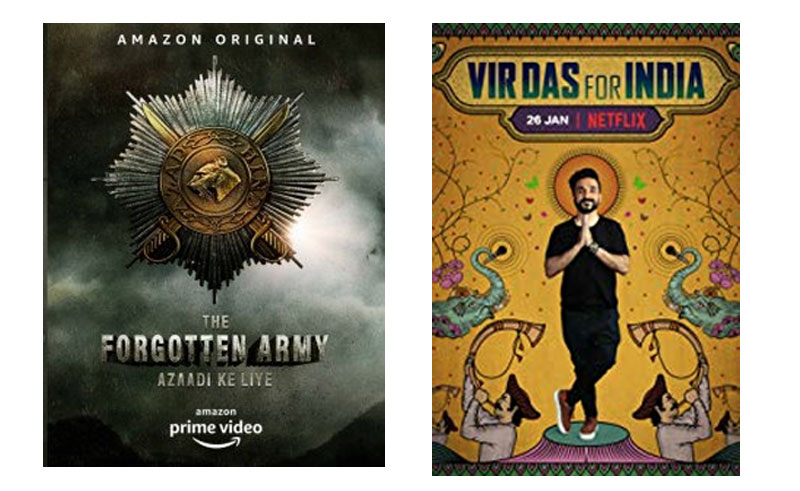 Prime video launched The Forgotten armies on 24th of January and Netflix launched Vir Das of India on the 26th. Both shows are now on the trending list.
Contests   
#ContestAlert #Contest ?
Tag, Retweet, Repeat! #RepublicDayWithMoneyTap should be trending before we start.?
Starting in 30 minutes.? #MoneyTap #RepublicDayWithMoneyTap #RepublicDay #RepublicDay2020 pic.twitter.com/QKw53kwMqz

— MoneyTap (@MoneyTapApp) January 24, 2020

Several contests were launched on the occasion and some even lasted until the end of the month. Kamdhenu Paints put out the #ShareTheColoursOfRepublicIndia contest asking for four colors they associate with the four pillars of our constitution – Equality, Fraternity, Justice and Liberty. Money Tap ran a Republic Day Quiz, the OppoColorOS community ran a contest for their fans.
Restaurant offers
Restaurants came up with some interesting offers to woo customers on Republic Day, which also worked well for them as it was a Sunday. Soda Bottle OpenerWala offered one cocktail from their new menu for just INR 26, all-inclusive. Taste of Punjab offered all their dishes only in tricolors among others. See what you missed here
Discounts
If not a special campaign idea, discounts do manage to grab attention.
Big Bazaar made their annual 5 SabseSatse Din campaign around Republic day. Here's a look on what got discounted
Ecommerce deals
AJIO offered flash deals of 71% flat off on popular brands, Lemon salons offered 50% flat off on all services, Lenskart offered 50% off on everything, Helios offered flat 20% off, Myntra had the Right to Fashion sale, and Amazon and Flipkart also worked hard to catch our attention.
Those that did not have an offer simply piggybacked on the celebration asking users to check out their already existing offers and discounts.
So, what did your brand do differently on Republic Day? Share via comments.