14 Ecommerce Brands with Amazing Social Media Pages You Cannot Ignore
There are quite a few reasons why both big and not-so-big brands are vying for their customers' attention on social media platforms these days. For one, more than half of the people inhabiting this planet use social media. Secondly, 87% of online shoppers rely on social media to arrive at a purchase decision. Thirdly, 71% consumers who have had a good brand experience on social media might recommend the brand to others.
Undoubtedly, Facebook, Twitter, Pinterest, and Intsagram are powerful digital marketing tools that can reap awesome rewards if you use them right. And for that, you must make your social media pages mobile-friendly, visually rich, trustworthy and valuable. So, how to go about it?
Check out the social media pages of these 14 ecommerce brands that have managed to hit the sweet spot of generating awareness, interest, and leads.
These brands have used creativity, humor, motivational cues and other positive ideas to make their social media posts shine and grab attention quickly. Read on and gather ideas and inspiration.
1. Zomato
When food delivery giant Zomato decided to hire Android developers in Gurgaon, they killed it with this quirky tweet! We especially love how they turned the familiar phrase of 'apples and oranges' into 'You think Oreos are better than Apples?'. The image is simple yet relevant and the red background is eye-catching.
2. Airbnb
This is one brand that knows how to play different marketing games on different social media channels. For instance, for their Instagram page, Airbnb encourages followers to share their experiences and memories like the one shown here. This helps build trust in others and establishes a better brand-customer connection.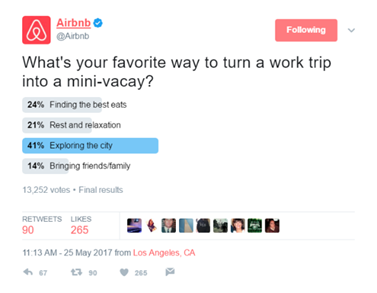 The brand's Twitter account has a slightly different angle as it mainly targets business travelers and drives discussions and opinions. This helps Airbnb to assess customer sentiments, needs and aspirations.
When it comes to their Facebook account, Airbnb combines content generated by users with brand values and emotionally-charged images. Here is a good example:
3. Sabyasachi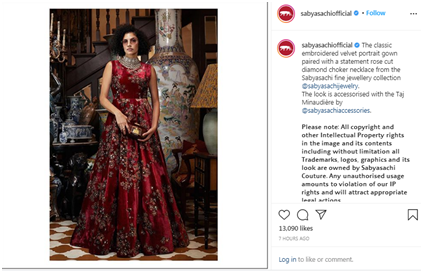 Even if you are not a fashion enthusiast, it's almost impossible to ignore the impressive designs by the famous Sabyasachi Mukherjee. And he makes sure of that by acing the social media marketing game. The post above is a fine example of how the designer flaunts his finest collections on Instagram, keeping the luxurious and beautiful aura intact in every image.
4. Nike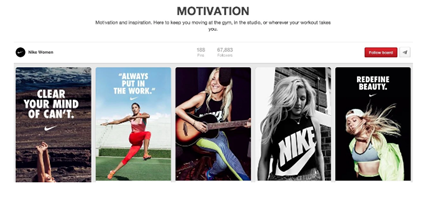 This wonderfully inspirational account targeted towards Nike Women from 2015 is an example of how the brand was able to create a deep bonding with female athletes, fitness enthusiasts and just any woman who believes she can do anything! The motivational quotes go really well with the images, and since the content is original, it creates an impact quickly. Such kind of social media marketing boosts long-term loyalty as well.
5. Asian Paints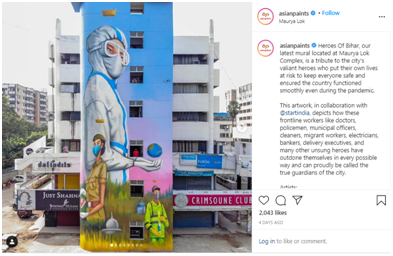 This color giant won many hearts and earned admiration when it painted this beautiful mural in Bihar, to honor those fighting COVID from the frontline. And a smart strategy was to share their gesture on a platform like Instagram, where unique visuals matter. By sending a social and thoughtful message, Asian Paints has been able to strengthen its position not only as a brand, but also as an entity that cares for those it serves.
6. IKEA
IKEA is another brand that is using social media for marketing as well as to rise above the pandemic and its economic impact. For instance, here's a Facebook post from August that shows how they decided to make work from home easy for all by offering multiple ideas to transform even tiny corners. You can swipe for more options and even click on the 'Shop Now' button to get those funky things that IKEA offers.
7. Etsy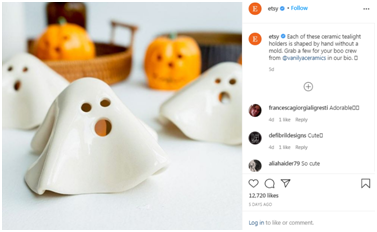 Etsy is a great example of social media and ecommerce go hand in hand. As a widely known online marketplace that brings you everything unique, artsy and quirky from millions of sellers, Etsy's social media strategy is worth taking note of. The above Instagram post is perfect for egging on followers to shop for Halloween, as no one can ignore the cute ghost-like tealight holders. Note how the text is short and sweet, highlighting the fact that these ceramic holders are handcrafted.
8. HauteLook

As a free event shopping site for only members, HauteLook promotes fashion items that can complete your entire look. Owned by Nordstrom, the brand has a powerful presence across all popular social media channels and cross-sells the same sets everywhere for a limited time and at attractive prices. For example, the posts above are taken from HauteLook's Instagram and Pinterest accounts and showcase a fall-favorite ensemble comprising of denims, a lacy top, tan boots and metal bangles.
9. Café Coffee Day
The biggest coffee retailer in India has a super smart social media strategy. Despite not using any traditional mode of advertising, CCD has always been able to make a big splash! This interactive Twitter post, for instance, shows how they combine fun and incentives to target their customers.
10. Netflix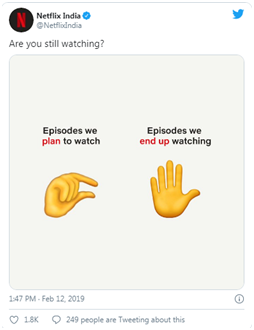 These days, Netflix is equivalent to entertainment, whether you love binge-watching its original shows or plan movie nights on weekends. This mammoth media streaming platform believes in innovative social media marketing strategies, as the Twitter post clearly indicates. Note how minimalistic the design is and yet how profound.
11. Pizza Hut
Pizza Hut's social media presence is as yummy as its cheesy pizzas. Why? Check out how they put user generated content to good use on their Facebook page. Posting what an actual customer thinks of your brand is a great way to build trust in others and get them to try your products. Note how they make it all fun by offering to feature those who share their feelings about Pizza Hut.
The brand's Instagram page is vibrant and fun too. Here's an example of how they use contests to stir up varied emotions in fans, cricket fever in this case! And in the process, they get more sales too.
12. Vicks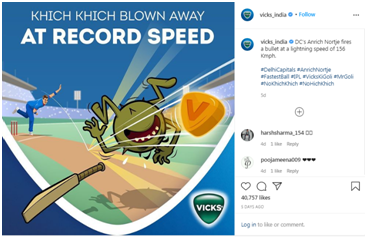 We love how this so-familiar brand for OTC medicines has hit a six with such style on social media. Their Instagram posts are charged with humor, pun and amazing creativity. Note how they use a color scheme that is consistent with the brand logo. It can better the recall and brand association.
13. Amul
When it comes to milk and milk-based products, Amul is a name that Indians associate with quality, purity, taste and fun as well. Their quirky Facebook posts are a good example of why that is.
However, we also can't help but admire the way they are using live recipe sessions on Facebook to create a deeper and more meaningful connection with their followers. Note that they are not promoting their products directly. The style is subtle yet powerful.
14. Fevicol
The list of ecommerce brands that have brilliant social media pages cannot be complete without the adhesive giant Fevicol. We couldn't help but share a few of their Instagram posts that are bubbling with cheekiness, humor, strategy and simplicity. Note how the brand uses different aspects of life and major happenings to formulate its messaging and captions.
Also Read: Social Media Style Guide – What is It and How to Create One?
It's your time to shine now!
So, what are you waiting for? These ecommerce brands must have inspired you already to take a leap in the right direction and make your social media marketing strategy a resounding success. Once you identify the social channel that is perfect for you, get started