Google My Business: Why Do I Need It and How to Use It for More Leads?
Here is an honest confession. About 80% of the times that I do buy/decide to buy something online (or offline), I make my discovery on Google or get influenced by the search results that it throws up. I am talking mostly about local search – for eg, that is how I discovered I had this fabulous chef service who were ready to come at my house on Sundays, the best orthopaedic for my mom's knee pain, the online plant shop that delivers my favourite plants even during this lockdown, etc etc…I could go on and on…
The point I am getting at is something that Google confirms – Location matters most and infact one-third of all mobile searches are location-centric. Which is why Google My Business (GMB) matters.
So, what is GMB?
Why is a must-have for small businesses?
Is it okay to just set it up or should you optimise it to gain maximum benefits?
Also, most importantly, how should you optimise your Google listings.
These are the questions that you should have answers to by the time you finish reading this guide. So, let's begin.
Local SEO Facts that will Blow Your Mind

Almost 46% of Google searches are location based and mostly people who are searching local have a high purchase intent.
More than 50% of people who search with "near me" make a physical visit to the store they searched within a week.
'Where to buy' and 'near me' search queries have grown over 200% in the last two years, says Google.
Online reviews influenced 67% of consumers.
18% of searches result in a local purchase within 24 hours.
What is Google My Business?
Google My Business is a free, easy-to-use, multi-featured business listing tool for local businesses to manage their online presence across Google search engine. In short, your potential customers can easily find your business on Google Search and Google Maps when you create a GMB account and verify your business.
When you create a GMB listing for your business, it can help your business appear on search results, ofcourse when someone is searching for your business or doing a local search for a product or service your business is selling.
For eg, if someone is searching for a mobile repair service centre near his or her vicinity, and your brand offers mobile repair services in the same area, your GMB listing is supposd to show up on Google, hence promoting your business locally.
Where does the GMB Listing Appear?
Here are the various sections of Google search that your GMB listing can appear.
1.Google Knowledge Panel
Information about your business will be prominently shown on Google's Knowledge Panel when someone searches for your brand or some of the services that your brand offers. It is present in concise, snippet-form to provide quick information to the searchers. This means more visibility to you.
The Google Knowledge Panel is the small box that appears on the right-hand side of the search results page when someone searches for a brand. It includes basic information like the business's name, address, phone number, working hours, reviews, etc.
If you search for Justwords Consultants, our GMB listing appears like this. Please look at the small profile on the right hand side of the picture below. That is how your GMB will appear too.
Here is another business that shows up when I type pizza delivery in my locality.
2. Google Local Pack
Having a GMB account will also ensure that your business makes an entry on the Google Local Pack results.
The local pack or the local finder is the topmost block of business listings that match your search terms.
For example, if I search for Joey's Pizza, this is what Google displays – thanks to the Google My Business listing.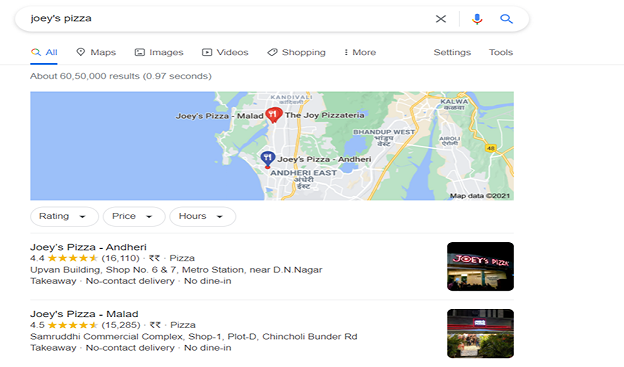 And what's better? You don't need a website to appear in the local pack searches. Just a GMB account is enough for your business to get online visibility.
3. Google Maps
Google Maps has been a useful tool for years now to locate an address. And when you create a GMB listing, people can easily view you on their Google Maps list. In short, it is a quick and easiest way to appear on the local market for specific keywords.
Here's what a Google Maps search will look like if you have a Google My Business listing.

Why Do You Need Google My Business?
That's an excellent question. Simply put, it will help your customers find you when they are looking for service that you are offering. Since most customers usually look for local solutions first (see infographic above), they are most likely to buy from you or visit your store or call your service.
Here are a couple of strong reasons for having a Google My Business listing for your business.
The GMB Information Helps Your Customer Know More About You
The GMB listing not only helps a customer find you locally, but also helps the customer with added information about your business. This is invaluable, especially when you do not have a website.
Also Read: Questions About Google My Business Posts
Here are some of the top ways your GMB listing information helps your customer know more about your brand.
Find about your business's working hours
Get directions to your business/shop
Call your business without visiting it physically
See pictures about your business and the products it sells
Read/write reviews about your business from other customers
Visit your website
Check available products/services
Make online bookings
Ask questions or answer them online regarding your business
All this information will help your consumer reach you directly without any more further search on the internet. The only thing they need to know in the first place is the name of your business to start with the search.
Plays Important Role in Local Ranking
You may have heard before, but still for those who don't know – Google My Business is the number one ranking factor for local search results. According to Google, local search results are based on "relevance, distance and prominence". This basically means that a GMB listing contributes to chances of your website ranking higher on local search.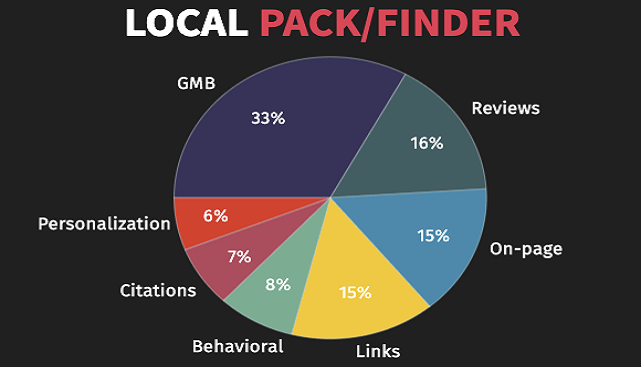 Credits: uberall
Once optimised, your GMB listing can act as a primary source of lead generation for your local business.
Boosts Your Business Credibility
Customers are more trustworthy towards the businesses with a GMB listing. Need proof? According to a survey, nearly 70% of people opted to visit the business after they went through the reviews available on their Google business listings https://hootsuite.com/newsroom/press-releases/hootsuite-announces-google-preferred-partner-status-launches-google-my-business-app.
Trust is a major key when it comes to the purchase of services or products from a business. So, a boost in creditability definitely seems like a good idea.
How to Set Up a Google My Business Listing?
Here is a step-by-step process for you to follow for creating a Google My Business account.
Step 1: Open Google My Business Create Page
Head to the Google My Business official page https://business.google.com/create, and search for your business name.
This step will take you to your page if you have already set up an account in the past. If you haven't, then click on the 'Add your business to Google' link.
Step 2: Fill in Your Business Name
Now, on this page, you have to fill in your business name.
Make sure that you use the real name of your business, and not embed it with keywords. Doing this can suspend your account.
You also need to select the main business category from the several options that Google offers you. Make sure that you select the category that best describes your business.
If you think you can add more than one category to explain your business, then you can do this at a later stage. But for now, go with the one that best describes you.
Step 3: Add Location
In the next window, it will ask if you want to add a location for your business or not. This is an optional step. But trust me when I say that go ahead and feed your address. It helps in building trust and transparency among your customers.
Adding a location also helps in finding the physical address of your store on Google Maps.
When you choose to add the location, it will prompt you to add in the complete address of your company to make it easy for your consumers.
Step 4: Review Listings
When you enter the address, there's a possibility that Google catches a potential close match of the address and asks you to confirm if you are one among them. If your business location isn't mentioned, then simply choose the 'none' option and proceed.
Step 5: Choose Locations That You Serve
The window will next ask you if you want to serve locations outside the address too. For this, you need to understand the nature of your business.
As an example, if you are a pizza restaurant, you will offer eat-in as well as delivery services. In this case, you have to go with the option 'yes'.
But if you offer beauty services, then there's a possibility that you offer services at a salon. And hence, you need to go with the option 'no'.
If you have selected yes, you will have to choose the areas that you will be offering services to. You can add multiple locations on this step.
Step 6: Add Contact Information
Next, you need to add your contact number (compulsory) and the URL of your website (optional). It also offers you the option of getting a free website based on the information you have provided.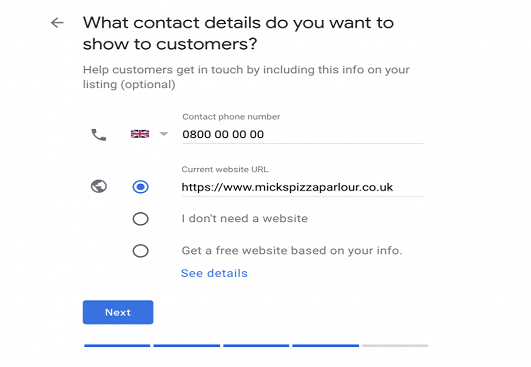 Once you enter the contact details, it will ask you to opt-in for updates and recommendations. My advice is to select regular updates from Google, but the final call is yours.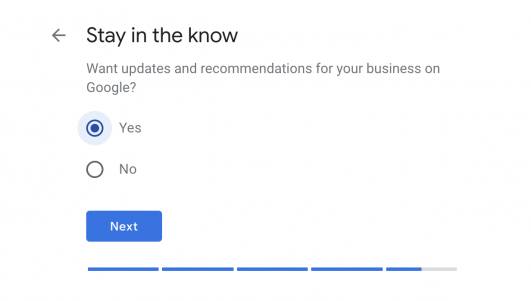 Step 7: Finish and Manage
Once you are done adding all the things from above, you simply need to click on the 'finish' option, and your Google My Business page will set up.
Step 8: Verify Listing
Although you may think that setting up the page is all you need to do, there's one important step remaining. Without verification, your GMB account is as good as non-existent.
You have two options to verify the listing. The first is instant via a phone call (recommended) and the second is via the postcard to the address you have provided.
The second option may take a few days to deliver the post to the mailing address. And there's a possibility that it gets lost in the way. So, it's always recommended to go with phone call verification.
You can also choose to verify it later. But that means you cannot access your complete account.
Step 9: Welcome GMB Dashboard
Once the verification is done, you can access and manage the GMB dashboard for your business. Complete your profile here by adding working hours, photos, description story, etc.
How to Succeed with Google My Business?
Just having a GMB account won't help you with local searches, especially now that it has become so common. So, how could you excel in this game?
It's simple! Just try to pull more levers than your competitors. And stay a level ahead of them in the search results.
How you can do that? Well, here's a brief introduction to the things that can help you with GMB listings and better rankings at local searches.
Let's start with the basics. Make sure that your NAP (name, address, and phone number) is accurate in your listing. This will help your customers find your business easily.
Also, pay attention to the NAP citations. Well, it means that the NAP should be the same everywhere – whether it be your website, social media pages, yellow pages, or simply your business cards.
People will only trust you (and so is the search engine) if that contact information is correct and the same everywhere.
In your GMB dashboard, you'll find a space to describe your business in 750 characters. Well, use this opportunity to help people understand what your business does. This is one of the first things your potential consumer will see, so try including your USPs here.
When you are writing this, make sure that you stick to Google's guidelines https://support.google.com/business/answer/3038177#description.
Also, another tip from our side: Although you shouldn't stuff keywords in the description, make sure to add some of your top keywords in the description, without flouting Google's rules.
Here are some great examples of how to write GMB descriptions.
Next, along with a description, also choose the right primary category for your business. The primary category will be visible on your GMB listing, so choose wisely.
The best way to choose the category is by looking at what your competitors have mentioned. This will help you with the numerous options available in the category list. And while at it, do not forget that the primary GMB category is ideally the number one factor of local ranking.
Note: You can change the categories later on. So, do not be afraid to experiment with what is best for you. However, do not change too often; or that might create a suspension of the account.
Uploading pictures of your business can help your customers know a little more about you. And trust me when I say, potential consumers, turn into paying customers when they come across active and recent pictures.
Prominence is one of the 3 factors based on which Google determines its local ranking results. And REVIEWS can play a major role in that prominence clause.
If you have a GMB listing, people will review your business; and others will be able to see those. So, play wisely. As it can make or break your business brand. And that's why it is important you take control of GMB reviews and actively monitor and respond to them.
What are GMB Reviews?
They are the reviews left by your customers after using your services. Your customers can either rate you in stars or also leave a review behind stating what they feel about you. And according to a survey, around 90% of customers check these reviews before opting for a business.
But star rating isn't all that matters. It also captures data like recent, legitimate, length, detail, sentiment, and number of reviews.
The best way to get reviews is to ask for one. When you are done with a business and the customer is happy with you, just ask them to leave a review on your Google listing. Some of the ideas that can help you in how to ask for reviews are:
Their favourite part of the visit
Service provided by the staff
Name of the store that they visited (in case of multiple locations)
These are similar to the social media posts, but just within your GMB profile. In short, these posts act as updates for your Google My Business profile keeping it active and lively. Although the posts don't expire, you'll only be able to see the latest updates on the Google Knowledge Panel.
However, while publishing the posts, make sure that you adhere to Google's guidelines https://support.google.com/business/answer/7662907?hl=en-GB. It definitely has some weird rules like not to include your contact numbers in posts if you don't want to get suspended, and so on.
Some of the Google post types you can use are:
What's new
Events
Offers
Products
Hours update
Covid-19 update
A GMB listing allows your customer to ask questions about your business. Mostly, other users answer these questions. But at times, you can answer these yourself. Just make sure you keep it relatable and practical.
You can further use this space to fill in with questions that are frequently asked regarding your business. And tada! You have your own FAQs section on Google listing.
You can also further use this space as a customer service platform. You just need to turn on the messaging feature, and now you can directly contact the customer. But here are a few things that you need to remember when you opt-in for this feature.
Someone should always be available to answer the queries.
Make sure to keep the tone professional that suits your brand.
Using Google My Business Insights for Better Results
Google My Business Insights is a free tool to understand analytics better. In fact, this tool can help you with audit and optimising the GMB listing.
How can GMB Insights help you?
To understand how searchers can find your business
To know about the actions a consumer takes after finding your business
So, how to use GMB insights for your business?
The insights offer a ton of data related to your business profile. It is more helpful if you just wanted to check the data for the last 28 days. However, the data you can fetch in your Google My Business account is:
1. How consumers search for your business
Use direct name or address
Use generic terms
Use brands of your company
2. Queries used to find you
3. Which platform customer usually view your business
Standard Google search impressions
Google Maps impressions (website or app)
4. Consumer Actions
Visit website
Call you
Request directions
Photo views
5. Google My Business post views
All this information will help you with understanding the behaviour of your potential customer and the areas you need to focus on.
Conclusion
There, you have made it to the end of this Google My Business guide.
The beauty of a Google My Business listing is that you can set it up yourself as a business owner and its completely free. It's the best thing if your business does not have a website. Its free advertisement for your business and a great way to get customer's attention.
So, what's next? Well, I have made sure you know how to set up a GMB account yourself and understand fully well why you need a Google My Business listing. Your business is likely to receive a boost in traffic and leads, simply by continuing the activities mentioned above, trust me. If you want to get more serious about beating local competition, you will need the help of more local SEO strategies. For now, I am saving that topic for another day.
Need an opinion for marketing your business locally? Give us a call or drop us a mail at query@justwords.in. We are always happy to give a free consult and help promote local business.