Making the Online Offline connect for Your Campaigns
With limited attention span and mind space, most brands who want to create a sustained campaign recall tend to plan for a 360-degree campaign. This often means a campaign that encompasses print, radio, outdoors and digital. In some cases, it may also include in-store advertising and Below The Line (BTL) campaigns. Such campaigns do require a sizeable budget and a water-tight media plan to optimize spends.
One of the biggest reasons to make this connection is that the performance tracking and ROI calculation becomes more tangible via the digital medium. Even if you share information vial all other media, you would ultimately prefer that your user comes and takes an action online so that the outcome is measurable.
The best way to pick out ideas for such campaigns is by seeing how successful campaigns have been implemented so far. Let's take a few examples.
 Online initiation to Offline execution: Events
Event management is one industry that has tremendously benefited from the online campaigns resulting in offline outcomes. The simplest form of event marketing starts by creating an event page via Facebook. This works especially well for local events for a targeted user base. Let's say you plan a conference for professionals in your industry, it will require a parallax landing page on your website along with a curated registration form and a payment gateway for paid events. Advertisements for premier events can start months before to give enough build-up time with content about the speakers, the opportunities the event brings and mirror stories about professionals attending it.
Creating an online-offline campaign for the event
The online channels you are most likely to use for a professional event is Linkedin which will allow you to target by industry and designation. This along with an email campaign to a relevant database can be a good starting point. After testing the waters with these channels, you can try out the search engine marketing route primarily via Google AdWords to see how it impacts your registration flow.
The offline connect for the campaign can happen by directly identifying influencers for the campaign and reach out to them with an offline invite.
Offline initiation for online execution:
Let's say that you want the final action of the user to happen online. Here you can create a website or microsite for the user to land on and complete the action – be it fill a lead, make a purchase or upload their contest entry. The promotion of the offer can happen via a variety of offline channels like print, in-store and radio. The online promotion can happen via a range of high-traffic websites.
The best examples come from brands like Myntra, Jabong, Amazon and Flipkart who go all out to promote their sales. You'll see their ad in newspapers, hear it on the radio and not miss it on your phone. Since most of these brands time their sales together, they also benefit by the cumulative visibility that rubs off from each other's advertising. After all, it is a common trend for shoppers to check out multiple sites and go through endless scrolls before zeroing in on a purchase.
Such campaigns have clearly proved their worth in ROI. Myntra added 5 lakh new users after its EOSS sale in 2018. This number along with a 10x sale prediction is only increasing every year.
Try out an innovation
One of the most innovative online-offline campaigns was done by Fox TV to promote their show The F Word. Digital posters with Gordon Ramsay were put up in the streets of Los Angeles. These were connected with microphones and cameras transmitting real-time data. As unsuspecting people walked by, the interactive poster had Gordon Ramsay speak to them real time!
Another example of packaging innovation comes from McDonald's. We all know that the children's favourite Happy Meals comes with a toy that is the centre of attraction. In an innovation, McDonald's converted its Happy Meal Box into a VR headset. The box came with dotted lines that could be folded into a VR contraption. Dubbed as 'Happy Goggles' these could be used by anyone with a smartphone to have a VR experience.
 Here are some quick things to remember to make your online-offline campaign successful
Add online CTAs to build the offline-online connect
All your offline campaigns should lead prospects to a landing page. This can be done either by directly giving them a simple, memorable URL. This can be a slightly complicated proposition if your landing page is not your homepage. In such cases, you can run promotional banners on your homepage to facilitate the journey or share a QR code. In the case of contests, you can ask people to complete an activity offline and upload their entry online to be eligible to participate.
Use #tags
#tags become a perfect channel for online-offline connect as it can be used and tracked across most of the popular social channels. #tags also solve the problem of having complicated URLs or avoid the trouble of scanning a QR code. Instead #tags can be used on Facebook, Twitter and Instagram.
Create an offline story and continue it online
Some brands often tend to use this style to build empowerment campaigns. Think of campaigns like Tata tea's Jaago re which has become a movement in itself. Jaago re was popularized via TV campaigns. Today, long after the campaigns are off the TV and over a decade after it began, it continues to live on via online channels becoming a home for activism and public interest petitions.
Another interesting thing to do is use the story-telling approach to narrate half the story online and ask the users to watch the conclusion online. Once you have them hooked, it is not difficult to make the sales pitch at the right time.
Give out vouchers online which can be redeemed offline (or vice versa)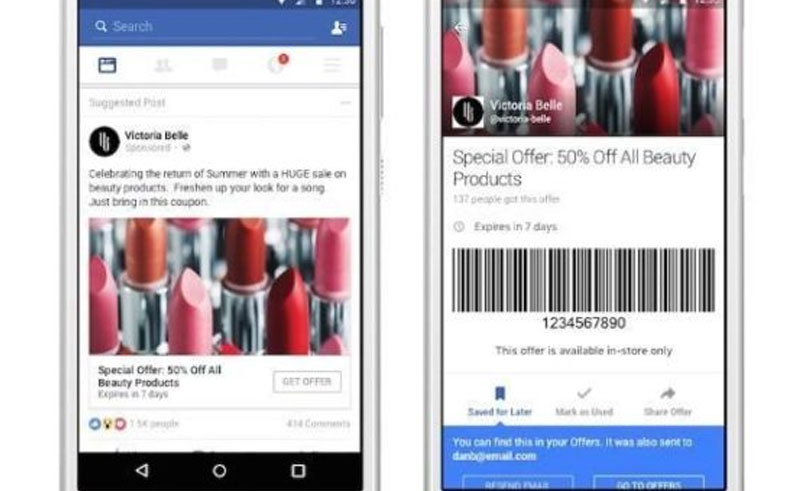 If you are a restaurant who wants to increase walk-ins on a weekday, publicize your discount voucher online. You can ask customers to generate their personal voucher and walk into your restaurant to avail the discount.
If you are a retail brand with a physical store, you can share coupon codes with your customers which can be redeemed on their next online purchase.
Build a gratification for digital participation during a physical event
Live-tweeting at expos and conferences is great to grab the attention of people who aren't attending. After all, they are your future customers who can be wooed by your present customers. A small gratification – even something like a free coffee or small gift – can drive users to participate. After all, it doesn't take too much effort.
Doing a 'Live'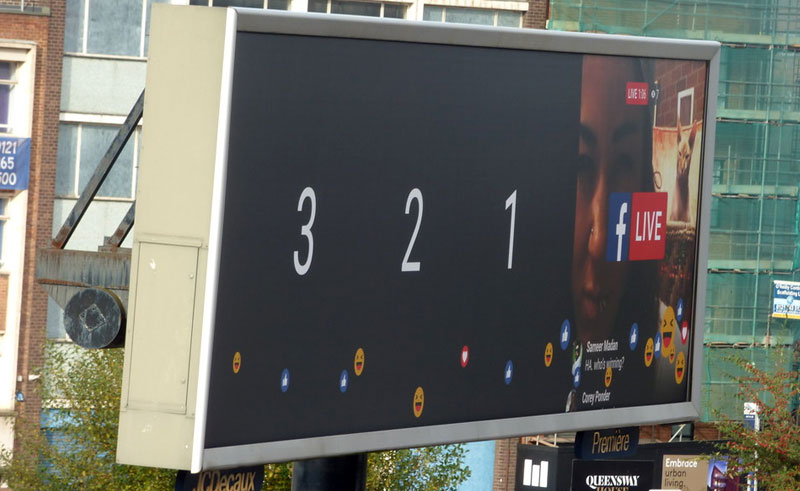 Facebook live generally tends to do very well when you are in a scenic location or doing something unexpected. Not only will people who like your page already see you, you are likely to be joined by many others. Let's say you have a destination tourism company. Doing a live from one of the popular spots where you are showcasing a local cultural event can be a great draw.
A 360-degree campaign, if done well, can do wonders for brand recall, leads and sales. It is important that you finalize your agenda and have a buy-in from all stakeholders to continue with its execution.