How to Check Quality of Website Content?
If you have just built a website or have had one for a while, you must have received comments about the content and its presentation on the site… from colleagues, co-workers and customers. Often, these views are subjective, so you face a dilemma of not knowing which of these views to consider (unless you hear the same feedback more often). After all, there isn't a fool-proof data-driven approach to evaluate quality… or is there one?
As an agency that thrives on providing 'quality' content, we always ensure rigorous checks at our end to test the website content quality. Which is why, we believe that you, as clients, should also have the access and knowledge to constantly test things out.
Here's an overview of what we will discuss in this article
What is website content
Factors to keep in mind while evaluating the content
Tools that can help
How to calculate the value of your site's content
What is website content?
Your onsite content is every word, image, video, or creative that you put on your website, to attract visitors, tell them stories, take them on a journey to become customers, and have them coming back for more.
Factors to keep in mind while evaluating the content
It is likely that you either had your design team also write the web content, or hire a content agency. Hopefully, you also have a cross-functional team to do a fact check on their respective sections, and an SEO specialist who can ensure that the site is discoverable on search, with incremental traffic flowing in. Here's what else you need to check:
How is your site different?
There are many other websites talking about similar topics after all. For example, if you are selling home décor items, the image and content of your site will depend on your brand's positioning. Does it speak uniquely about the offering that makes you stand out from your competitors? Different also means original.
Google's simple guideline on website content says that each page should be uniquely optimized for 2 keywords. This means, that page should have the most relevant content for those two keywords only. If you have keywords repeating, then you have content repeating too. So, does each page on your site have unique content? If not, get rid of it.
Good content nowadays follows the storytelling mantra. It weaves stories around the lives of people and tells engaging stories which make it memorable. Share a few content samples with colleagues, known customers and closed online groups for feedback, to see what is resonating the most with your target audience.
Is it keeping users engaged?
An indicator about user engagement is the average time spent on the site. But this metric should not be looked at in isolation. In addition to time spent, are a good proportion of users also clicking on your call to actions and getting into your lead funnel?
We see so many websites that do a bad job on mobile, even when mobile has now overtaken desktop in terms of traffic for most sites. So, ensure mobile content chunking – which means, content should be divided into smaller paragraphs for quick consumption on mobile devices. Ensure that all images are of mobile-friendly size too.
Is it driving leads and conversions?
This is the crux of it all – beautiful site, flowery language, high traffic – where does it all lead to? Which of your pages are driving conversions and which are not? Are your lead forms optimized? Is your intent communication (exit pop-up, time lag pop-up) in place?
We don't need to have 'easy to read' as a subjective. We have a tool that can share readability scores. (given below).
However, instead of just depending on a tool, you can also take a survey among your UAT (User acceptance testing) or Beta users to see what they have understood about your products and services from your content, and whether it is clear enough to guide them with the next steps.
Is it getting a good-to-go on grammar and spelling?
"She didn't like it their and decided to leave" – the mistake here is not something that your average tool will catch easily. Yet, bad spelling and grammar can be a big deterrent and erode customer trust. After all, if you aren't capable of having error-free content, how can you provide error-free service?
Is it readable to humans and search engines?
White text on a grey background can sneak up somewhere on the site when you aren't paying attention. Most website owners tend to go through a design fatigue after seeing multiple rounds of design changes. The side effect of this slip is a possible penalty from Google for hiding content or keyword stuffing – and you don't want either of those.
Has your SEO agency hijacked your content?
After your content agency did all the hard work and your SEO agency took over, does your content look unrecognizable? Is it trying to fit in 'buy baby diapers online' on a single page 15 times? While SEO is important, don't have agencies hijack the content and make it difficult to read for everyone else.
From breadcrumbs to images, is all content optimized?
Images should be no larger than a few KB. All images should come with alt text. Breadcrumbs and navigation should be taken up as per the SEO agency's recommendation.
Is it all factually accurate?
It is difficult to do fact checks for websites with 100+ pages. Therefore, it is important to involve the right internal SPOCs to help with this. Have each function's executives check the factual accuracy.
Calculating the value of content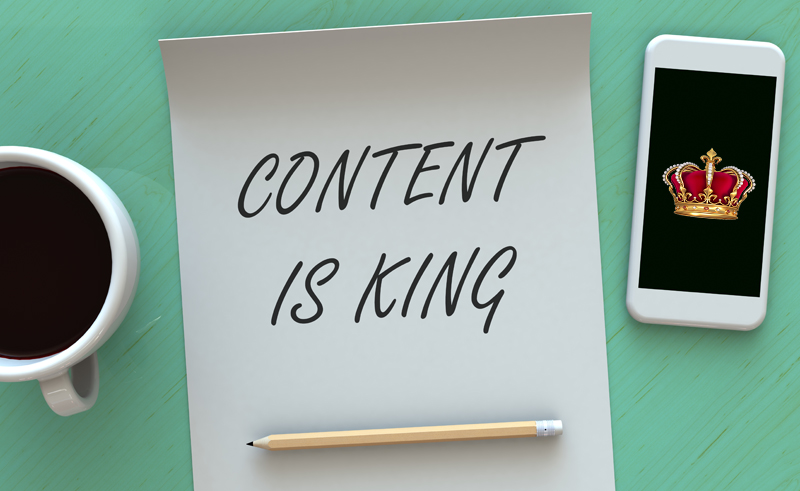 Attribution model
The best check to see if your content is working is to see if your organic traffic is converting into leads and sales. To do this, you will have to build an end-to-end attribution model for both online and offline conversions.
A/B testing
Another option is to try A/B testing, especially for landing pages. Constantly tweak until you get a sweet spot that has evolved from a data-driven approach to content.
Traffic
If your content is contributing to increased organic traffic on the site, it is a good measure of the discoverability and readability of your content
Social shares
Are people liking and sharing your content? Engaging content has a natural air of shareability. For example, this becomes a great performance marker for a recipe website if their recipes are shared online.
Links
Is your content 'earning' inbound links from popular websites? Others linking to your content is a good measure of your content quality.
Comments and engagement
Comments on blogs and engagement with content like polls, quizzes and contests are also a good measure to see if users like what you create.
Content checking tools that can help
Check for original content from your agency by using the Plagiarism Checker tool
Easy to read: Flesch reading score calculator 
Do you need help with evaluating your website's content quality? Drop us an email on query@justwords.in