Top 5 Ways to Use Instagram Marketing to Improve Your Business
Over the years, we've seen many standpoints towards Instagram marketing. Some clients feel it's just a fad while others feel it may not work for their product. On the other end of the spectrum, we've also had clients who see Instagram as the only thing their marketing strategy will ever need.
In our experience, both perspectives have usually been off the mark. On one hand, Instagram is one of the most effective social media marketing platforms with engagement rates that are far ahead of other marketing channels. Instagram has 500 million users accessing the app every day. What's more, an Instagram user spends an hour on an average scrolling through their feed.
This kind of unprecedented engagement makes Instagram one of the most powerful tools out there today. People who believe Instagram won't work for their product usually think it's because Instagram has a perceptibly "younger" audience base (64% of 18-29 year-olds use Instagram) or because it only works for "lifestyle" brands. While Instagram is undeniably popular with young people, it now has diverse demography that is only getting more diverse with time. At the same time, a large range of businesses now advertises on Instagram; from mental health organizations to hardware stores. It's all about using Instagram's platform to tell your brand story in a compelling way.
Here are some of the most effective ways in which brands have used Instagram to dramatically transform their business.
Branding
View this post on Instagram
Generating brand awareness is the biggest opportunity that Instagram's high levels of engagement provide a business enterprise. Crafting content on Instagram must echo the brand voice since it is a key imperative to build credibility for the brand that will go a long way. The content need not be blatantly promotional — in fact, one should constantly avoid thrusting one's product in users' face — rather, they need to create content that resonates with the vision, mission, and values of the business. Humour, beautiful visuals and crisply edited videos are all useful tools. Before creating your messaging, though, it's important to find your brand voice. Are you quirky, trendy, edgy, professional, etc? Brands like Chumbak and Zomato does a great job of this.
Albums and Captions
View this post on Instagram

In the early days, taking a meaningful photo, adding an appropriate filter, and posting it was enough. That's not true anymore. Instagram now allows up to 10 photos in a single post, and you should leverage this feature to tell a visual story through each post. Also, you need to make sure that visual captions are created that add to the story while lending it a finishing touch. Today, every post on Instagram can tell a unique story through a series of photos and captions that goes with it. And that's what effective marketers are striving for! For instance, Ben and Jerry's Instagram posts are not only drool-worthy but tell you everything you need to know about their latest products and flavours.
Influencer Marketing
View this post on Instagram
Influencer marketing is set to become a $10 billion industry by 2020. In fact, most marketers are looking at influencer marketing as an integral part of their marketing strategy and with good reason. 22% of users aged 18-34 often make a large purchase after seeing an endorsement from an influencer. When it comes to influencer marketing, few platforms are as effective as Instagram. If you think you can't afford to invest in influencer marketing, think again. Influencer marketing is no longer about huge online celebrities with millions of followers. Instagram has a number of micro-influencers who have between 15k to 100k followers. These micro-influencers are far more accessible and much less expensive. Best of all, even though they have a smaller following, chances are that their followers are more loyal and highly engaged. As long as you're able to find the right influencers to match your product, you will be able to get great results from influencer marketing. If you want to understand how to use micro-influencers to grow brand awareness at a phenomenal pace, check out Fiji Water's influencer campaigns.
Stories/IGTV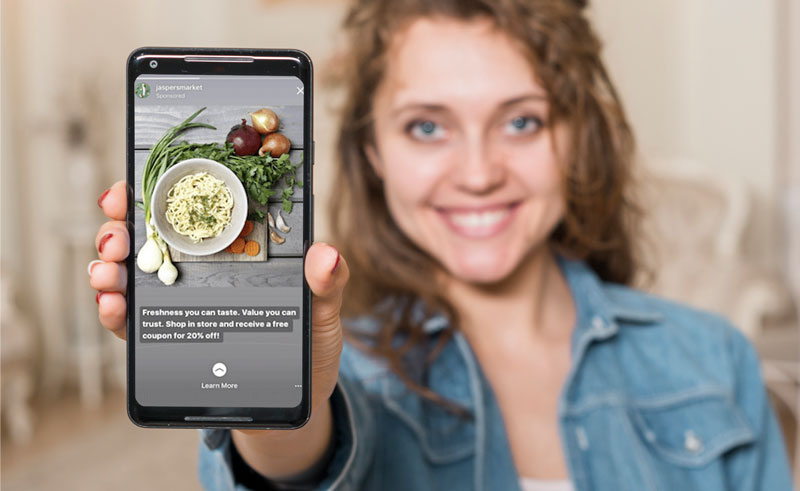 Most marketers have found that Instagram stories, and more recently IGTV, are performing exceedingly well. Even within stories, videos are especially attractive. Stories also have a number of features that make them more discoverable. For instance, by tagging your location in a story you can appear in your city's Instagram story, instantly making your content more discoverable. Similarly, you can also add URLs to your stories so that people can instantly go to the website that offers your product or service.
Shoppable Posts
For a long time, one of the key issues most marketers have had with Instagram is that it isn't as advertisement friendly as Facebook. In fact, the platform has intentionally prioritized engagement over ads for many years now and that was seen as a major disadvantage from the brands' perspective. However, Instagram has recently introduced "shoppable posts" which is set to change the dynamic completely. Shoppable posts allow people to buy products from an Instagram post, without leaving the app at all. As a business, you simply have to tag a product catalogue to their Instagram account. You can tag your product the same way you tag a person and people can directly shop through your post. In fact, now, influencers can also create a shoppable post which expands the scope of this feature even further. Nars and Michael Kors have been experimenting extensively with the feature.
Of course, it isn't wise to make Instagram (or any one platform for that matter) the be-all and end-all of your marketing strategy. At the same time, many brands have successfully used Instagram as the driving force in their marketing campaigns. Even if your product isn't one that's traditionally been marketed on Instagram, it may be time to widen your horizons, especially as the platform gets more diverse. One thing's for sure, if there's any online platform out there today that has the power to drastically transform your business, it's Instagram.