Optimise your Content for Search Intent and Get Better Rankings
You must already know this – if you have to rank on Google's first page, you need to invest in a good SEO campaign and build your content as per the SEO back practices. A successful SEO campaign will help your website/content rank for the keywords that matter to your business/brand, and thereby drive relevant traffic to the website. But how can you increase your chances of your content ranking? Ofcourse, you need to use the right keywords, but there is more. You need to also understand search intent and take that into account as you create the content of your website or landing pages. In this blog, we decipher what is search intent, the types of search intent, and why is it so important in today's SEO and content marketing.
What is Search Intent?
Let's understand this in simple words. Users come to Google every day (Most usable search engine across the world) to seek solutions for their problems or pain points, to get answers to their questions. That is where the journey begins.
Every searcher or user is a customer for Google and being a customer-centric company, Google aims to serve the purpose of their customer in the best possible way.
And if it has to serve the users' purpose of search in the right way, and show them the right answers or solutions they are seeking, Google needs to know the search intent of the searcher.
The term 'Search Intent' might sound technical, but let us explain it to you in an easy way. 'Search Intent' comprises of two words, Search & Intent.
This is what Google shows when you type these words.
'Intent' means purpose.
Put the two together and the meaning of "Search Intent" is 'the Purpose of finding'. Search Intent is the main purpose that drives a user to type in a query on search engines such as Google, Yahoo, etc. Search Intent is also known as user intent or audience intent. Over the years, Google has tried to get better and better at what it shows to people who search for a query. Google, therefore, tries to rank pages that best serve the user's search term.
For example, you are a cricket fan who is searching for the cricket score of an IND vs PAK match. You directly jump on Google and search for "Cricket Score". The top 10 results appear on the 1st SERP (Search Engine Result Pages). You already know, as per your previous experience with Google, that the first link offers the best information, and so you click on it.
After scanning the complete web page, you got to know that this page has some information related to what a 'cricket score' is and 'how a cricket score is measured', something that you were not seeking for. So you press the back button and land back on the SERP page. You click on the second-ranked website and the SCORE of the particular match shows on the screen. Hurrah!!
India chooses to bat first. IND – 59/0 in 5.3 overs.
This was what you were looking for and after clicking on the 2nd link, your intent was satisfied. If more and more people's intent of checking the cricket score was getting satisfied with the 2nd link then, Google or any search engine will upgrade the ranking of the website from 2nd to 1st.
You may now have a got a clearer understanding of how user intent or search intent works. In the continuation with this, let's understand "Why does search intent matter in SEO?".
Why Does Search Intent Matter for SEO?
Let's get one thing straight. Every person who starts searching on the internet, has an intent with which he starts searching. That is exactly what the search engine wants to understand when they are showing the results to the user. They try to understand what exactly is the search intent behind the keywords that are typed. This helps the search engine display more accurate results to the user.
That was the whole purpose of the BERT update. This algorithm was a massive evolution in Google's attempt at interpreting the natural language processing – or the way humans express. Post this update, Google could better understand what the meaning between the keywords were, and build a more accurate understanding of what the user was trying to search.
Simply put, for the search engine, its important to understand the intention behind every search – what is the user thinking or looking for when he is typing a certain set of keywords and how can the results address the pain point of the consumer.
What does this mean for SEO? This means that your article might have all the right keywords, but if it does not match the intent of the keywords then it might not rank for those keywords.
If you want your page to rank, you need to understand what is the buyer's intent when he is typing for those keywords. Once you create content as per that, there are chances that your content will rank for that keyword.
Since Google no longer ranks a website based on keywords, but on what those keywords mean, then you should also keep that in mind and change the focus of your SEO strategy.
In order to do that, we need to understand the different types of search intent behind keywords. There are primarily four main types.
Types of Search Intent
There are many keywords, which are searched by users on Google's search bar. All those keywords can be primarily categorized in 4 types.
Informational Search Intent
Navigational Search Intent
Transactional Search Intent
CommercIal Search Intent
Informational Search Intent
Users type in keywords of Informational Search Intent when they look for information on search engines. They aim to solve their problems by reading the information on top ranking websites. All the keywords like, "How-To", "what is", "Why", etc belong to informational search intent. You as an SEO practitioner or content writer should give a solution to their problem through your website content, blogs, articles in which you have targeted the keywords of informational search intent.
Keywords of Informational search intent examples:
How to cook 'Pav Bhaji'?
What is the search intention in SEO?
Who is Elon Musk?
Why Search Intent Matters to boost Search Engine rankings?
Navigational Search Intent
In navigational search intent keywords, users search type the keywords through which they will get the desired result. So those users want to navigate to a specific website to fulfill their intent. They search for those keywords to grab information or get logged in into the account or to know about them.
Keywords of Navigational search intent examples:
Cricbuzz score
Facebook login
Telegram free movie download
Justwords search intent blog
Transactional Search Intent
In transactional search intent, users search in the intent to buy something online from ecommerce websites or other famous brands. Here they aren't willing to gain more information about the product, they are fixed with their decision to buy the product from any particular website.
Keywords of Transactional search intent examples:
Boat earphones
Sleepwell cushion
Guddox tripod stand
Commercial Search Intent:
Buyers have a commercial search intent when they want to do a last-minute investigation before buying a product. They want to research regarding the best companies, affordability and quality of products. Those keywords match with transactional intent keywords but after gaining more information about the product. Many affiliate marketing websites target keywords of commercial intent to help users find their best product which they can buy.
Keywords of Commercial search intent examples:
Best earphones Boat vs Jbl
Best air conditioner
Digital marketing agencies in india
We are sure that you are clear with search intent and different types of search intent. Now, we will focus on how you will determine the search intent for any keyword.
How to Determine Search Intent?
If you are an SEO expert or practitioner practicing SEO for at least 6 months or more than that then you can easily determine the search intent of any keyword. But if you are a beginner, here is how to do it. The easiest way to do this is to find out what the SERP is showing you for any particular keyword. When you type in a keyword, see the top pages that are appearing for that keyword. From the content that appears, you should be able to determine what Google is preferring to rank based on that keyword.
For eg, if you type in "warehouse management", Google ranks pages –
This basically means that if you have to rank for this keyword, Google prefers to show its customers pages that commercial intent driven content. So, you know that you cannot do a blog or content that has informational intent like these –
So let's deep dive into how Google categorizes the results for each search intent.
Informational Search Intent
For informational intent, Google tends to rank content that are deliver condensed information. For eg, it will rank knowledge graphs, featured snippets, question and answers and information blogs and often Wikipedia results.

Navigational Search Intent
When users search for navigational search intent keywords (meaning they know the name of the company or website and are using keywords related to it) then Google will provide you with the result of the Homepage and other main web pages of that company. Check the screenshot below to understand more better.
Transactional Search Intent
As a user comes with an intent of buying any product from a fixed company, so whenever the user searches for transactional search intent keywords then Google showcases the best affordable, discounted and comfortable products of that company at the top. Check the screenshot below to get the clear information.
Commercial Search Intent
Here are some ways in which Google shows results for commercial search intent.
Google ranks some websites which give the best choice to the customer. (Check the screenshot below)

Google highlights some affiliate websites which help users to make their decision.
Google also showcases a featured snippet which helps you to make the decision without even clicking on any webpage.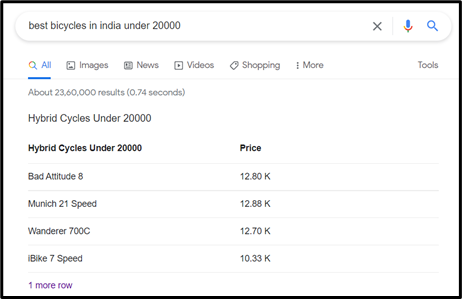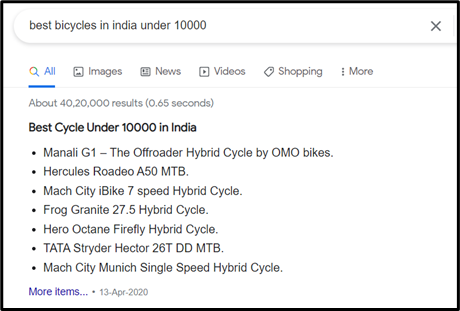 The way to go – To get your content to rank on Google, understand how Google shows search intent and what type of content it ranks for eac h keyword, before writing a content piece.
How to Optimise for Search Intent and Get Higher Rankings
There are mainly 3 ways of optimising for search intent –
1. Understand which stage of the buyer journey you are targeting
If you are targeting audience at the Awareness Stage, then you are looking to cater to an audience whose search intent is informational mostly. Content to be created at this stage should be centered around –
How
Why
What
Where
Guide
Tips
Who
If your target audience is in the interest stage, then you are trying to cater to an audience which wants to basically search more and learn more. Hence create more content with keywords that have Navigational Intent. Think of what terms they might search if they want to search your company.
If you want to target people who are in the Desire Stage, then remember their main intention at this stage is commercial. The buyer wants to know more concrete about your product before making a purchase. Hence your content should be focused on –
Top
Best
Popular
Comparison Lists
Reviews
If you are wanting to target users at the bottom of the funnel, then your main aim is to create content that satisfies the transactional intent of the buyer.
Also Read: Easy Way to Understand The B2B Sales Funnel & How to Build One for More Sales
2. Try to figure out the passive queries along with active queries
Active search queries are those that are supported by exact search intent. Passive queries are those which have to be deducted from the main active query.
For example, if a searcher types "digital marketing agency", you really do not know whether he is looking for informational content, or whether the user actually wants to hire a digital marketing agency. So the best thing to do here is to accommodate content that relates to the active query.
For eg, the thing that we do at Justwords is we create a pillar page for the active query and then create multiple smaller blogs around different passive queries that might emerge out of the main queries. That we do satisfy the passive and active query.
Read our pillar page on content marketing which was designed to cover all types of search intent.
3. Think how people are searching and use tools to help you find better keywords
One of the main things to remember while trying to optimise for search intent is to make sure you are not at the mercy of guessing. Use the right tools to analyse the keyword data and make your content richer.
Use tools like Ahrefs, Semrush and Google Webmaster to find out exactly what people are searching for, what is their intent.
Analyse clickthrough rates, impressions, and website rankings.
Think about what users might be thinking about.
4. Make sure to optimise the content
Search Intent Optimisation is all about giving people the right answers. The faster your content can do that, you satisfy the user and he or she does not scroll down further. Here are some key steps to optimise your content.
Every user clicks on the link showcased in SERP by just reading 'Title' and 'Metadata'. So it is important to target the proper search intent keyword in title and metadata.
If you are just starting to write the content for any topic then use the powerful SEO strategy that is 'Competitor Research'.
Also Read: How to Find Keywords That Your Competitors are Ranking For?
Observe and examine the strategies used by competitors. Some strategies listed below,
Where have they used the targeted search intent keywords?
What strategies have they used to rank for those search intent keywords?
Provide additional information and explain your content in the best way to outperform them.
Give solutions to all the problems faced by the user who is searching for those search intent keywords. Rather than just targeting search intent keywords, focus on solving every problem of the user. Try and create long-format blogs
Use your keywords strategically in your content.
Make sure you give images, infographics and easy-readable content takeaways along with strong call to actions.
Also Read: How to Drive Consistent Blog Traffic Using Long Tail Keywords? Explained
Rank Higher by Understanding Search Intent in SEO
Knowing the search intent of the user means knowing the SECRET to search. If you know the intent or the main problem of the user and then create persuasive content that is SEO-optimised and Search-optimised, you have content that will rank and drive traffic to the website.
At Justwords, we specialise in helping businesses with SEO best practices just like this. Our SEO is driven by content that is crafted with research on user intent. If you are interested to know more about our content marketing services, just drop a mail to us at sales@justwords.in