Why Content Marketing Needs to Be a Priority for Your Business?
Content marketing has emerged as the new normal in the digital marketing landscape. It is one of the strongest digital marketing solutions being embraced by businesses to earn traffic, connect to its audience and generate ROI. Why so? Well, no one basically likes being sold a product or service in the old pushy way. 
Pull marketing is the way to go – the more natural way of marketing. And that lies at the heart of content marketing for businesses. It answers why content marketing for small businesses is important. That is because content pulls the customer to a product/service by consistently answering the customer's pain points and educating him/her, then earning the customer's trust and loyalty. 
What is content marketing?
Content marketing has a simple definition — it's all about creating value through content. The content you create should educate the customer, help make his buying journey better and ultimately help him buy a better product. 
Content marketing has emerged as an alternative to the advertising age. It offers value, guidance and meaning to customers and, therefore, customers like it. There is simply no going back!
If you are a business owner or a brand that is still wondering why you should invest content marketing, then here is a simple answer – YOU MUST. 
Why content marketing is important and why use content marketing for your business?
Why content marketing should be a business priority? Because it's a must. In this blog, we list down the reasons why you should use content marketing for your business. 
1. Earns the trust of your target audience and eventually buyer.
Content marketing is exactly the opposite of traditional marketing – it does not push you to buy something, it is not promotional, it is not aggressive. Content marketing works on create trust first, and then pull the audience towards the product or service. 
This is what happens. The brand creates content that helps answer the questions that its target customer has. By offering value and relevant information, it creates a small amount of trust in the reader. The consumer comes back to explore more and more, and thus a bond is created. This trust is what eventually makes a consumer buy from the brand. 
In a business, trust is the cornerstone. You have the trust of your consumer, you will always have the consumer. And that is what content marketing exactly is all about. 
And that is why –  
Content marketing gives 6 times more conversion than any other digital marketing method.
Content marketing garners three times more leads than paid search advertising. Additionally, it costs 62 percent less to execute content marketing versus any other type of campaign.
(Source: Demand Metric)
2. Improves the quality of leads and the rates of conversion
All businesses want good leads. That is the whole point of marketing right. Better leads lead to higher conversions and hence more revenue. This is one of the reasons why content marketing became popular in the first place. It delivers more hot leads – inbound leads in which the customer comes in with a higher intention to buy. More inbound leads mean more conversions and more sales. Yeah!
So how does a content marketing campaign generate more qualified leads? 
Also Read: How to start your first content marketing campaign: the 5 must-do steps
A content marketing campaign creates content for every stage of the buyer's journey. The aim of every content marketing campaign should be to create visibility of the brand in every stage of the buyer's journey – right from the Awareness Stage to the Decision-making or Selection Stage.  
Infact, it should not stop there. Every great content marketing campaign also works at retaining the customer after their purchase, and building loyalty. 
So, let us understand each stage of the buyer's journey, and what happens in each stage.  
The whole point of content marketing is to assist the buyers and push them forward from one stage to the other. 
Awareness Stage

–At this stage, the buyer has not formed any solid opinion about what they want. They have become aware they have a problem and are hunting for a solution. The focus here lies in creating content that will be helpful, educative and informative. 
With this type of content, you are helping the buyer take your brand into account, along with all the other brands he is coming into contact with as he searches for a solution.

Make sure the content at this stage is not overtly promotional since it's an early stage in the buyer journey. 
Consideration/Evaluation Stage

 
At this stage of the journey, the customer will spend time in researching and evaluating all the options he has. He is now moving from general information to more specific information. And this is when you need to start explaining about your brand or solution more in details. You need to keep the buyer persona in mind to offer him the particular details or information that he or she is looking for. If your buyer has come to this stage, he is definitely wanting to know more and you need to give him a peek into what he can expect from your service or product. Remember he is also evaluating other brands and hence the information you provide at this stage is important in edging him to the next stage – the decision-making process. 
Once a buyer enters this stage, he has already made up his mind on which way to go. He wants to make the purchase, and is scrutinizing every option he has while looking for those finer elements that will convince him to take the plunge. 
At this stage, he will look for proof that this solution has worked for others, what others are saying, whether he is getting a good price or quality or value, whether there are any problems with your product or service. This stage is all about convincing the buyer that he is making the right deal and about conversions.  Try to answer all those last-minute doubts and queries that your customer might have before buying your product. 
DOWNLOAD our ebook on What is the Buyer Journey and How to incorporate content in it?
It works by offering different content formats at every stage of the customer's journey – content that serves the search intent of the buyer. 
At every stage, he is interacting with your brand and understanding what you can offer him, how are you better than others, and how you can solve his pain point. 
Through content marketing, you are creating content that answers the buyer's question at every stage of the buying journey and slowly pulling him to the end goal – purchase. In the process, you are making the buyer realise that he needs a service, and specifically your service, and that can solve his pain point. He is coming to you through your content. 
Here is a look at what kind of content you should create at every stage 
Content marketing generates higher number of leads that can be converted since they come through a particular journey. As the buyer moves through the journey and content is marketed to him at every stage, the buyer gets pulled into a purchase. There is HIGH buying intent, as opposed to outbound or traditional marketing. The scales are heavily tilted towards the brand, when the buyer is at the Decision-making stage and hence the chances of conversion are extremely high. 
3. Content marketing is cheaper than paid advertising and gives better ROI in the long run 
Search ads or content marketing? Are you wondering whether you should invest in paid advertising or content marketing? Here is why you should opt for the latter. 
Paid ads are certainly more expensive than organic marketing. Also, remember that you have to keep spending and paying to maintain the results. This is okay if there are big budgets in play, but for smaller businesses paid marketing can easily drain the funds reserved for marketing.   
Compare this spend with content marketing and you can do so much more with so much less. You do not need an extravagant budget to start with content marketing. Heck, you can even start creating content yourself if you are a good writer and want to cut content creation costs. As your content starts ranking in Google, you start getting traffic and that does not stop or fall suddenly when someone starts paying more to Google. It's almost like getting traffic free and naturally.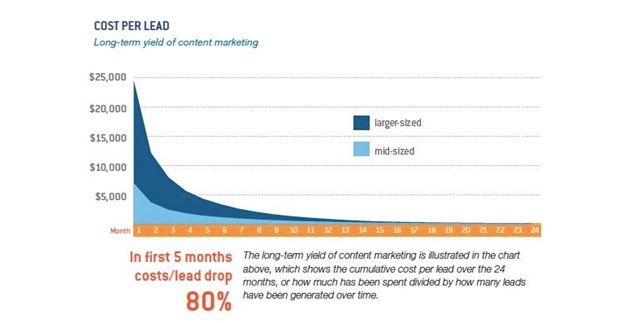 Source: https://neilpatel.com/blog/5-content-marketing-trends-that-you-should-leverage-in-the-next-year/
Content marketing is going generate a higher number of quality leads, which means there will be more conversions. This is important for maximising ROI and getting more revenue. There is no point paying for leads that are poor quality. 
Also Read: 5 copywriting sins that weaken your content ROI
Content marketing focuses on creating evergreen content that people are constantly hungry for. Over a period of time, when your content pieces start to rank, your traffic picks up and there is huge increase in the visibility of your brand. With traffic, comes conversions and sales. So in the long run, content marketing is a simple model that can be sustainable and scalable. It delivers consistent traffic growth.




For example, here is how we put content marketing to use to grow our client's traffic over the years. We invested in building quality blogs and every blog ranking has been bringing quality traffic, atleast for a certain period of time.  
As opposed to this, paid is usually a short-term strategy that is used to generate leads for a short time. 
If it is between paid and organic, customers prefer organic results since the common perception is that search results are likely to show the accurate thing rather than paid ones since its well paid for. 
4. Content marketing helps you get better traction through other owned and paid media channels 
When you create content, you always have a plan to distribute it. You will post them on your social channels, push out a newsletter or emailer for every content asset that you create, you will spend on ads to promote and cross promote them on social media platforms, and third-party sites. 
In a way, the content that is created helps boost the performance of other marketing channels. When the blogs, videos, infographics are further shared to the people through social media, newsletters, references, and paid ads, there are so many people who are being exposed to your content and your brand. 
So, content helps amplify the reach of your other marketing channels too and helps create more visibility of your brands. 
5. Strong content will impact your Domain Authority positively
Every website has a domain authority – it is a score that basically tells how much a website is credible against the other sites. The score is marked within a range of 1-100, 100 being the highest. A high DA website definitely carries more authority and weight than a lower one. A high DA also helps a website rank faster on search engines than sites with lower DA. While you may point out that Google does not use DA as a ranking factor, it is a fact that Google always wants to show relevant content to its user. Hence comes in the need for quality content. 
Also Read: How to Check Quality of Website Content?
When you invest in great content and get good backlinks to it, you are indicating to Google crawlers that your website has authority on the topic. This helps increase your website's domain authority. While there are several factors influencing domain authority of a website, rich content is a strong factor. 
Basically, here is what works – 
Good quality content + Backlinks = Higher DA
6. Content Marketing helps businesses better understand their customers
This is a very strong point. When you do content marketing, you come to know what kind of content is most liked by your consumers. The data lets you know which kind of blog is getting read and shared the most, which kind of social content your target audience is liking and engaging with, what kind of content is drawing traffic to your website, what kind of content is driving conversions on your website. That is why content marketing in digital marketing is important for our business.
This is really solid information for any brand. This information is also helpful in knowing what is working and what is not. For brands investing in content marketing, its critical to know if they are targeting the right buyer personas, whether they can improve the target audience set, and how better they can personalize their content. 
When you know what content works at which stage, you have the advantage of being able to create the right kind of content for your customers and moving them slowly along the buyer's journey – ultimately assisting them into the final stage of a purchase. 
This is the key to marketing and that is what content marketing data helps us understand.  
7. Content Marketing helps SEO

Google uses over 200 factors to rank a website. But, the two most important signals it uses are high-quality content and link building. 
This is why SEO without content is like a fictional TV show without a script. 
The better the content, the more the website traffic. Google is constantly looking to match the right content with the right users. And that happens through keyword strings. 
For example, if you are looking for a content marketing agency, Google will try to find you websites that have that keyword used in the proper context and content. 
The businesses who have mastered the art of creating the right kind of content, are the big winners since they will be sucking up the majority share of search enquiries. 
Crafting the right kind of content and then optimizing it, gives you a chance to tell Google and online users about your business. It also allows you to establish yourself as a thought leader. The users will spend more time on your web pages, and it signals Google that your content delivers what people want. As a result, there will be a surge in your search engine ranking. 
Editor's Note: Creating more content does not automatically ensure rankings and higher traffic. Make sure that you use the proper content strategy to execute your content marketing and not just invest in creating content just for the sake of it. Content marketing involves 3 things – Content strategy, content creation and content distribution. If you are skipping any of the process, then you cannot expect a successful campaign.  
Do you want to explore content marketing for your business? Schedule a free session with one of our content marketers at Justwords. 
8. Relevant content marketing earns positive and unique brand reputation 
Here is an interesting fact. About 78% of customers stated that they would prefer to learn and discover about a business and its products through its content.  
Customers appreciate it when you offer valuable content/information that helps them in some way – without expecting them to buy anything back. 
This free sharing of valuable information helps build positive brand reputation and brand trust. 
Also Read: Why managing online reputation should be a crucial part of your offpage SEO
This positive impact of your content is likely to have a positive impact on the way a customer perceives your brand. Hence content marketing goes a long way in building brand reputation and loyalty – giving the business a chance to influence its target audience positively before making the purchase decision. 
Right content, presented the right way and under the right conditions, can skyrocket your traffic and sales – which defines content marketing. 
Feel you need to understand this better? Here is a great infographic on:  Why Should You Invest in Content Marketing and How?

9. Content marketing can be an incredible arsenal for small businesses, helping it fight competition too! 
As a small business you are already fighting too many challenges. There is revenue, sales, operations, resources, and then competition. 
always fighting against old and new competition. Its either a new competitor or old competition getting bigger. If you are a small business, the challenges become even tougher. So how do build a solid position for your brand that does not easily get affected by competition. Content marketing is the answer. 
Also Read: Answers to 26 FAQs We Get as a Content Marketing Agency
Content marketing is important since it allows even small businesses to create a unique position online for themselves, injecting their value and culture into their content and thereby differentiating themselves against the bigger brands.
CONTENT Marketing allows small brands to play David against the big brand's Goliath
Here is how online content marketing helps small businesses
Helps increase online visibility for the brand as more and more traffic gets attracted to your content at each stage of the buyer journey. 

Cuts short the sales cycle for its customers 

Shows your company's uniqueness, its culture and its identity and helps build trust with the customer.

Establishes your brand as a authority on the subject.  
And that is how content marketing can become the perfect tool for this purpose. 
We have seen it happen! Here is how content marketing helped our clients
So yes, we have seen it happen first-hand how content marketing can help smaller brands fight bigger competition. 
A case in point is an electronics repair business, which has been working with Justwords to help build online sales with content-driven marketing. 
"The repair business is a boring business and a highly technical one. And yet there had to be a way in which content marketing could create an identity for this startup in a way that people knew about its uniqueness – which was great customer service and a highly-qualified team of resources. The initial task was to create online visibility and traffic to the website. And that is where content marketing played a big role. Our strategy was to create content for blogs with concepts that people searched for in their industry. The biggest challenge was to create content that would be understandable by the common man too," explains senior content editor KrishnaLeena, who has been working on this project's content marketing efforts right from 2019. 
Our approach to content marketing
The approach here was to create content that was based on informational keywords, transactional keywords and brand concepts. The intent of the first two was to get in traffic, and conversions while the last was about creating stories reflecting the brand's value, culture, uniqueness. 
Also Read: How to Find Keywords That Your Competitors are Ranking For?
An advantage of working with a client like this was that it solved a very specific (and painful!) customer problem. Prospective customers are always looking for valuable information on how to repair their phones online or to learn more about what to do when their devices are not working anymore. Research shows that customers instinctively trust the brands that offer them knowledge-driven content. This is where we knew research-driven blogs would help establish trust and eventually convert the visitor to a lead. 
We decided to create extremely rich blogs that offered value, knowledge, and useful information to the target audience. We then focused on distributing these blogs through social media and the Internet. Over time, this helped us build authority and credibility for our client, which led to higher rankings and more leads. Many of these blog posts have done exceedingly well — with over 1000s of views every month. 
Here is a sum of why content marketing is important 
Content marketing is super crucial in today's world for big organisations as well as small companies. Here is a recap of why it is important. 
Content Marketing earns the trust of your target audience and eventually buyer.
Content Marketing Improves the quality of leads and the rates of conversion
Content marketing is cheaper than paid advertising and gives better ROI in the long run
Content marketing helps you get better traction through other owned and paid media channels
Content Marketing helps businesses better understand their customers
Content Marketing helps SEO
Content Marketing earns positive and unique brand reputation 8. Content marketing can be an incredible arsenal for small businesses, helping it fight competition too!
So begin today with whatever resources you have. Begin with creating a content strategy and focus on creating good quality content that conveys a unique brand communication. Keep understanding what you customer's pain points are, what they want to read about, what is engaging them, and keep growing your content strategy. If you are thinking whether content marketing is right for my business or having queries about how to implement your content marketing campaign or how to build your content, then reach out to us. We would love to break down the process for you and make things easy for you in what might seem a very complicated digital marketing landscape.