How to Drive Consistent Blog Traffic Using Long Tail Keywords? Explained
Are you looking for an edge in this hyper competitive world of content and digital marketing? Then long tail keyword is your answer. It is a direct ticket to rank higher and drive regular traffic to your website.
That being said, I am still surprised that people do not use these long tail keywords in their blogging strategies. And that's exactly why you should look into it and try taking maximum benefit of this opportunity.
In this guide, I will run you through everything related to long tail keywords and how you can get traffic to your website using these keywords. So, let's dive in.
Long Tail Keywords: Definition
Long tail keywords are the search terms that consist of more than just 1 or 2 words. It helps in narrowing down the focus of the search query giving more specific results. These are often low difficulty and low volume keywords.
To understand them better, let's take an example of a company providing SEO for beginners.
If you deal with SEO services, you will be definitely targeting 'SEO' as your keyword. After all, it is a very popular keyword with nearly 110,000 searches per month. But that also makes it highly competitive with an average CPC of Rs.1000.
Moreover, if you search for 'SEO' on Google, the top results include Google, Wikipedia, Moz, and such a high DR website. And to think of outranking them is nearly impossible. So, what can you do? Try adding a tail to the main or head keyword.
For our example, let me add 'SEO tips'. It is a less competitive completive keyword. But the problem is, it is still very difficult to target and rank for this keyword. So, the next step is to go more specific.
As for my example, I am going with 'SEO tips for beginners'. Now, definitely, the searches per month for this keyword is lower, but you have more chances to rank higher for it and drive decent consistent traffic to your blog via this long tail keyword. What's more? It is less competitive and specific to what you provide. In short, it is a win-win situation.
Benefits of Targeting Long Tail Keywords
You might be wondering, why is it needed, and is spending your time planning and strategizing for them worth it? So, let's take a look at a few reasons why you should focus on long tail keywords.
Matches the Search Intent
When you simply target the head keyword, like in our example SEO, there are possibilities that you do not match with user intent. The reason? The head keyword has a vast scope of topics that can be covered under them.
For example, if you write a detailed guide on SEO for beginners with SEO as the target keyword, whereas the visitor is looking for quick SEO tips. The search intent won't match leading to an increase in bounce rates. But if you target 'SEO for beginners' as the target keyword, it will lead you better traffic and rankings in the search engine.
We have already established that long tail keywords are low competition keywords. This means you can definitely work on your content piece and SEO to rank higher for those keywords (given you have a good website).
They are More Compared to Head Keywords
Sorry to burst your bubble, but there aren't too many head keywords. After a while of targeting those juicy keywords, you might feel as you have exhausted them already.
For example, in the example of 'SEO for small businesses', the head keywords you will be targeting mostly are 'SEO', 'marketing', and 'business'. What's next? This is where you need to look at the specific long tail keywords.
Now that we already know that these keywords are specific, less competitive, and easier to rank that means more traffic. What's more, is that the traffic that reaches your webpage is more targeted. It means if a person takes effort to enter a specific term that means they are looking especially for it. Which gives you an upper hand on conversion rates as the target audience is already in the final stage of the sales funnel.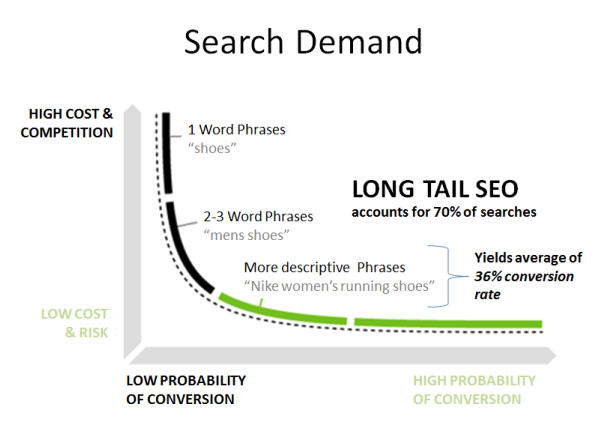 Image Credit: Neilpatel
How to Look for Long Tail Keywords?
Now that you are convinced how these log tail keyword helps blogging strategy, let's see how to find them. There are basically two ways i.e. manually and automatically using tools. Let's start with the manual methods to find these keywords.
Google Search Suggestions
Let's start with the simplest and most-used option of Google searches. You can start with typing the keyword and get ideas from the suggestions Google provides you. When you find a decent long tail keyword, check with an SEO tool to decide if it is worth targeting.
Another section to look for while using Google searches is the 'People also ask' and 'Related Searches' area. You will never know what you can find in these areas, especially when it comes to suggestions and ideas regarding topics.
Similar places to look for: Bing/Yahoo Suggest and Reddit 
This tool will help you with ideas in question form. You just need to enter a broader keyword term into the search bar, and the tool will generate question focused keywords. This is yet another way of finding long tail keywords as these are the questions your audience general asks.
Similar places to look for: Quora
This is yet another great place to look for keywords. Because if people are asking questions, that means they are definitely searching for it on Google too. So, just pick long keywords that suit you, and start writing something informational about it.
The only problem with this method is to be present on all the forums and boards. However, Google has a solution for that too. Just use the "keyword" + "forum/board/discussions" search on Google, and you will get results for things people are talking about.
If you are not too keen to do some manual labour, then there are many SEO keyword tools available that can help with your search. Some of the many tools used for finding long tail keywords are:
How to Use and Rank for Long Tail Keywords?
Now you have a list of long tail keywords, what's next? You need to start using them in your SEO strategy to target them and rank for them.
Start with determining which stage of the sales funnel does the keyword resembles the most. Identify if the keywords go best with the awareness, consideration, preference, or action phase. You need to write the content depending on the stage of the sales funnel your audience is.
Same like you divided the keywords according to their sales funnel phase, you also need to organise them as per your buyer personas. For example, if you take the example of shoes, a sneaker lover will definitely look for different searches when compared to an elite runner. So, organise the keywords and box them up.
Now that you have organised them, develop a strategy based on bifurcations you have carried out. Make a plan when you need to target people from the awareness phase and when you are looking for them to take an action. Similarly, your content strategy will change as per the behaviour, hobbies, as well as social media platform you are planning to target.
Finally, it's time to create engaging content and target those keywords to get maximum benefits. However, you need to understand that you cannot create a different piece of content for each keyword you find. It will just create a stack of thin content with no much importance. So, try to create content that can naturally embed several long tail keywords and make it informational and relevant for your audiences.
Conclusion
What are you waiting for? I have given you many reasons to invest your time in long tail keywords, tools to find those, and ways to implement them into your content strategy. The only thing you need to do is – pick a head keyword that suits your niche and start playing along to rank higher and get consistent traffic to your webpage.