Need Help With Quora Marketing? 12 Tips To Ace It
What is Quora marketing or why do you think a question-and-answer site like Quora needs a digital marketer's attention? For starters, its number of monthly active users is 300 million! And given that the users discuss almost all topics under the sun here, it makes sense for a marketer to establish his domain authority on Quora and connect with the target audience. This unique site allows users to vote an answer as helpful or unhelpful too.
In fact, according to Neil Patel, Quora is perfect for answering customer queries about your business or product, solving their problems and gaining insights from industry leaders. As long as you don't lose sight of the chief objective, which is to spread knowledge and not sell, Quora marketing can be a smart move indeed.
So, Here Are 12 Things To Remember When You Get Started On Quora:
1. Pay Attention While Creating The Profile–
The right profile can take you a long way as far as branding is concerned. That is because when you answer a question, people can see a little part of your bio at the very top (basically, your profile's first 50 characters). So, mentioning the brand name in the beginning makes sense. Jason M. Lemkin's profile is a good example.
You can include relevant links in the detailed bio as well as mention other users. Topic-specific bios are also a great idea for targeting the audience. For instance, while answering content marketing questions, your bio can focus on that expertise of yours, and it can focus on your web designing skills when you are answering such questions.
The first thing to do if you are wondering how to leverage Quora for marketing is to make your profile as complete and informative as possible.Include details on where you studied, where you live, what companies you have worked for, your areas of expertise and interests and social media accounts. It will make you more credible and easy to search.
2. Your Business Should Have A Quora Page –
If you search for your company or business name on Quora and cannot find it on the results' page, look for a box called "Add Question" on the right sidebar. You will find a link to "Create Topic" under it.
So, you can simply give the topic your business's name and describe it a little, so that users are prompted to check it out. Adding client testimonials or positive reviews from social media channels can also build credibility.

3. Choose What Topics And Users You Wish To Follow –
Not sure how to use Quora even though you have taken the first step by creating a profile? Well, Quora is a platform that not only allows you to share your knowledge, but also gain some. And to survive in any competitive industry, that's what you need. So, to start, use the search box on Quora to figure out the topics you wish to follow. You can also follow industry experts, authors and famous bloggers this way.
Make sure you get notifications whenever something new gets posted under your chosen topic or user. Apart from that, your home feed on Quora will show you the latest from the people and topics you follow, every time you log in.
Also Read: How To Write Best Social Media Posts?
4. Check Out Your Viewers –
As a marketer, it is important for you to know who all are interested in your answers and how they are landing on these. This will help you understand if you are targeting right and gaining enough exposure.
So, just click on #Views, and see which users have viewed your answer how many times. You will get to know if your profile is leading them to the answer or random browsing or tagged topics. For overall assessment, you can go to your personal views page.
5. Answer The Right Questions –
The best part of Quora is that you can literally answer any question you like, to reach out to the community of users and share your pearls of wisdom. However, adopting a strategy is always recommended, especially if you have a certain long-term goal in mind, like website traffic or conversion.
So, try to pick a topic that resonates well with your brand or business, and something that you know deeply about. Check which threads have received maximum upvotes, as this indicates that they have been viewed a lot. So, if your answer joins that thread, a lot of people might click through to your website. Also, try and answer new questions as early as possible. This way, your answer will show at the top, which means better visibility, more upvotes and greater engagement. This is a Quora marketing strategy that will never grow old.
You can also type certain keywords relevant to your industry in the Quora search box and find out the top questions being asked. This will help you shape your content right.
Also Read: Best Content Marketing Examples To Learn From
6. Offer Value While Answering–
Content creation for Quora should follow this golden rule. The more value you provide through your answers, the more authority you will be able to establish on Quora. So, try and keep the answers short yet informative and include relevant data wherever possible. It is also a good idea to add a link to the source you have consulted, which might be your website, blog, e-book or a whitepaper. This will increase traffic to your site.
Make sure you are focused on the question and are not digressing. Your content should ideally have passion and personality, and it should be easy for the reader to remember takeaways.
7. Format And Edit Answers Carefully –
Answers that are irrelevant, not focused, too wordy or poorly written, or not nicely formatted can turn off readers. So, edit well and keep the information clear and language simple. Remember that short paragraphs and using bullets can make your content more readable. You can bold or italicize certain words or phrases to emphasize their importance as well. However, underlining can affect readability negatively.
Also, if you are linking any data or insight to a reliable source, make sure that the sentence can be read naturally. Example – Quora's user base has a male to female ratio of 57/43.
8. Boost Your Answer With Images –
Visual content sticks to the reader's brain more than plain text, as studies show. This is why using images to explain your answer is a great Quora marketing strategy.
Remember that the first photo you use appears as a thumbnail next to the text preview, when the answers are being seen in a list form. So, choosing a good one makes sense. It is also a great idea to create exclusive pictures for each of your post, as Oliver Emberton, the founder of Silktide does.
9. Be As Social As Possible –
It is always a good idea to link your Quora account with social channels like LinkedIn, Facebook, Twitter, or WordPress. This way, whenever you ask or answer a question, an update will be shared on these platforms automatically. So, those who are following you on social media will be able to view your answer on Quora and connect more with you.

10. Repurpose Old Blog Content With Quora –
This tip is useful if you are thinking how Quora helps in content marketing. Maybe you had written a blog post months back, but it didn't get many views. However, you just spotted a Quora question that is very well-answered by that post of yours. Make use of this opportunity and share the answers from your blog post for the relevant question on Quora. Provide a link too so that the reader can follow it to get detailed information on your blog.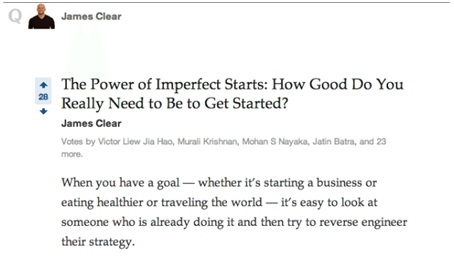 You can also repurpose any old content that you have by blogging on Quora. From your profile, you can go to Blogs and get started by customizing the URL, name and description. The posts you create then will be visible on the Quora network and you can share them on social channels too.
Also Read: Why Blogging is Key to Content Marketing?
11. Take Your Quora Statistics Seriously –
Did you know that Quora lets you see the detailed breakdown of upvotes, views and shares, for the questions you ask, answers you provide, blog posts you create and basically all the content you supply? And you get this analytics advantage for free! So, by studying these data points, you can frame or tweak your marketing strategy for the future.

12. Watch Out For Answer Collapse –
Remember this tip if you want to reap the benefits of Quora marketing. An answer usually gets collapsed or hidden on Quora when it is downvoted a lot, or any improvements recommended by the moderator are not implemented, or if you have not verified your account in real-time. So, how to avoid these issues?
Well, to avoid downvotes, make sure your content is well-written, useful and well-researched as much as possible. Check notifications from Quora on a regular basis so that you don't miss out on suggestions from the moderator. And to verify your account, you can simply link it to other social media platforms.
Get Started With Quora
So, are you now ready to take an informed plunge into the world of Quora marketing? Keep the above tips handy and you can also consult a Quora marketing agency. Always remember that Quora is a powerful platform that lets you promote your brand and products creatively and also cater to customers by answering their questions. So, be genuine, avoid sarcasm and jokes, and be focused.