Top 5 SEO Tips for Google Rankings in 2020
Search Engine Optimization (SEO)  is one of the most unique areas of marketing — people either love it or hate it, there's usually no middle ground.  One of the reasons for this is that since its inception around 15 years ago, SEO has been constantly evolving. Justwords has been around for a decade now and in just 10 years we've seen so many shifts in the world of SEO. There was a time when stuffing blogs with keywords and creating hundreds of poor-quality backlinks actually helped increase search engine rankings, but that seems laughable today.
Many of our clients ask us if there is any point in investing in SEO when things always change so quickly. In fact, SEO can often seem like a cat-and-mouse game between marketers and Google. The Google search engine algorithm is hell-bent on rewarding only high-quality content and trustworthy websites, and every update becomes another challenge for marketers to overcome. Yet, avoiding SEO is the worst possible answer to this conundrum.
The fact of the matter is that organic traffic still contributes as much as 53% of all website traffic. And it's really the only form of traffic that is sustainable in the long run, just because you don't have to pay for every additional click on your website.
So what's the key to successful SEO? It's fairly simple really — just stay updated. Every year, the Google search algorithm changes — sometimes in small, subtle ways and other times with massive upheavals. In fact, Google made 3200 changes to its algorithm in 2018 alone — that's right, 3200 changes in just one year! With so much changing almost every single day, it's important to keep going back to the drawing board to revise your approach to SEO, or there's a strong chance you'll get left behind in the organic traffic game.
In this article, we break down the 5 best SEO tips for 2020 so that you can get that website ranking in Google once and for all.
SEO Tips #1: Search engines are now much "smarter"
This was the year Google released BERT  (Bidirectional Encoder Representations from Transformers). BERT is an NLP (Natural Language Processing) based update that focusses on the intent behind the search query. This means that for the first time, Google search is able to take transformer words (to, for, etc) into account while deciding rankings as opposed to just the keywords.
Also Read: Google BERT — The Algorithm Update Everyone is Talking about and How it Will Affect Your SEO
What does this really mean? It means that Google has started prioritizing the idea that is conveyed by the content over the keywords. So if you're stuffing keywords like it's 2010, then you'll find yourself far from the first page of Google search results. The best way to deal with BERT is to start creating content that is geared towards audiences and not Google search rankings. It's also important to start focussing on informational search — building content that answers important queries.
Mathew Howells-Barby, Director of Acquisition at Hubspot sums it up in a nutshell,
"Ultimately, BERT will dramatically increase Google's ability to better understand the context behind queries being made in the search engine, thus allowing them to better serve results that match intent. But marketers shouldn't be looking for ways to game the new update. There's no 'optimizing for BERT' in the same way that there was no 'optimizing for RankBrain'. The result of BERT being introduced has simply meant that Google's natural language processing engine has reached new heights and you can expect much more granular answering of queries. If you're already optimizing for intent, you're in a good place."
SEO Tips #2: High-quality content that focusses on long-tail keywords
This is going to be the key to success in SEO this year. Google has started rewarding high-quality content — although there may be exceptions, chances are that if your content is the best in a particular category it will rank highly.
In short, you need to make your content the best in the domain that you're competing in. But with 2 million blog posts getting published every day, this is easier said than done. A good way of doing this is to find long-tail keywords that you want to rank for, and then create content around those.
For instance, let's say you have a bakery in Noida that delivers cakes through online orders. If you create content around 'Order cake online', you will find it very hard to find a Google search ranking because of the competition. If you choose to build a high-quality, authoritative piece of content around 'order cake online in Noida', then chances are you can create content that will be an industry leader for this phrase. This will make achieving that website ranking in Google a lot easier.
Also Read: 5 Types of Content to Get More Traffic to Your Blog
For this strategy to succeed, it's important to pick keywords that are at that sweet spot — where they attract a fair bit of traffic but are not as competitive as some others. Here are some of the best tools to help you figure out the long-tail keywords you need to target:
 SEMrush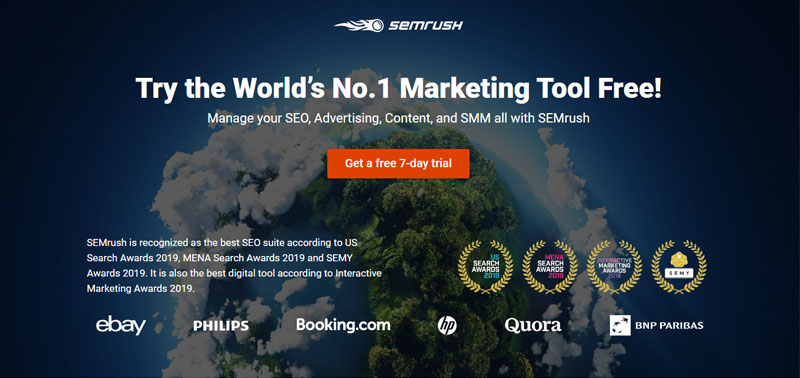 SEMrush is one of the most effective long-tail keyword research tools. This is mostly because it lets you see where your competitors stand, across keywords. It also allows you to see which keywords competitors are bidding on so that you can customize your strategy.
Google Keyword Planner
We have a tendency to underrate Google's own tools, but the Keyword Planner is one of the best free tools out there. While it may not give you detailed insights like some other tools, it still gives you a fairly comprehensive list of long-tail keywords (along with the traffic) that you can then choose from.
BuzzSumo, AuthorityLabs, WordTracker, and UberSuggest are other keyword research tools that work really well.
SEO Tips #3: Google is still burying organic search results
Google has started adding a bunch of information on the SERP (Search Engine Results Page) before the organic result even shows up. Think four paid ads followed by some shopping results followed by a featured snippet, some videos, and the "People also ask" box. The organic results only come after this.
In fact, Google now provides so much information on the first page that as many as 49% of searchers don't even click on the actual website. They find what they're looking for on the search results page itself.
There isn't much you can do about this, except try to get featured in a snippet. This would mean formatting your content in a way that deals with potential customer issues, preferably in a question and answer format. Here are a couple of ways you can do this:
Structuring the content with H2-H3 subheads that address the frequent queries
Providing 90-character answers before each subhead that Google can just grab and feature in a snippet.
SEO Tips #4: Mobile-first indexing
We know mobile search is critical, even as mobile devices account for more than half of the internet traffic in the world. In fact, in 2019 consumers sent close to 3.5 hours every day on their mobile phones.
What's more, Google ranking factors have been updated to reflect this shift. In fact, Google has shifted to mobile-first indexing. What this means is that Google now uses the mobile version of a website to index and rank its pages. In other words, even if your traffic comes largely from your desktop website, it will still be your mobile website that Google will use for indexing and ranking — which means it's your mobile website which will eventually decide your Google search rankings. Google has been doing this migration since March 2018 and has even informed webmasters about it.
Here's how you can tackle mobile-first indexing:
Make sure your mobile website is as responsive as your regular website.
Ensure the mobile website loads fast
Focus on the mobile user experience, making it as seamless if not more than your desktop version.
Use the same meta robots tags on your mobile and desktop versions
Enable Google to crawl your resources —make sure you're not blocking URLs with the disallow directive.
Don't lazy-load primary content upon user interaction
Also Read: Preparing your content strategy for a mobile-only future

SEO Tips #5: Videos are an upcoming SEO opportunity
Videos constitute almost 80% of web traffic. But did you know that you can leverage videos for better SEO? Here's how:
On YouTube, use the video descriptions to link to your videos. What's more, because Google shows videos in Google search rankings, even above regular website results, you can get showcased more easily.
Make sure you create webpages with transcripts for each of your videos — this will allow you to rank for keywords, especially the more specific long-tail keywords.
Including a video on your landing page will increase your CTR (Click Through Rate) by almost 157%. A higher CTR, in turn, will increase your search engine rankings.
People spend twice as long on a page with video than one without. So having videos on your webpages means a lower bounce rate, which again impacts your search engine rankings.
Also Read: 11 Must-do Tactics for High Ranking Videos on YouTube
There's a lot that keeps shifting in SEO each year. But fortunately, a lot stays the same. The most bottom line in any good, sustained SEO effort is quality, trustworthy content. Once you get that in place, you can keep tweaking your SEO strategy to yield the right results with every passing year.