User Generated Content on Instagram: Why It's So Powerful and How You Can Leverage It
I'm just going to go ahead and say it — Instagram is the most powerful social media platform that exists today. It's not just because of its 1 billion + monthly active users. It's also because of it's key demographic (more than 60% of its users are under 34) and its impressive engagement (Instagram's engagement rate is 58 times that of Facebook).
When it comes to Facebook, most marketers know how things go. You won't make much headway unless you pump in money on advertising, and there's a fairly straightforward formula around things that work. But unlike Facebook where things are a lot more clear (even if more straight-jacketed), Instagram is still a blue ocean for many marketers and brands. In this article, we will try to understand one of the most effective ways to navigate this hurdle- UGC (User Generated Content).
Why UGC is so powerful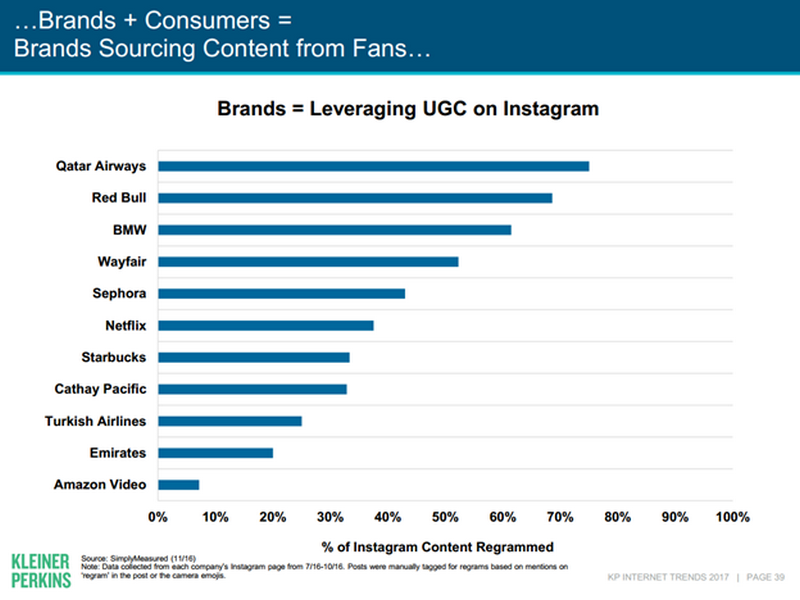 When it comes to Instagram, there are two things that stand out — the power of visuals, and the power of UGC. UGC really took off in a big way on Instagram before it started gaining traction on older platforms like Facebook and LinkedIn. In fact, UGC has a 690% higher engagement rate on Instagram than a regular piece of content. As the image below shows, most big brands are using UCG on Instagram, sometimes even as their sole Insta strategy. There are many reasons why UGC is so popular on Instagram.
Also check:- How to Edit SocialMedia Posts
Cost-effective
The best part about UGC is that it doesn't cost too much. You don't have to invest money in producing fancy images and videos. All you need to do is ask the customer if you can repost their content or give some incentives to encourage them to create authentic content.
Trustworthiness

85% of consumers think UGC is more trustworthy than brand-generated content. Authentic customer images and videos displaying love for and trust in your brand are far more meaningful for prospective customers than the most creative brand-sponsored video.
Build a sense of community

Marketing 4.0 is going to be driven by online communities and deep levels of customer engagement. When you use people's posts on Instagram, it's the best form of outreach. It goes a long way in building that sense of community and customer loyalty. When the videos are
creative and unique, they also become aspirational for other customers, creating a virtuous cycle of UGC.
How you can leverage UGC
For brands that are already well-known and much-loved, finding UGC may be fairly straightforward. But if you're a lesser-known brand, how do you motivate your loyal customers to create content for you. Here are some ideas that have been proven to work.
Start a campaign
Use an innovative hashtag and start a campaign on Instagram asking customers to post content related to your brand. Make sure the hashtag is unique, the campaign is authentic, and that it reflects your brand voice and identity. Make sure the hashtag and the campaign is promoted across other channels as well, including your website, email, newsletters, youtube videos, and so on. The campaign doesn't have to be complex; in fact, Starbucks used the simple #redcup campaign to motivate customers to share a photo with their very own product story.

Another advantage of having a well-publicized hashtag is that people know exactly which hashtag to use when they create content that's related to your brand. This way it becomes easier for you to find all the organic UGC that was being created around your brand anyway.
Create a contest
A contest is one of the most effective ways for you to motivate your customers to create content for you. Once again, simple is effective— an easy photo contest, caption contest or a design contest can work wonders. Of course, if your product is experience driven and the goal is to get high-quality videos and photos, then the Go Pro approach will also work. Every year, Go Pro organizes contests where it encourages users to enter an original photo file or a raw, unedited video, both captured by the Go Pro camera. They also partner with brands like Pinkbike and PADI to come up with unique and niche contests.

There are some brands that are so effective at generating a hype around their contests that after a time customers don't even care about the reward associated with the contest. Just being featured on the brand's Insta page is reward enough. Daniel Wellington is a great example of this. The company has over 2 million user-generated posts on Instagram with #danielwellington, and simply getting featured on their Instagram page is a big deal for many customers.
Watch: We are a Content-First Agency