Working from Home: 11 Tips to Help You Stay Super Focussed and Avoid Distractions
Kids running around, television channels screaming out news, your spouse wanting something done urgently, meals waiting to be cooked and household chores waiting to be finished. That is the home situation that most of us are dealing with nowadays. Add to that the constant stream of notifications that pop up on different messaging channels, and inboxes, and temptations to scroll through our social media newsfeeds and, perhaps even, roll on the bed; and you have a pretty difficult task of staying focussed while working from home.
12 Likes, 0 Comments – Justwords Consultants (@justwordsconsultants) on Instagram: "Our responsibility towards our family and society kept us home and our responsibility towards our…"
Studies have shown that a knowledge worker on an average checks his email every 8 minutes and his Skype or other IM messages every 6 minutes in an 8-hour workday. This essentially means that he spends just few minutes before going back to checking/answering emails or messages.
Basically, you are constantly battling distractions, procrastination and lack of focus.
If you are one among countless others stuck in such a situation, you're at the right place. Check out these 11 really helpful ways to build your focus and get your work done.
11 Fantastic tips on how to stay laser-focused on your work  
1.  Prioritize
Prioritizing your tasks for the day is very important so as not to get distracted or embroiled in unimportant tasks. Identify your priorities before you get started for the day. Once you have important tasks chalked out, you will be more focussed and find it easier to say no to other tasks that divert your attention.
2. Start Early
Whether you're a morning person or not, if you have to work from home, you'd better get started with it as soon as possible. Start as soon as you get up. All other household chores can wait. Starting early helps you stay focussed as you wake up with a fresh mind. Several productivity experts have maintained that people are most productive in the morning hours. Also count in the factor (as per the British Journal of Psychology) that people are mostly loaded with energy and happier when they wake in the morning.
3. Stop Multitasking
Multitasking doesn't work in tasks which require a lot of thinking. Try to concentrate on one task and finish it before you move on to something else. If you switch in between, you'll break the flow and it will take some time before your mind can focus on the first task again. Before you know it, you will have already lost 20-25 minutes in the process.
4. Set a Schedule for the day
Plan your day and try to have some semblance with your original workday at the office. Plan your usual 8-hour workday including start time, short breaks, lunch breaks and the log out time. Try to get as much done during that time. It's okay to not get everything done as per plan. Some pending tasks don't hurt.
5. Be Organized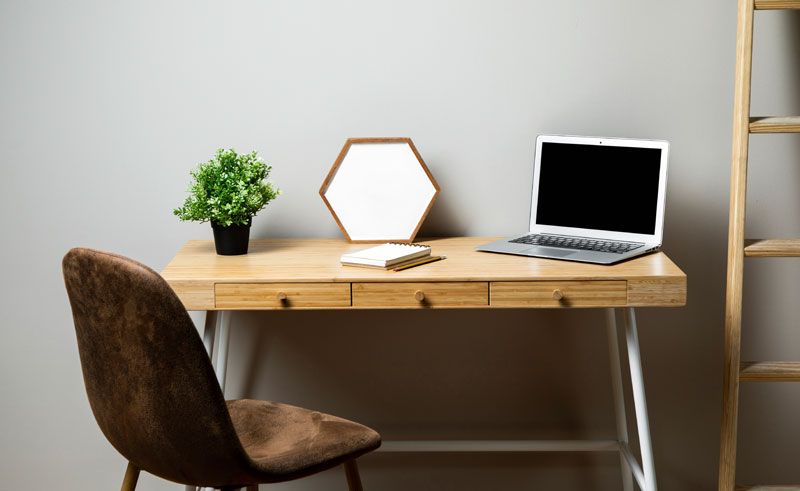 The organization is the key to improving your productivity. Keep your work desk at home tidy and every essential stationery in a place like notepad, pens, markers, earphones if you listen to music while working etc. Keeping everything neat and organized will prevent you from wasting your time looking for them.
6. Use the Pomodoro Technique
This is a time management method that breaks down work into fixed intervals followed by a short break. This means you work for 25 minutes straight without any distraction and then take a 5-minute break. Every 25-minute interval is referred to as Pomodoro. Once four Promodoros have passed which means 100 minutes, you can take a 15-20 minute break. This keeps your mind fresh and focussed. A study by Airtasker also revealed that 37% of employees felt that breaks helped their productivity. It takes time to master the Promodoro technique. It takes time to master the technique but once you do you will see your productivity levels rise.
7. No Social Media
You need your phone while working to communicate with colleagues, we get that. But try to resist picking up your phone every few minutes to check social media, Whatsapp etc. You have to be firm about it and discipline yourself if you want to work productively from home.
8. Promise Yourself a Reward
Promise yourself a small treat like a cup of coffee, treating yourself to a snack or catching up on a movie once you're done with a particular task. This will inspire and motivate you to get it done. Who said bribes are just for kids?
9. Have some People Time
It's easy to lock yourself up in a room while working from home to avoid distraction but it can also get lonely at times. Build-in networking with your colleagues into your weekly schedule. Schedule a time slot once or twice a week for a video call with your co-workers. This will not just help to stay connected but also fight bouts of boredom that are bound to settle in when you are working from home.
10. Get the Right Tools
Just like a hi-speed wi-fi helps you work smoothly, so do the right tools. Whether you are a writer, designer, software engineer or provide online marketing services, right tools are important in getting the work done quickly and more efficiently. There are a number of tools for time tracking, file sharing, communication and project management tools making easier to get the work flowing smoothly without wasting too much time on unnecessary things like sending emails, messaging colleagues for clarification etc.
11. Know when to end
When you're working from home it is easy to lose track of time and get so engrossed in things that you end up working long hours. While this is okay for a day or so, this won't work in the long run. Your mind needs rest too. You should know when to clock out. That's why discipline is so important. Start on time and clock out on time. A slight delay here and there is acceptable but you need to have a schedule in place. After all, a healthy work-life balance is a major plus of working from home and the reason the majority of us choose this arrangement. Working for long hours consistently can lead to burnout.
Working remotely may sound like a dream come true for some. With no commute, you save both time and money, you have the flexibility to choose your own working hours and, of course, the fact that you can work from the comfort of your home with your kids and family.
Sounds like a win-win? Not quite.
Working from home comes with its own set of challenges. You have to fight distractions, with no fixed hours you may find yourself working all the time and before you know it your work will begin to eat into your family time. You may find yourself not spending time with family and kids at all despite being at home all the time. Little wonder then that 29% of remote workers found it difficult to maintain a healthy work-life balance.
Just like you ensure that your personal life doesn't interfere with your work, you need to make sure that your work doesn't affect your personal life. You need checks and balances in place.
You need to set boundaries and maintain a healthy balance. Like Da Vinci said, "While you are alone you are entirely your own master."