AskNestle Wins Bronze at the Global WARC Awards: How We Helped Build Nestle's Strongest Digital Asset
It's not everyday that you get to be a part of a product that promises to be change worthy, and then also goes ahead and wins one of the most prestigious international awards – the Global WARC awards.
In the middle of all the gloomy news, we received this one-hell-of-a-good-news email last week. It was from the head of communications, Nestle India, RashiGoel. She was informing us that AskNestle- a cutting-edge food tech product by Nestle – had won the Bronze at the Global WARC Awards 2020 in the "Effective Innovation" category.It was the only entry from India.
"I cannot help but express heartfelt gratitude from the AskNestle Team at Nestlé… This success would not have been possible without the support, encouragement and many many nights of effort that has been put in by you. The AskNestle product has been created by a community of people, each one contributing ideas, analysis, technology, content and most of all positive intent," read the email.
It was addressed to the whole team that had built the product – designers, developers, technology partners, marketers, and content creators (that's where we came into the picture).
So now that you know why are have been up and excited about this whole episode, let me explain how content plays a part in AskNestle and how we played a (small yet significant) part in the whole process.
AskNestle – Helping Mothers Understand Nutrition
The whole thing that drives AskNestle is content and technology. It was developed to be a one-stop platform for complete child nutrition and help mothers of children (0-12) explore, learn and understand the best of nutrition knowledge.
Also Read: Recipe of a Successful Food Blog
That is what makes the product so compelling. To break it down, AskNestle offers these 4 things –
A GROWTH TRACKER – This allows parents to track their child's growth against other kids of the same age and height and weight.
CUSTOM MEAL PLANS– These are designed on the basis of a growth tracker, taking into account regional preferences, food choices and allergies.
A REPOSITORY OF RECIPES FOR CHILDREN – These are supposed to help mothers find to give proper nourishment.
A KNOWLEDGE CENTRE OF EXPERT ARTICLES – This was designed as a resource hub where parents could find easy to understand and reliable nutritional knowledge. This was also supposed to equip mothers with the right knowledge about nutrition, banish myths, clear doubts about food and nutrition and health, and finally help them use that information in building healthier childhoods for their little ones.
It was to create this knowledge hub that Justwords was taken aboard. Here is a CASE STUDY on how we did it.
Creating Content that was Interesting, Engaging and Reliable:
We started by understanding the objectives closely and then shared our plan to achieve the same. The biggest challenge here was to create content that was not only appealing to the average Indian mother, but also to create content that was factually right from the nutrition standpoint.
Also Read: 10 Perfect Taglines That You Just Can't Forget 
Hence, our first job was to put together a team of nutritionist writers as well a nutrition expert who could guide us on getting the content right. With that in place, we made sure that everyone else on the team, meaning the editors and the designers were all on the same page.
The second challenge was a very strict deadline. How could we manage to put together this vast project on such a stringent deadline? We knew if this had to work, every team had to work like clockwork. The process had to be super smooth.
After consulting the client, we zeroed in on popular nutrition and health categories for content development, like Immunity, Balanced Diet, Nutrients, Eating Habits, Deficiencies, Concerns, Digestive Health and Breastfeeding. Growth and Development, Complementary Feeding, Fussy Eating in Kids and Recipes were some other categories covered to address the usual pain points of expecting women and mothers.
The content was further subdivided into different styles, like listicles, e-books, FAQs and guides and visually rich infographics. Once this was ready, the nutrition team created briefs for each topic, the writers wrote, the editors and nutrition experts checked for quality, and the design team added visuals.
While the content team made sure that the everything was factually correct and relevant for the Indian audience, the design team focused on creating rich and attractive infographics, which could easily be read and understood my busy moms. Timely delivery and rigorous quality checks for all the content areas were ensured.
Taking our content journey to the next level and attempting to reach a larger group of parents across India, the content was further translated in Hindi. Throughout the process of content development, we constantly updated the client about our progress and incorporated their suggestions and ideas to ensure that the perfect content hub was created.
Also Read: Start and Build a Digital Marketing Agency
Like with any successful tech product, we were also building this entire content library in an incredibly short span of time. In an incredible collaborative effort, the product went live in April 2020.
Here are a Few Lessons we Learned in the Process:
It's important to chalk out a broad-level plan of how the project is going to flow. Set dates at every stage, assign the teams and have a workshop so that everyone is on the same page with the project delivery deadlines.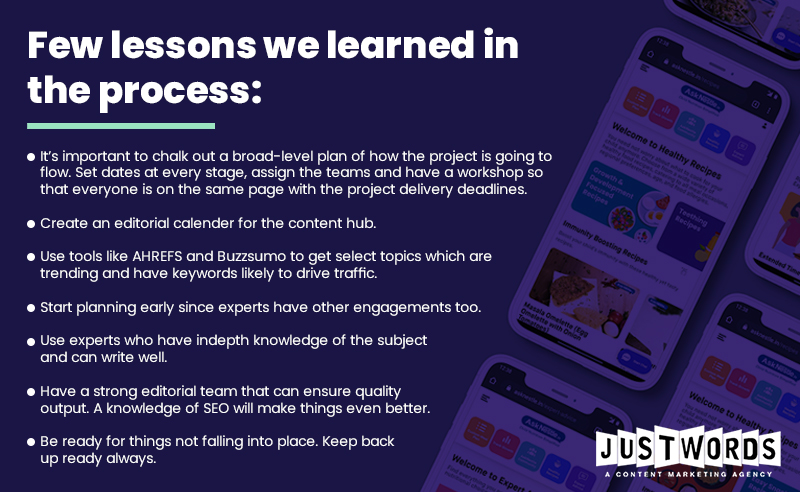 Create an editorial calender for the content hub.
Use tools like AHREFS and Buzzsumo to get select topics which are trending and have keywords likely to drive traffic.
Start planning early since experts have other engagements too.
Use experts who have in depth knowledge of the subject and can write well.
Have a strong editorial team that can ensure quality output. A knowledge of SEO will make things even better.
Be ready for things not falling into place. Keep back up ready always.
What We Managed to Achieve?
We managed to deliver the content on time. AskNestle.in's web version went live in March 2020, and has opened to good reviews.
The highly targeted content led to a spike in traffic and click-through rates and is helping AskNestle position itself as the topmost resource for young mothers wanting to know about food and nutrition. The sticky content has also been able to drive up engagement on the website and increase the number of returning visitors.
Sure the win at the Global Warc Awards was extremely satisfying, but more than everything it is the lingering satisfaction of creating content that delivers value.
Finally, mothers across the country have a comprehensive and trustworthy resource for everything nutrition-related. From a customized meal plan to all the inputs they will need to implement this meal plan, the correct information is now at their fingertips. Today, there is one less thing Indian mothers need to worry about. And that for us at Justwords is the most rewarding part of this incredible AskNestle journey.