12 Tips to Help you Whip up the Perfect Food Blog!
Are your sinful desserts the talk of the whole town? Or maybe your guests gush about the magic you do with veggies? Or maybe your friends are amazed by how easily you can sniff out every ingredient from a dish! Well, if you are planning to start a food blog, all of this will help. But it's not enough. 
You should also know how to combine the right language with yummy pictures and smart recipes to get your readers yearning for more.
Remember that the reader is miles away from the dish you have put together in your kitchen and cannot actually see or taste it. So, a good food blog should be able to make that experience as real as possible, so that your target audience looks forward to your every post. And in case you run a restaurant or home delivery service, such a blog will drive more visitors to your site and boost conversions as well.   
So, here are some tips that can help you start an engaging food blog. 
1. Decide on a theme first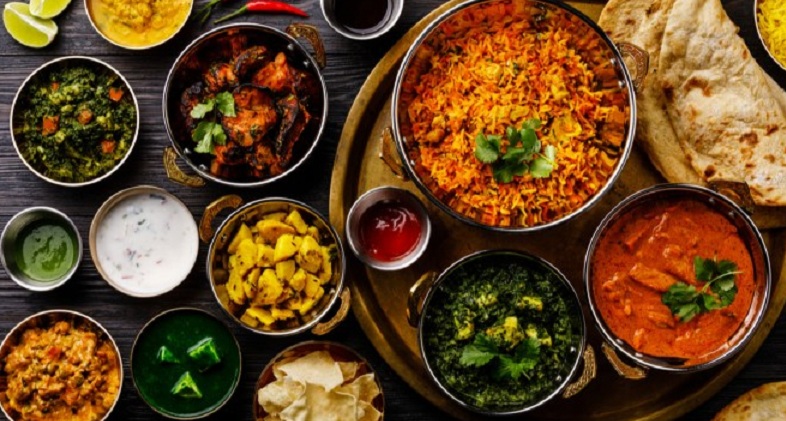 Since food or cooking is a vast field, it will be a wise move to focus on a particular style of cooking or maybe a specific region's dishes. You can also decide if you want your theme to be desserts, savory dishes, healthy foods, weight-loss foods or something else. While crafting content for a food blog, if you are concentrating only on South Indian cuisine, non-vegetarian preparations or recipes for those suffering from lifestyle diseases, you will quickly emerge as a domain leader. Your target audience will be well-defined as well. 
2. Be aware of the latest food trends
These days, readers have little time or patience for complicated recipes or a super long video. They also like knowing about the calorie count and nutritional value of different dishes. Sometimes, foodies also look for information on how to prepare a vegetarian or vegan version of a non-vegetarian dish. 
Or, they look for recipes that have a continental vibe and are quick to prepare for office meals. These days, many households are shifting towards cooking with organic produce too. Many people look for sugar-free desserts, energy shakes and such items. So, stay aware of the cuisines, flavors and dishes that are gaining popularity and the kind of content formats that work. 
For instance, simple videos that are less than a minute can work wonders. Bulleted list of ingredients and images of every step of cooking are some other great food blog content ideas. You can also include colorful infographics in your blog posts as they are easy to scan and recall. 
3. Get the setup basics right
If you are wondering about the technical aspect of how to create a food blog, take a look at the top hosting platforms like Bluehost, WordPress, Medium, HostGator, Tumblr, Squarespace Blogger, and Wix. If you are new to blogging, go for a platform that doesn't require technical or coding knowledge and is easy to set up. It should also be flexible and come with various themes and plugins, so that you can customize your blog just the way you want.
Also, consider how you want your blog to develop or grow in future, and if you wish to make money out of it (most bloggers do). Choose the platform accordingly. It should be secure, easy to integrate with a website or online store, and affordable too. Remember that you will need a "tasty" domain name as well, something which is ideally optimized for search engines. This will help you rank high on the search results page.  
4. Design a smashing website or get help
For a food blog to build brand awareness and bring in traffic, a stunning website can go a long way. If you know how to design and get started with one, great! If you don't, you can either get help from a friend who is a pro or learn how to do it yourself. The latter option is a little time-consuming, but will boost your knowledge and you can easily tweak your site in the future too. 
When it comes to website designing, remember that the top hosting platforms offer a variety of paid and free themes you can use for the most attractive look. Or, you can check out famous food blogs that have great designs. To know what theme they are using, just right click on their site and view the source. 
5. Make your blog functional with plugins 
A food blogger can use these latest plugins to make their blog search engine friendly, attract organic traffic and rank high on the search results page. After all, you want as many people as possible to find and love your blog, right?
WP Recipe Maker

– You can add visual recipe cards to your blog posts with this option, even if you don't know coding. It lets you add a label for nutritional facts (in the premium version), insert a call to action, templates that you can customize, and add images or videos. This plugin works amazingly on any device. 
VaultPress –

This plugin backs up important data on your site every day, like media files, posts, and dashboard settings. This is also useful in case of cyber attacks. Advantages include unlimited storage facility and scanning of the site for cyber security issues. 
Yasr –

If you want to gain your readers' trust, use this plugin. It allows readers to click and rate your recipe or post, which can build your brand value over time. The plugin lets you customize the look and size of the stars and help you to appear in Google's rich snippets too. And this can boost your ranking. 

SocialSnap –

With this plugin, you can embed buttons for social sharing on more than 30 networks and pick from various display options. Readers can share just a photo from your blog post easily, even if they don't read the entire recipe. Plus, this plugin allows you to customize social media tags, the shape, color, label and layout of buttons, and offers counters for flaunting your social shares as proof. 

Yoast SEO –

This

one is ideal for on-page SEO optimization, which is necessary if you want to rank high on Google. Using this plugin, you can check your blog's readability, keyword density, title and image optimization, and automatically generate a sitemap. 

Akismet –

While you are busy churning out awesome

food blog content

, there will be spammers who will try to misuse the comments section. So, use this plugin to automatically monitor comments, filter spam, and display a privacy note below the comments form, in case you need to collect any user data. 

LinkWhisper –

Don't

have a clue about digital marketing? Don't worry! This plugin will help you build a solid internal structure for your site without taking away your focus from the actual content. With LinkWhisper, you can create internal links to ancient posts without hunting for them. 

Editorial Calendar

– Use this plugin to plan and schedule

food blog post ideas

in advance. Even if you have a team to help you with the blog, this plugin makes it easy to manage the work of all. 

Mailchimp –

If

you want readers to join your mailing list without any fear of getting spammed, use this email marketing plugin. It can help you manage all your contacts, communications and even create gorgeous campaigns. 
Apart from these plugins, make sure you use Google Analytics to monitor your blog's or website's performance. It will show you hard data on the traffic you are getting, the sources, engagement rate, bounce rate (if people are not staying on your blog for too long) and what people are searching for to land up on your blog. 
6. Include high-quality images and videos
If you notice closely, you will see that any good food blog features well-shot, high-resolution and vibrant photos. That's because food porn is real and your readers should be able to "taste" your content. So, you either have to use a high-quality camera or a smartphone with a very good camera. You will also need the right software to edit the images and bring out the colors and textures better. GIMP, Canva, Fotor, and Adobe Photoshop Express Editor are some decent options. Editing will also let you focus on the ingredients, any special tool you are using for cooking the dish, or even highlight accessories like beautiful plates, table linen or cutlery.   
Videos are extremely popular too and can make for a more realistic reader experience. However, you have to make the shoot crisp, include short subtitles if needed, and focus on the key aspects of the cooking process. You will find editing tools for videos online as well, like OpenShot, Movie Maker 10, Shotcut, HitFilm Express and so on. 

7. Take the "About me" section seriously 
There's no denying that your food blog content should be as unique as possible, if you want to stand out from a million others. But that doesn't mean you should only focus on your recipes or blog posts. The "About me" section of your blog or website deserves your attention too. 
This is because it will tell your target audience why you are passionate about food or cooking, what is special about your methods, ingredients or cooking style. Basically, this is the section where they will find out why you do what you do. Check out how Mallika Basu's (of Quick Indian Cooking fame) "About" section establishes a personal and warm connection with the readers. Probably, a lot of you might be able to relate with it!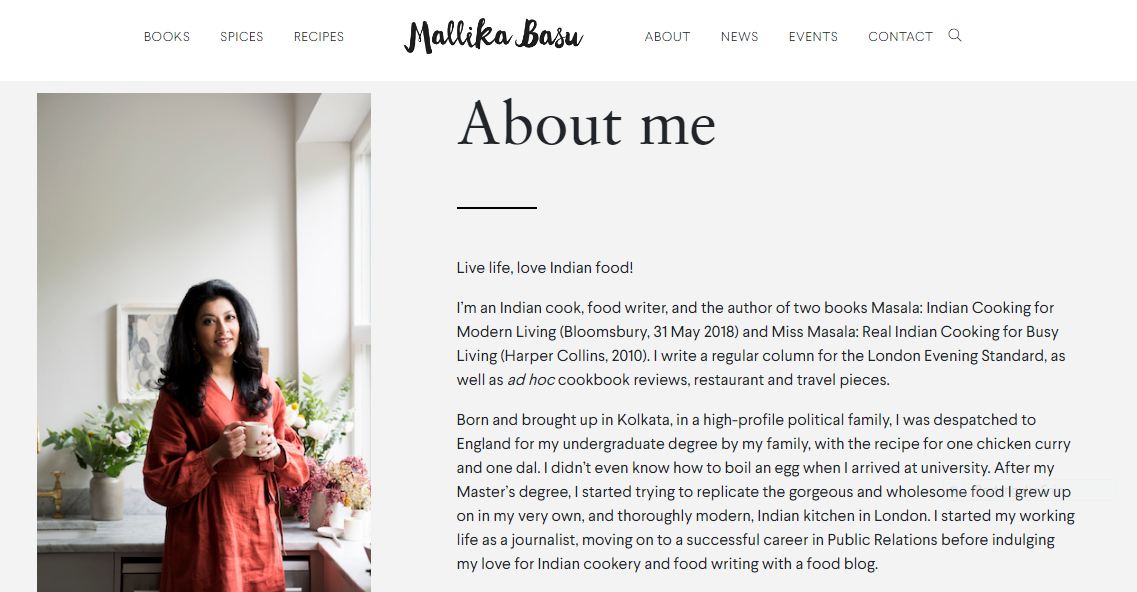 Apart from widely known blogs about food like Hebbar's Kitchen and Rocky & Mayur of Highway on My Plate fame, you can also gather inspiration from these lesser known but awesome bloggers.  
Try and answer these questions in your "About me":
How you got started?

Do you do it all alone or have a partner to help?

How long does it usually take to execute your recipes?

What kind of ingredients do you use for your recipes? Anything special about them – like organic, vegan etc.? 

Are all your recipes original or inspired by others?
8. Focus on your SEO strategy 
Search Engine Optimization is essential if you want to rank high on Google and attract organic traffic (basically, you don't need to pay for ads). For that, your blog content should contain the right keywords or phrases that people use while searching for the kind of recipes you suggest. 
So, if you cover recipes that are commonly searched like pound cake or chocolate cookies, it might get tough to rank high as many bloggers will have covered these in the past. 
So, if you cover recipes that are commonly searched like pound cake or chocolate cookies, it might get tough to rank high as many bloggers will have covered these in the past. 
Also Read: Best SEO Tips for Google Rankings in 2020
This means, you might have to focus on unique recipes or use long-tail keywords that face less competition (like easy chocolate and vanilla cookies). Or, exclusive, exotic recipes like Spicy Moroccan Carrot Salad, Ukrainian Garlic Bread or Grilled Tandoori Chicken Wings might get you a good rank more easily. In other words, optimizing your food blog for search engines or web crawlers will make it easy for readers to discover you.  
9. Protect your blog against plagiarism 
There are plenty of bloggers who steal recipes from others and tweak it a bit before publishing these as their own work. Basically, this can ruin all the hard work you have put into your cooking blog. So, make sure your website has a crystal clear copyright statement and use original photos of your recipes. This way, even if someone uses yours, you will spot it easily. Also ask users to link back to your blog if they try a different adaptation of your recipe. 
10. Boost your social presence 
If you just start a food blog and forget about its promotion, it really won't work. And when it comes to promotion, there is nothing like social media. Invest time and effort to build a big base of engaged followers, be it on Facebook or Instagram. Also watch out for the latest social media channels and the kind of hashtags that will work best. Here are some absolutely yummy Instagram accounts that you can get ideas from, when it comes to images, themes, presentation style and so on. Respond to all comments, accept appreciation gracefully, understand your audience's needs and pain points and even ask for suggestions. This will establish a long-term bond and improve blog recall. YouTube is another platform that lets you upload food videos and offer a more realistic experience to your followers.  

11. Lend personality to your blog
There are millions of food blogs out there, which is why if someone searches for "chocolate muffin recipe", it will throw up 67,800,000 results! So, the only way your blog can stand out is if you show readers that you offer something unique, something special. In other words, your blogs needs personality! 
For instance, your chocolate muffins might have a gooey center or might contain dry fruits. Or, you probably ice each muffin creatively or use organic ingredients. Basically, you have to let your USP shine. If your muffins are easy to make and need few ingredients, busy moms might follow you more. If you experiment a lot and use unusual ingredients, people who cook to impress might follow you. Get the drift?
12. Build your brand and make money
To taste success with a food blog, you need to be patient. Follow the tips mentioned above and try and build a big reserve of recipes. 
Then try and start attending food events, reviewing cafes and restaurants and collaborating with other food bloggers to create signature dishes and grab more attention on social media. 

Ask your site visitors to sign up for your newsletters and keep expanding the email list over time. 

Once your blog traffic becomes pretty decent, you can also think of applying for food blog awards. 
When it comes to making money with a food blog, many bloggers take the Google Adsense route and expect it to work soon. However, without sufficient blog traffic (and we mean something around a thousand every day), you won't be able to earn enough. 

So, what you can do instead is :
Organize weekend or holiday menus, offering your special savories or sweets to the local audience. From sauces, jams and pickles to mini meals and dessert shots, you can try your hand at what seems manageable. 

And if you are planning to start a catering business, you can approach nearby offices and even your neighbors to supply packaged meals. 

You can also try putting together an e-book with your special recipes and sell it online.  
Now, cook up a storm!
Now that you know how to create a food blog, get started, and don't forget to give due credit to the person who first inspired you with their delectable recipes. It might be your mother, grandmother, partner or even an uncle! Work hard on your blog every day, stay aware of what top bloggers are doing, learn new things and love what you do. Soon, the "fragrance" of your blog will reach foodies in faraway places too.