How to Edit Social Media Posts That Have Already Been Published
When it comes to content, the competition becomes more intense every day. And for any brand that hopes to capture that slice of the customer's attention, posting quality content simply isn't enough. I can post a great Insta story or a witty meme with an even wittier caption, but if I'm doing it once in two weeks, there's simply no point. Consistency is key — everyone from the biggest online brands to fledgeling Youtubers swears by this one rule. 
But consistency comes with its own issues. When you're posting twice a day on Facebook, thrice on Instagram, four times on Twitter, and so on, chances are you'll make a mistake or two. From racking your brains to create memorable copy to finding/creating that perfect image, there are way too many things that go into a social media post. Sometimes, the mistake may be as trivial as a misspelt word (which can still have a strong impact on your reputation) or you may just upload a completely wrong image! Whatever be the issue, here's the complete guide on how you can resolve it. We've broken down editing options by social media platform, along with instructions on how to make things right. So here we go:
Facebook
Facebook is the one platform that's part of the default marketing strategy for most brands. Given how frequently we end up posting on Facebook, it's important to know how to quickly backtrack when necessary. 
What can be edited
You can easily edit wrong spellings, poorly worded captions, and even entire textual content. Basically, as long as you're dealing with the written word, Facebook lets you edit the post whenever you want. In fact, you can even change or add tags, whether that's for brands, individual, or even locations. You can also edit posts with the Facebook Page Manager App.
Keep on mind that edits on Facebook can be made by any Page admin. Plus, edits are also visible on the platform, including the ones that have been made before the post was published.
Finally, the post's edit history is actually public so any user can really look at the editing history if they really want to. This obviously shouldn't deter you from making the edits you need to, it's just something to keep in mind.
How to edit
Simply click/tap on the three dots which are present on the top right-hand corner of the actual post. Then select "Edit Post" from the drop-down menu that appears. Make your changes and just click "Save".
What cannot be edited
Unlike textual content, photos and videos cannot be edited on the platform. So if you attach the wrong image or video to the post, you'll simply have to delete the post and start from scratch. The only exception is if you are editing your post in the Facebook Pages app and you need to change an image. In that case, you can upload the new photo to a post and save it. Once you save the post, go to editing mode and delete the old photo.
Importantly, if a post has been boosted, or is part of an ad campaign, it cannot be edited. So when you're advertising on Facebook, please make sure your post is perfect before it goes live. Otherwise, you'll have to keep deleting the old post and creating a new one.
Twitter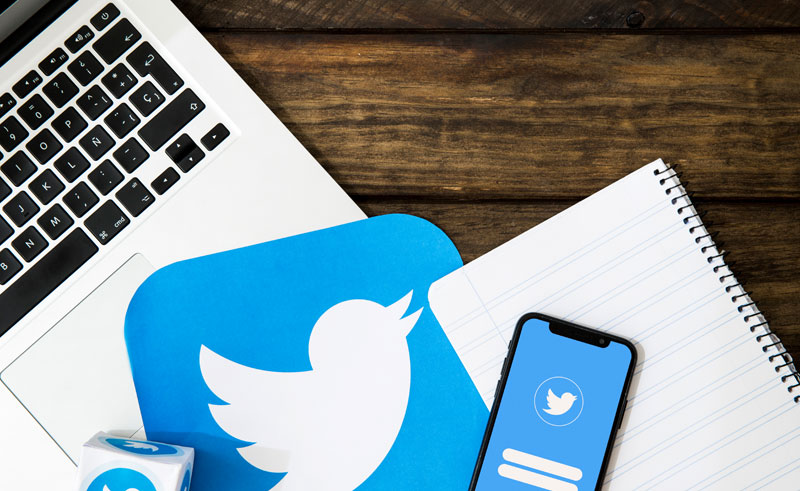 Twitter is the one platform where posting frequency is the maximum. In fact, many companies run a thriving customer support channel on Twitter. 
What can be edited
Nothing! Unfortunately, there is no option of editing tweets as of now. This has been the subject of a lot of discussions but as of now, there is no move by the platform to provide an editing option. The company feels that giving the edit option would take away from the free-flowing nature of the platform. At times, Twitter has indicated that it might provide an editing option, with an 'editing window' of around 5 minutes after the tweet has been posted. However, there is no concrete progress on this as of now. 
How to edit
Since there is no real editing option for tweets, if you make an error you simply have to delete the tweet and start again. Luckily, the limited size of a tweet makes it much easier to accomplish this.
Instagram
Instagram has become the most popular social media platform after Facebook. Plus, its young demographic (more than 600 million followers are under the age of 34) and high engagement rates means its often the primary platform for many marketers. 
What can be edited
Just like Facebook, you can change textual information on Instagram. Which means you can edit your caption, add or change any location tag, and add or delete account tags. You can also add and edit alt text tags. 
How to edit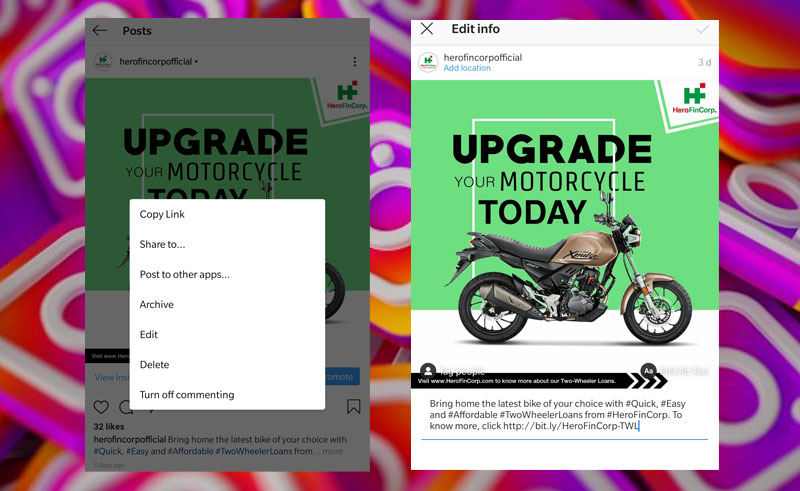 Keep in mind that you can't edit captions on the desktop version of Instagram. It can only be done within the app on your mobile. To edit the caption, go to your post and click the three dots on the top right side. Then tap the 'edit' button after which you can make changes like editing the caption, changing location, and adding account tags to the photo or video. Once the editing is complete, tap the "Done" button on the upper right side. 
What can't be edited
Similar to Facebook, you cannot edit the videos and images in a post once you've uploaded them. You'll have to delete the post and start again.
LinkedIn
In recent years, LinkedIn has become the go-to platform for every B2B brand and two professionals join LinkedIn every second. 
What you can edit
You can edit posts both from the Company page as well as your personal profile. Once again, you can only change the text. 
How to edit
To edit your post, go to the page you posted from, and find the post. Click on the three dots on the upper right side of the update. You can then edit the caption and add or remove hashtags and links.
What you can't edit
Like the other platforms, the image or video you use on a post cannot be edited. Also, if you publish a link post and you want to change the link, you'll have to delete the post and create it again. Simply changing the link in the caption won't work.
Pinterest
Certain lifestyle brands use Pinterest very effectively to capture an engaged and loyal user base. 
What can be edited
On Pinterest, you can edit the Pin's section, description, title, board, and the link it goes to. You can edit on the desktop but even on the mobile app. 
How to edit
To edit your Pin, simply go to it and click/tap the pencil icon on the upper left side. Then you can begin editing the sections you need to. Once you're done click "Save". 
What can't be edited
On Pinterest too, you can't change fundamental things like the published Pin photo, video, or carousel. If you uploaded the wrong ones, you'll have to delete and start again.
On the whole, editing posts is fairly straightforward and follows a standard pattern on most platforms. However, it's important to be careful with the images and videos you upload, because unlike text, they can't be edited. So go ahead and edit those small errors to create a more professional-looking social media feed. 
Watch: Why is it the right time to market your business through Social Media?