Latest Digital Marketing News and Updates That Every Marketer Should be Aware of [Till Aug 2022]
Digital Marketing is an ever evolving field. There is an update happening every month and you, that is if you are a digital marketer, need to stay abreast of all the latest news about digital marketing. This will help every marketer, be it SEOs, or social media marketers, or content marketers or content writers, to deliver better results. In case you missed out, here is our post on the latest updates coming from Google, Facebook, Instagram, Youtube, LinkedIn and other prominent digital platforms.
Here are the top 5 latest news in digital marketing that occured in the last few months and will have a major impact in the industry:
1. Google's "Helpful Content" update – Major SEO update of the year
A notification was released on 18th August, 2022, alerting the marketing community about an upcoming major Google SEO update. Google's Helpful Content update was going to have a big impact on sites that are focused more towards search engines and less towards their users/target audience. Google has named this update as "Helpful Content" update and it will be a new signal that Google will use to measure performance of websites and rank accordingly.
This is what Google had to say. "We continually update Search to make sure we're helping you find high quality content. Next week, we'll launch the "helpful content update" to tackle content that seems to have been primarily created for ranking well in search engines rather than to help or inform people. This ranking update will help make sure that unoriginal, low quality content doesn't rank highly in Search"
This important SEO update will be released for English users initially.
By making helpful content as an important ranking signal, Google wants to showcase and rank content that is more useful to users.
This means that you cannot create content just for the bots, and expect to rank. You need to serve the searcher's intent and create content that answers the queries of your audience. Google is also planning to rollout an update that will help original and high quality reviews get better visibility.
If you want to read more about this, check this link.
2. Content creators can now import their Youtube videos into shorts
According to the update released on July 29, 2022, Youtube content creators can now create more content by converting their existing long form videos into 60 Second short videos (on iOS device) using the timeline editor, filter and other prominent tools. This will help content creators and brands give a new life to their long-form video and also gain more engagement and traffic through short-form versions of the same content. This Youtube Content Update will be expanded for Android devices in the near future, which has the limitation of 15 seconds for now. The update has been rolled out for mobile creation on iOS and Android devices only.
Another exciting feature of this update is – if the portion of the video, which has been selected, is less than 60 seconds, one can shoot the video with the help of Shorts camera or upload any video from the device to make it a 60 second video.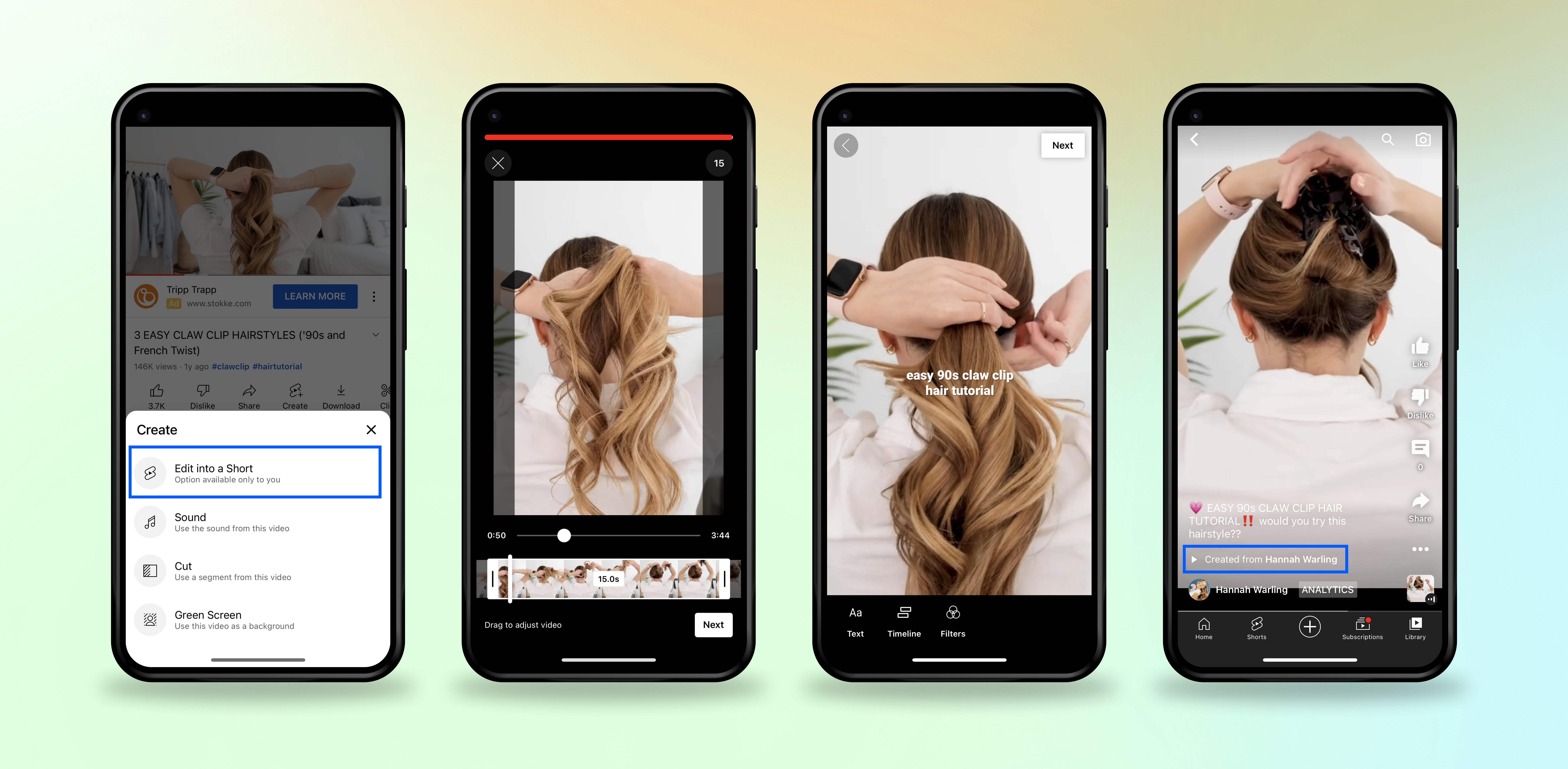 Image Credits: YouTube Community
3. Meta (Facebook) launches a new B2B targeting audience segment globally
Meta released a news on 9th August, 2022, on its platform where it announced the launch of a new B2B targeting audience segment. This will help marketers and businesses reach the key business decision makers of Small, Medium and Enterprise businesses. With this Facebook latest update, Facebook (which already has the presence of 200M+ businesses), aims to become the preferred platform for targeting the B2B segment.
While creating any Facebook Ad campaign, one can try the following targeting options –
4. Google to delay 3rd party cookies till mid of 2024
Third party cookies in chrome have been the talk of the town since last 2-3 years. Initially when the news surfaced that the era of cookies is going to finish and will be replaced by Privacy Sandbox, the advertising world started looking for alternative solutions on how to track behavior of the audience. But, according to the recent statement from Google, they are delaying their plan to block third party cookies till the second half of 2024 in their chrome browser. The VP of Privacy Sandbox, Anthony Chavez, had announced this on July 27 on the company blog.
5. TikTok is on the verge of becoming the most popular search engine among Gen Z
No one would have imagined that Tiktok, one of the popular video sharing platforms, would slowly become the destination for youngsters to search their queries and also appear in their discovery section. "In our studies, something like almost 40% of young people (from US), when they're looking for a place for lunch, they don't go to Google Maps or Search. They go to TikTok or Instagram," said Prabhakar Raghavan, senior vice president at Google.
Also Read: User Generated Content on Instagram and How to Use It Effectively
This is a major revelation for businesses who want to target the young generation. While Facebook has already indicated that it was facing tough competition from TikTok (when it comes to getting the attention of Gen Z), the latest statement from a Google representative confirms that Tiktok is not only becoming the preferred social media platform but it is also working towards becoming the preferred search engine for the young generation.
Although there were many other updates, these were some of the prominent latest news about digital marketing which have had a major impact in the Digital Marketing industry.
We will keep on sharing these updates at regular intervals. Hope this post was helpful.