Social Media Style Guide – What is It and How to Create One?
Take a good look at the tweets/posts below….what's special about them? They are funny, sassy, cool and get your attention in seconds! From Taco Bell to NASA, social media channels are crucial for every kind of brand to establish its unique image and voice, build fan following, engage followers and ultimately drive conversion. It's a powerful tool of online marketing that doesn't involve hard-selling, but rather banks on deep connections that address consumer sentiment, behavior and pain points.
And since your social media presence or content should always resonate with your brand value and goals, you need a social media style guide. This way, you can stay consistent across all channels and people will relate your posts or tweets with your brand (or even identify your brand) easily.
So, find out a bit more about this social media guide and how you can create one.


What is a social media style guide really?
As mentioned before, a social media guide is like a map that helps you stay on the right course when you are marketing on social channels. Also,
• It keeps all the rules of posting or tweeting in one place for easy reference, whether you or someone else on your team is taking care of your brand's social media presence.
• Since social media managers often have to deal with multiple responsibilities, having a guide takes the pressure off remembering how your social media marketing should align with your overall goals.
• Since a guide tells you exactly what to do and covers don'ts too, it becomes easier to avoid mistakes or post something that doesn't complement your brand image or voice.
• By creating social media brand guidelines, you can decide how people feel or what they think when they come across your posts or tweets.
• Your brand gains more credibility when your social media content is cohesive and has a consistent tone across channels. A good example in this regard is Dove, as all their social profiles convey the belief that the brand is all about breaking beauty stereotypes, irrespective of race, age or ethnicity.
So, now,
It's time to align your brand strategy with a social media style guide that covers your brand's objectives, tone, and appearance, across all your social media platforms.
Steps to creating a social media guide:
1. Formally list down the social media platforms your brand will be active on
After listing down all social media accounts or profiles that you will use, make sure if their naming is consistent. This helps fans discover your accounts easily. Also decide on how to format usernames, which is useful if individual profiles are created in the future. If you have a common brand name, you might have to add something to it like HQ (for headquarters) or IN (for India) etc.

2. Decide who you will be speaking to and why
Creating buyer personas or defining your target audience is essential before building on your brand's voice. Make sure your social media guidelines include short descriptions of each persona. Remember that this will involve listing down your social media objectives as well. Some popular goals are:
• Connecting with a bigger or new audience
• Generating potential leads
• Converting leads into paying customers
• Retaining customers and converting them into loyalists
3. Document your brand's tone and voice
Decide on your ideal brand voice and include it in your social media posting guidelines, to maintain consistency across all channels. If you have a different voice for different platforms (formal on LinkedIn, more playful on Instagram), be sure to note that down in your style guide. What works on Twitter might not necessarily work on LinkedIn, and hence, writing down the personality traits of your brand will help avoid posts and content pieces that are not aligned with your standards. Check out Dollar Shave Club's laidback and humorous tone, for example: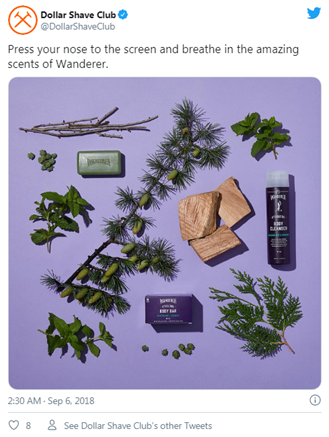 Some voice options are:
• Cheerful
• Helpful
• Casual
• Sarcastic
• Friendly
• Political or non-political
• Humorous
• Bold
• Compassionate
• Formal
For example, Coca-Cola deleted all of their older Instagram posts last year to start fresh with a campaign for kindness on social media. Choose a brand personality that relates the most with your brand and craft your posts accordingly.

4. Get the language right
Social media guidelines for businesses should always include language rules to convey your message in the right way. So, follow these tips for starters:
• Use simple and easy language and avoid jargons unless you absolutely need it or your industry is highly technical
• Make sure your language sounds fair, unbiased and inclusive, to cater to a large audience
• Keep sentences short and smart. On Facebook, it should be ideally 1-2 lines, on Twitter, it should take up maximum 280 charcaters, and on Instagram, a one-liner or short phrase with an emoji works best
• If you are using emojis, decide which ones to use, on which channels and how frequently
• Decide if you wish to post as a brand or attribute a post to specific team members
• Clearly list down the full forms of all acronyms in your social media style guide. That's because your audience might not know what they mean
• If you use any specific terms or trademarked language, list them down too. Like, Starbucks refers to its employees as partners.
5. Usage of hashtags
Categorize a list of branded and campaign-specific hashtags that are trending and can be related to your brand and its personas. Hone in on a few ideal hashtags to start with; test and iterate from there. Make sure you have one specific hashtag that defines your brand. Also consider the intent behind the hashtags you use and the channel you use them on. Using branded hashtags in social bios is a great idea if you want user generated content for marketing purposes.
You can refer to a few sites to get started: How to Use Hashtags, Tagsfinder
Example of a spot-on hashtag usage! On Twitter, the #GivesYouWings hashtag is listed in place of its company description.
6. Take care of grammar and formatting
While basic grammar rules should be followed while posting any content on social media, a few contractions are allowed owing to the character limit and the casual vibe of these channels. It might help you build more personal relationships as well. You should also note down how and when to use exclamation points, dashes, commas and so on.
Also Read: How to Create a Social Media Marketing Proposal?
Also decide on a particular format for posting status updates, sharing links and so on. Like, while tweeting, you might post a headline followed by link and hashtags. Or, you can mention all the hashtags in the first comment instead of the caption, while posting on Instagram. Check out how Spotify keeps it brief and simple:

7. List down basic consistency rules
Your social media branding guidelines should also cover basic consistency rules like:
• Will you use only in-house content or external too? If you use both, what will be the proportions?
• From where will you source external content and how you will approve it before use?
• Which content formats will you use for your social media channels?
• Which language to use. If it is English, then do you want to go with US, UK, Canadian or Australian?
• Do you want to capitalize the first letter of every word in the headline or just the first letter in the beginning of the headline?
• Will time and date be mentioned in full or do you want to abbreviate them? Decide on the format too, like 4pm or 16:00?
• Mention the frequency with which you will mention links in your posts and whether you will follow UTM parameters
8. Outline how you want your brand to use images on your social profiles
Determine the types of images, graphics and videos you want to share on social media, along with dimensions and formatting, like including the logo in a post and where it should be placed, which colors to use etc. Take screenshots of the visual content that inspires you, and save them to include in your social brand guidelines. Pay special attention to profiles images, headers and cover photos. Ensure that the theme, style, font, and colors are uniform across channels. And don't forget the context. Check out these examples to get an idea:


9. Managing interactions and crisis on your social channels
In case of a crisis, your social media guide should include a list of immediate response actions such as pausing or canceling any posts. For example, if you are a travel brand and there's an international tragedy, you probably want to cancel posts talking about offers or discounts.
Also Read: Best Social Media Management Strategies During Times of Crisis
Also make a list of responses that you will use as a brand when there are negative comments on your posts, maybe from a competitor or troll.Here's an example of how Taco Bell retorts with a bit of sass when Old Spice tweets a complaint about their fire sauce.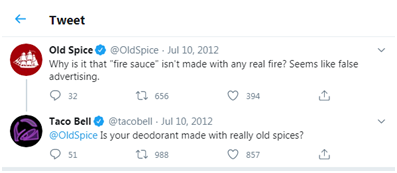 Here is another example where Wendy wittily (with a hint of sarcasm) replies to a negative comment:
You should also have a system in place that tells how to respond to customer queries or complaints. All answers should be consistent. You can also save some standard replies for different kind of questions, which your team can refer to.
Avoid legal issues at all costs, by mentioning the rules of compliance with industry or government rules or regulations, in your social media guide. Everyone should know what can and what can't be posted on social channels. For example, you should be aware of copyright violations when it comes to visuals.
10. Put together a content calendar
Once you have decided the channels to be active on, prepare a content calendar to align your daily, weekly, and monthly social media cadence. For example, if your LinkedIn account is meant to drive leads, focus on lead generation content. Similarly, if your Instagram account is meant for brand awareness, use relevant content that is meant for brand awareness.
Here's a content calendar example for your reference. Note how everything from content type, objective, content format, work stage, date and the person accountable are listed here.

11. Schedule your posts
Maintain consistency in the timelines for posting content across various channels by scheduling them. You can select from a range of scheduling tools available online like postify, tweetdeck, hootsuite, etc. These tools help you to:
• Manage multiple social accounts and schedule posts for all
• Spend just a few hours to schedule posts for a week and relax
• Use advanced analytics to monitor audience engagement and figure out when to post what
• Automate the process of post publishing and easily collaborate with the team (also decide who will do what)
Another good idea is to download a good social media style guide template to schedule posts at optimal times. It will help you manage all social profiles, measure campaign results and so on.
Final words
Creating a social media style guide or having social media brand guidelines in place is vital if you want to be successful at this form of marketing. A cohesive, consistent presence on social channels will build your brand identity and customer engagement effectively. So, keep the above steps in mind and also share them with anyone who is trying to ace the social game.