WEBSITE DEVELOPMENT
Your website is more than just a link that tells people what you do. It's your first impression, your most important marketing channel, and an extension of your brand's personality. If you've been ignoring your website because you don't think it's important for your business, think again. A sub-optimal website can actually make prospective customers lose interest and leave. An effective website, on the other hand, can help you build credibility and generate leads in ways you haven't even thought of.
When it comes to website development, choose a partner that can help you build an effective website. This means hiring a team that only has talented and experienced developers, but can identify what your business needs are and build your website accordingly. At JustWords we believe in building the website your business needs. We use the latest in technology, design, and user experience to create a customized, omnichannel website that functions seamlessly.
What to expect when you work with us
Service that will make you want to work with us again. And again.
You'll hire us because you know we can do a good job. But you'll come back because you love working with us. We go out of our way to be accessible and responsive to our clients. Our websites are born out of free and meaningful communication with our clients.
A website that's a true reflection of your brand
We understand how proud you are of the brand you've built. And we want to make sure your website takes your brand to the next level. From the design and user experience to the content, every part of your website will be a reflection of your brand. Not just your brand as it stands today, but what you want it to represent in the years to come.
A single-minded focus on the metrics that matter
Your website is not just a URL. It's a channel for you to reach your business goals. Whether it's sales, engagement, or conversions, we understand that metrics matter. We understand your financial goals and build your website around achieving them.
CMS- Wordpress / E-commerce Website / Custom Website Deveopment / Mobile Responsive Website / Mobile APIs
E-commerce websites
We work with e-commerce companies of all sizes. From an existing e-commerce brand to or a small mom-and-pop store. We believe e-commerce is a new way to reach out to prospective customers that every business should consider.
Our experience working on a wide variety of e-commerce websites gives us the expertise to understand what's right for you. We don't just build you an e-commerce website but also understand your business goals to design a website achieves them.

Opencart
Magento
Shopify
Joomla
Woocommerce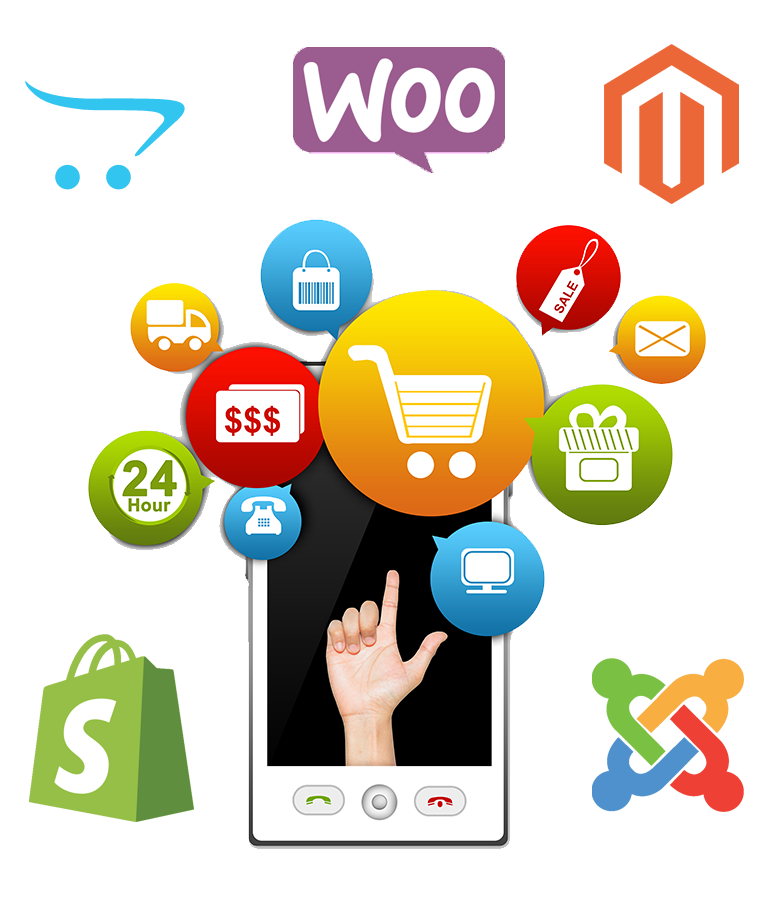 WEB APPLICATION DEVELOPMENT
Sometimes, you may need more than just one website. An enterprise web application (EA) is an entire software system platform optimized to operate in your business environment. Enterprise web applications provide support functionality at the business level. They are used by businesses all over the world to enhance efficiency and productivity.
Our team can help you with the enterprise application that meets your needs. Whether that's gathering end-user data, securing delivery of content, or executing complex business flows.
PHP
Laravel
cakePHP
codeigniter
asp.net
joomla
Content Management System
Quality content and great service are the only things that drive customers to you in the long run. We help you set up a Content Management System that will allow you to seamlessly manage your web content. Multiple contributors can use the CMS to create, edit, and publish content in the form and schedule that you decide. Our systems are futuristic and flow seamlessly; allowing you to just focus on the content you want to create.
We can also design a custom-built CMS for you to match your unique content creation needs.
joomla
wix
wordpress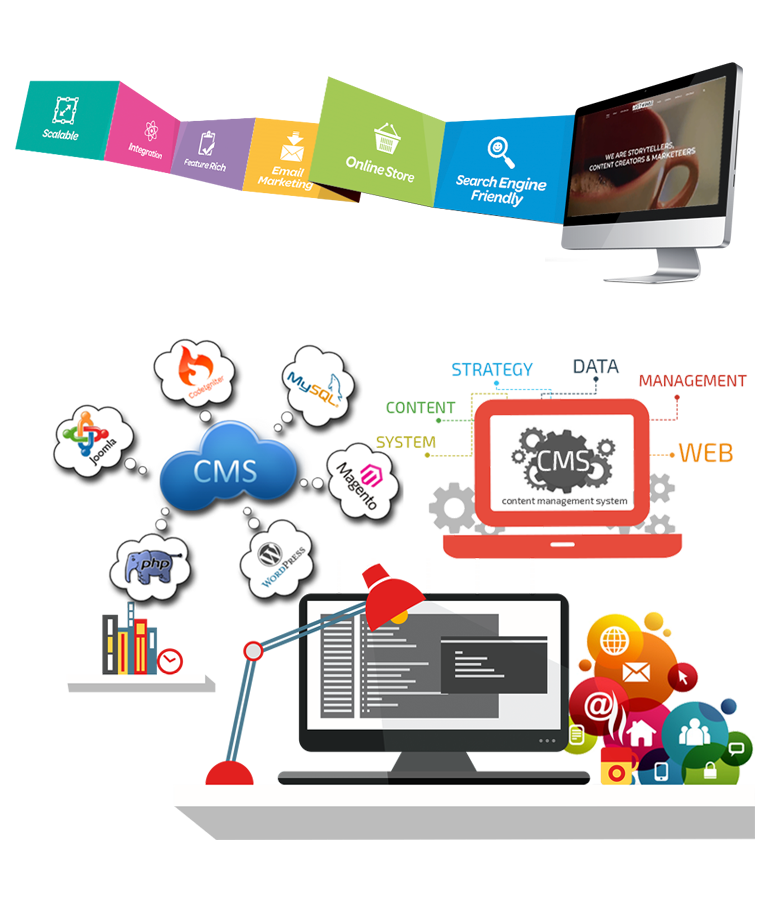 Get the perfect website today, contact us today!
OUR WEBSITE DEVELOPMENT PROCESS
Understanding Your Requirement
We work with you to understand what your business goals are and how your website can help achieve them. Based on our analysis, we plan the schedule for the project so that you know exactly where you stand.
Planning The Project
At this stage, we work on documents that will help crystallize the vision for the website. This includes wireframes, requirements documents, sitemaps, and a clickable prototype.
Designing The Website
We begin by designing the website. Our website is designed keeping a modern user interface in mind. We also make sure all elements of the website design reflect your brand voice and style. This ensures your website reflects your unique brand and stands out from the crowd.
Developing The Website
Our experienced developers focus on HTML, CSS, and Javascript. Simultaneously, our expert writers work on creating unique website content that will hook visitors immediately.
Launching The Website
We launch your website after thorough testing and getting your seal of approval. We monitor the website rigorously in the first few weeks to make sure everything works seamlessly. We will also help you with maintenance and technology upgrades.