Why Content Marketing and SEO Needs to Work Together to Achieve the Best ROI?
One of the biggest misconceptions that most people have even today is that content marketing is same as content writing. And SEO – well why do we even need that when we want only content marketing? A big part of our first sales call with our clients (who have come to us looking for a content marketing agency) goes into clarifying that why content and SEO have to work together to get traffic and ROI. 
Content marketing is clearly what it implies – marketing content. While the term "content" here can have different meanings like blogs, articles, emails, videos, guides and so on, the end goal of all content marketing campaigns remains the same – to engage with a highly targeted audience as they move from one stage of the sales funnel to the other. If the end goal is profitable user action, content has to perform, meaning it has to rank and drive traffic to the website and generate leads. That cannot happen without SEO and content marketing working together. This means you need a content marketing SEO strategy first. Not understanding what this is all about?
Well, this blog is designed to clarify the point that content marketing and SEO are not two different things. You need a content marketing strategy for SEO so that they both can work together to get you real results. 
Understanding the SEO part in content marketing  
Let's imagine this. You have hired a content marketing agency that spends countless hours on in-depth research and has come up with a stellar blog post for your website. You receive amazing feedback from the team about its quality and presentation. You hit that publish button and wait for traffic to explode and yet for weeks, nothing happens. Out of the millions of articles indexed on Google every single day, your perfectly written blog post sits there idle in the corner.
Why does it happen? There could be two reasons here – 
There was no effort made to promote the article and hence it did not reach the audience.
It was not SEO-optimised or promoted. 
Simply put – if you want your article to rank in the SERPs, make sure you have written it according to the SEO guidelines and secondly, you have published and promoted it. And that is exactly why SEO and Content should be paired together.
Let us understand this a little better.
Why SEO complements content marketing?  
Search Engine Optimization (SEO) and Content Marketing are mutually dependent on each other. Both work unanimously to rank a piece of content in the SERPs.
While content strategy and content creation are important parts of content marketing, you need content marketing and SEO to make the whole package complete. Think of SEO like the fuel your content needs to become visible for a particular keyword that your target audience searches for. Without that fuel, your content will not rank, and hence will not be found by your target audience. Hence it is super important to make sure that you package your content with SEO.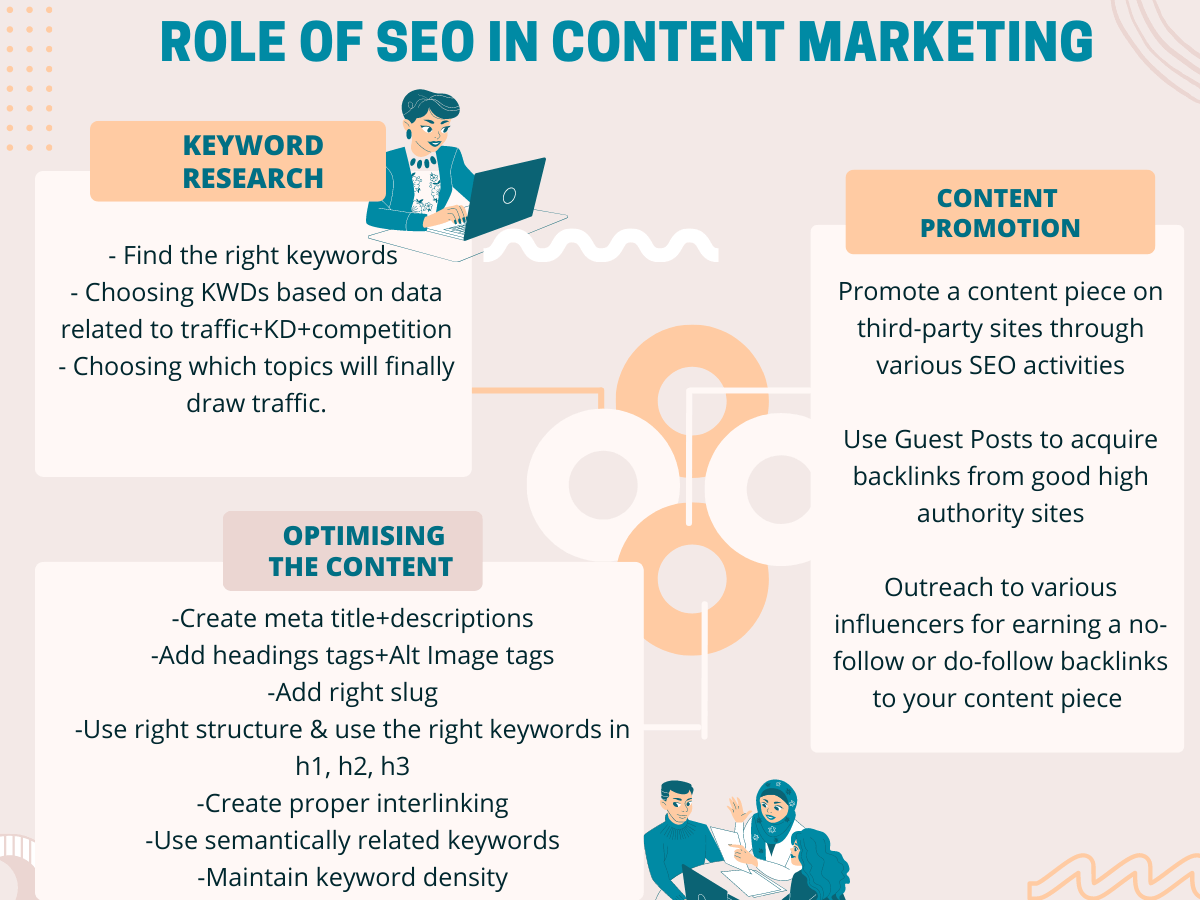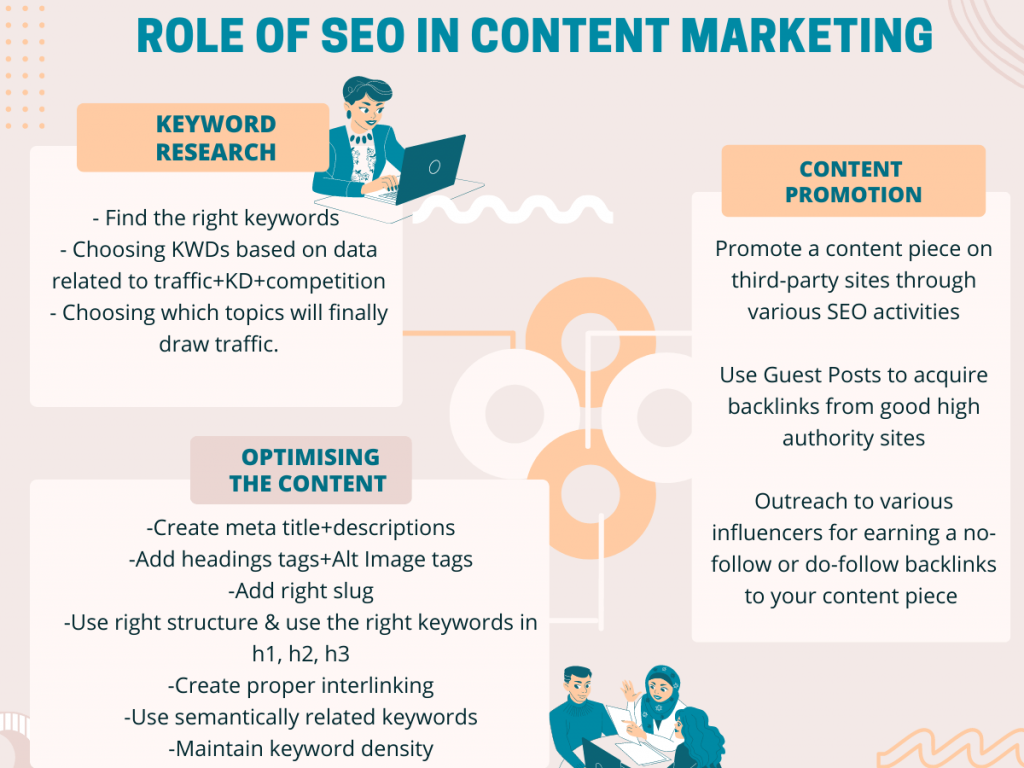 Well, let us first understand what is the difference between content marketing and SEO? What is SEO and content marketing?
Firstly, What is SEO in marketing?
SEO or search engine marketing is a marketing technique that helps getting more traffic to the website through a combination of onpage and offpage techniques. One the main jobs of SEO is to optimise the content of a website or a webpage so it ranks and then draws more traffic from search engine results. Very simply, Google search works in three stages 
Crawling – It's an algorithmic process through which Google discovers that your page exists. Billions of pages go live on the internet are found by Google spiders that crawl various pages through internal links. 
Indexing – through this process, Google tries to understand what each page is about through different elements like the metadata, title of the page, alt attributes, videos and images etc. Not all pages are indexed. The ones that do, gets stored in Google's index, which is basically a very very large database.
Search Engine Results – this is a process through which Google serves the best possible search results to a user's query. To determine whether a page is relevant to be shown for a particular search query, Google uses hundreds of ranking factors. 
The aim of SEO is to help Google do all the above things, especially help your website or its webpages to rank high on Google's search results and get your free organic traffic. You cannot pay Google to get a ranking for your website. You need SEO for that. 
By implementing the right SEO program with the right SEO agency, you can improve your website's (remember its webpages of your site that rank) chance of ranking for certain keywords that are relevant to your target audience. Once you start ranking for a particular keyword, you start getting organic traffic flowing into your website and from there leads.  
Here is something you might want to read:
Everything about SEO: FAQs 
Six SEO myths that need to be trashed today
What is actually done in SEO? 
In order to get rankings on Google's search results, SEO campaigns involve the following activities. 
On-Page SEO 
On-Page SEO refers to the practice of optimizing website content and webpages along with other aspects of your website that are under your control. This involves the creation of the following. 
1. Title tag  
This is the title of your blog post or webpage, and it should be optimized with relevant keywords related to the topic.
2. Meta description 
This is a brief description that's shown below the title in SERPs. Ensure to optimize it with the primary keywords, and present it in a creative way that's short yet concise and precise.
3. URL 
The URL of your page should be short and relevant to the topic of the content as well carry the main keyword with which you want it to be found. 
4. Headings and subheadings 
Break down your article into headings (h1, h2, h3) and subheadings for better readability and SEO. Keep in mind that Google prioritizes user experience above all for better rankings.
5. Images 
Always include relevant images throughout your article. It could be infographics, relevant pictures or descriptive images. Provide relevant keywords in the file name and alt texts for the images as it increases the chances of ranking through Google Images.
6. Internal links 
Linking to other pages on your website helps Google understand the overall structure of your website and improves the ranking of the pages.
Related Content: A complete checklist on Onpage SEO
Off-Page SEO 
While on-page SEO focuses on optimizing the content for better visibility in Search Engines, off-page SEO focuses on increasing the site's authority and popularity, as well as promoting content through backlinks. Here are a few of the most popular Off-Page SEO tactics that are used.
Guest Content Posting
Guest posting involves writing content on high-authority sites with a link back to your own website. This helps to increase your website's exposure and build up its authority, both of which can lead to higher search engine rankings.
Local Listings
Local Listings are an important part of Off-Page SEO. By having your business listed on popular directories, you can increase your visibility and improve your chances of being found by potential customers. 
In addition, Local Listings can also help to improve your search engine rankings, as they are often indexed by search engines.
Creating Valuable Backlinks
A backlink is simply a link from one website to another, and they are often used to gauge the popularity and authority of a website. However, not all backlinks are created equal. Google looks at the quality of the site linking to your own, as well as the relevance of the link. For example, a link from a high-quality website in your industry will carry more weight than a link from a low-quality website. Similarly, a link from a relevant website will be more valuable than a link from an unrelated site. Links (good ones) to a website point to Google that this a website that can be trusted.
Keyword research, the other SEO element that is vital for Content Marketing
Apart from the above activities, SEO is also a lot of about keyword research. What are the keywords that your target audience is using to search in Google. The whole point to know what is your target audience looking for and how you can be visible to them. 
For example, if you are a loan company selling two wheeler loans, you would want to rank for all keywords related to two wheeler loans that your customer might be searching for. Also, you would want to rank for all related keywords that people are likely to search for two wheelers loans.  
The choice of keywords usually depends on the following – 
Which stage of the funnel are you targeting? Do you want to focus on awareness keywords, navigational keywords, or transactional keywords for your content? 
What is the keyword difficulty of the keywords? 
What is your website's domain rating? 
What is your SEO strategy?
Which keywords are bringing in good results for your competitors? 
Once, we know what are keywords to rank for, we need to decide which keywords will drive volume to our website. Your strategy might cover using short-tail and long-tail keywords as well. All of this will be covered under your keyword strategy. Finding the right keywords and using them in the right way in the content is crucial to SEO rankings. For the right results, content and SEO need to balance each other.
Handpicked content:  How to Find Low-Hanging Content Ideas from All Over the Web?
Now, what is content marketing? 
To understand what is the connection between Content marketing and SEO, let us first understand what is Content Marketing. Content marketing is a part of digital marketing, which uses content strategy, value-driven content creation and promotion to drive to drive profitable user action. The whole point of content marketing is to target your specific audience, build brand awareness, create trust and push the consumer through each stage of the buyer journey until he/she converts into a buyer. 
Content marketing cannot work without these 3 things put together – 
Content strategy – Your strategy should answer the questions of what is the goal of your campaign, who are you targeting, what kind of content are you creating, which formats are the best for you, which channels do you need to publish and promote your content, how much content will you produce and how will you produce it, what is your promotion plan, what metrics are you tracking to see the performance of your content. Launching your content marketing campaign without a proper strategy is basically useless.
Content creation – Your content strategy should help in this. You already know how you are creating your content for, which stage of the buyer journey your target audience is at, which format of content you are using. The next process is choosing the right keywords, knowing which titles to pick in order to get traffic, which content format to use, getting the content written by the best content writer, editing the whole thing, optimising the whole content for ranking and then publishing it. 
Further reading 
Good to great: How to create content that is better
Content promotion or distribution – This is an important part of content marketing and the part which makes content creation and content marketing different. Content distribution enables the content to reach the audience, involves creating backlinks from high authority sites, promoting it on various channels and getting as much from your content as possible. 
For eg, we wrote this blog – 
Then promoted this on social media ….
To promote it further, we reused this as a video on Youtube. 
We also did some guest posts around it for earning some good links around it. And that is where parts of SEO activities are used to help promote the content. In order to promote the content and get it to rank, you will need to add onpage SEO elements to the webpage, create good backlinks, promote on HA third-party sites. 
Not only that, if you check the content creation part, you will need to know how to pick the right topics, choose the right titles based on data and research, optimise the content before hitting the publishing button. 
Further reading:
Content Marketing vs Digital Marketing 
How Content Marketing and SEO work together?
If you have come so far, you could gather than there are several parts of SEO that are vital for content marketing. Infact, you need a content marketing SEO strategy first or a content marketing strategy for SEO. Without SEO, content marketing will just be content. Finally, you want your content to build brand awareness, then get you traffic to your website and then convert that traffic to leads. Finally, content marketing should enable sales. SEO enables the content piece to be optimized as per Google, match the user intent, make it rank in Google and get the eyeballs of your user, and finally send traffic to your website. Hence content marketing and SEO are not two separate silos. They need to work together to make the whole machinery work. 
Want to learn more about content marketing? Check out our Content Marketing free course page. Got questions? Reach us here.